Page 3 of 3
It's a lot to keep track of, which keeps the city's unofficial blog, A Little Beacon Blog, so busy that head blogger Katie Hellmuth Martin recently set up a Main Street office for the effort, in the same building as the coworking space Beahive. But the frantic pace of transitions speak to a city that's trying to figure out how to be in this for the long haul, drawing inspiration from longtime Main Street stalwarts like BJ's Restaurant (over 35 years in business) and the Yankee Clipper Diner (open since 1946.) Both BJ's and the Clipper have been taking care of Beaconites for generations and continue to get better with age.
Their resiliency speaks to one more thing about the Highlands that is demonstrated down on the Beacon waterfront, at the recently rehabilitated Long Dock Park. Long an industrial waste site, the land has been slowly transformed by Scenic Hudson into a park. Originally, the plans called for an enormous hotel and convention center to be built there, with all the eco-friendly bells and whistles. Then hurricanes Irene and Sandy arrived in 2011 and 2012. Both storms flooded the park under several feet of water for days. Putting a hotel there no longer seemed like such a great idea.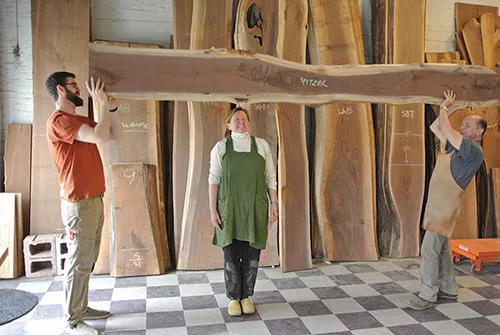 John Garay
Patrick Reilly, Jessica Wickham, and Gabor Ruzsan at Wickham Solid Wood Studio
So Scenic Hudson scrapped the hotel, went back to the drawing board, and came up with a plan for a park that could accommodate floods. Today, the park is filled with wide-open floodplains, tall native grasses, and a rental kayak storage shed operated by Mountain Tops Outfitters that's built entirely out of grates, so that floodwaters can pass straight through it instead of knocking it down.
Sure, an eco-friendly riverside convention center probably would have been a great economic boost for the region. But you can't win `em all. Sometimes the factories close, the greedy developers win, and the devil rides into town and steals your newspaper. The revamped "park that floods" down at Long Dock stands as an example of what the Highlands teach all of us who live in its shadows: How to make space in our lives to accommodate hardship as it flows in, and how to build the strength to remain steadfast until it recedes.
John Garay
Nicole Jones at Hudson Hil's Cafe and Market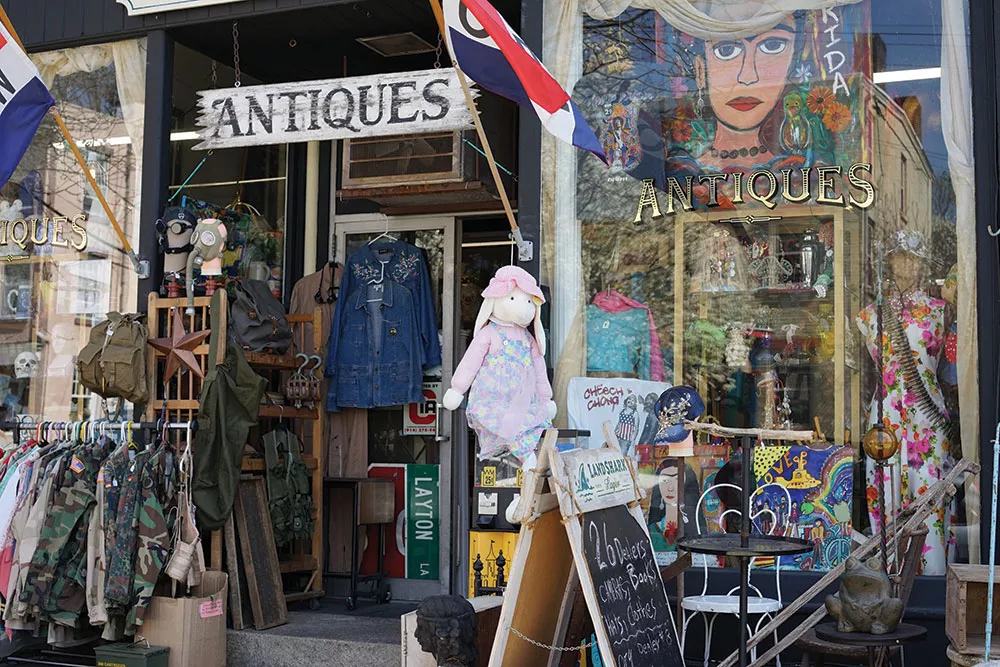 John Garay
Cold Spring Antiques Center on Main Street
John Garay
Cold Spring Apothecary on Main Street
John Garay
Jack and Vera Grady at the Garrison
John Garay
Lauren Howard and Anthony Proetta at Old Souls in Cold Spring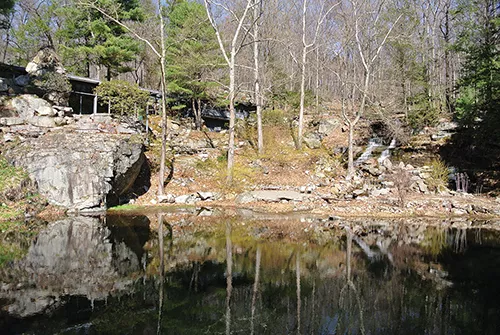 John Garay
Manitoga/The Russel Wright Design Center in Garrison