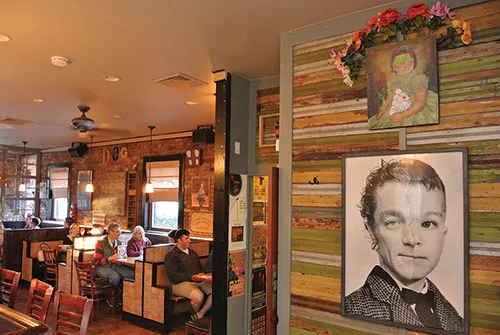 John Garay
Dogwood in Beacon
Let me tell you a story about a newspaper. One which, amazingly in this day and age, has a happy ending.
For over 100 years the Village of Cold Spring had a town newspaper that delivered the important goings on: notable passings, village board meetings, pictures of apple-cheeked children holding up freshly caught fish of unusual size. The paper was good and the people were happy.
Then one day in 2008 Roger Ailes, then chief of Fox News (now a disgraced sexual predator), moved to town and bought the local newspaper, the Putnam County News and Recorder. The locals scratched their heads and shrugged their shoulders. What harm could he do?
John Garay
Richard Serra's "Torqued Ellipses" installation at Dia:Beacon
The harm came swiftly and with staggering intensity. Suddenly the paper was publishing partisan editorials, quoting Ayn Rand, and recapping the day's events with a particularly one-sided and vindictive point of view. The locals were outraged. So they got together, rented an office across the street, and started putting out their own damn newspaper. To date, that paper, now known has the Highlands Current, has won 20 awards from the New York Press Association and covers not just the Village of Cold Spring and the sprawling estates of Garrison, but now the City of Beacon as well.
I'm telling this story not to draw attention to the Current which, full disclosure, I write for, even though I came onboard long after the fireworks. But because the saga illustrates two important truths about life here in the Hudson Highlands.
John Garay
BEAHIVE co-working space in Beacon (paintings by Amy Rowan and Ryan Cronin)
The first is that Beacon, Cold Spring, and Garrison are linked by, and defined by, the landscape of the Hudson Highlands more so than any lines on a map. Technically, Beacon shouldn't be lumped in with Cold Spring and Garrison because it's not in the same county. Breakneck Ridge, the most popular hiking trail east of the Mississippi according to Trails.com, serves as the dividing line between Dutchess County to the north and Putnam to the south. But the mountains don't care about the border, and neither do the locals. We're defined by swimming in the Hudson at Little Stony Point (PCBs and other pollutants be damned); hiking and riding ATVs up Mount Beacon (theoretically the latter is illegal, but if a law is never enforced, is it even a law?); and first kisses by the tree atop Sugarloaf Mountain (if you've been there, you know which tree I mean). We are blown down by the same winds, enshrouded by the same spring fog, navigate our canoes and kayaks through the treacherous stretch of the Hudson from West Point to mysterious Bannerman's Island (known to the first European sailors plying these waters as World's End and Martyr's Reach.) Now we enjoy these views while serenely eating ice cream on the porch at Moo Moo's Creamery or polishing off a pizza at the Riverview Restaurant.
John Garay
Dan Flavin's "Untitled (to you, Heiner, with admiration and affection)," 1973, at Dia:Beacon.
The second truth is that we do not wait for someone else to come and fix our problems. We fix them ourselves. This is where the American environmental movement was born, when Con Ed tried to hollow out Storm King Mountain for a power plant and the locals raised hell for 17 years until the plan died. When a crazy old man who lived up in the mountains thought the Hudson was too dirty, he decided to build a couple of old-fashioned boats to save it. That crazy old man was the folk icon Pete Seeger, and those boats were the Clearwater and the Woody Guthrie. Both are still sailing (the Woody is in the final stages of an extensive renovation) both are still run by the environmental organization Clearwater and the Beacon Sloop Club, respectively. Both of those organizations are still based in Beacon, and both would be delighted to have you join as members.
Cold Spring and Beacon have ridden out their share of hardscrabble times and rebounded. When the West Point Foundry, most famous for producing cannons and other munitions during the Civil War, closed in 1911, Cold Spring's population crashed. Today the foundry is a gorgeous new park, and it's hard to imagine the village any bigger than it is now when you walk up its perfectly proportioned Main Street. Venerable standbys like Hudson Hil's Cafe and Cathryn's Tuscan Grill are still going strong. The wave of recent bespoke shops like the outdoors store Old Souls, groceries and provisions provider Cold Spring General Store, and the beauty products maker and day spa Cold Spring Apothecary have settled into a nice groove. And if you head up a couple of blocks past Route 9D, you'll find Juanita's Kitchen. Serving some of the greatest Mexican food in the Hudson Valley, it remains the village's best-kept secret. (Until now. Whoops.)
John Garay
Mark Pisanelli tending bar at Denning's Point Distillery
Both Cold Spring and Beacon have the geography of the Highlands to thank for their sense of scale. Hemmed in by the mountains one one side, the river on the other, and preserved land all around, neither of them succumbed to the disease of sprawl that has adversely impacted other towns over the last 30 years. As Jonathan Rose, author of last year's The Well-Tempered City, explained to me, the scale and relative density of the Highlands towns and their rings of protected, open spaces and farmland can serve as a model for sustainable development in the 21st Century. Rose is more than just a fan of the area: He lives in Garrison and is the co-founder of the Garrison Institute, a combination mediation center and think tank that focuses on turning inward peace into outward change. Along with the Manitoga/The Russel Wright Design Center, and the estate at Boscobel where the Hudson Valley Shakespeare Festival makes its summer home, it forms a ring of hidden cultural treasures that most day-trippers to the area make the mistake of driving right by.
That ring is about to get a little bigger in June with the opening of Magazzino on Route 9 in Cold Spring. Magazzino is Italian for warehouse, and the name is appropriate on numerous levels: The space is a renovated former warehouse that will specialize in displaying works from the Arte Povera movement that blossomed in Italy in the late 1960s and `70s as a European twist on both American pop art and minimalism. Just as Arte Povera artists sought to redefine the relationship between a work of art and its audience, Magazzino will not be a museum. Instead, it will serve as a sort of combination research center and library for those curious about this little-known movement. The center will be free and open to the public, but only through advance appointments.
John Garay
Jose De Los Santos and Chico at the Mount Beacon trailhead
But no discussion of the Highlands' cultural centers can omit Dia:Beacon, which took over an old Nabisco box factory in 2002 and turned it into an international pilgrimage site for lovers of large-scale modern art. While many lifelong Beaconites will argue that Dia gets maybe a bit too much credit for the city's resurgence at the expense of the locals' own tireless efforts, it's also possible to argue that it still doesn't get enough credit. As one native Beaconite and local business owner recently said to me, "They took an abandoned, shuttered, corporate factory, a symbol of everything that's wrong with America, and turned it into the perfect example of why we're fucking dope."
That owner was Paul Yeaple, who won national acclaim with his farm-to-table burger restaurant Poppy's but recently decided to sell the shop and take a break. Beacon has come a long way since the days when tourists would simply hit up Dia, grab a sandwich at Homespun Foods, and leave. An innovative crop of small business owners transformed a shuttered Main Street into one of New York State's liveliest throughways. Now that Beacon is back, those same owners have to figure out how to keep a good thing going. Sometimes that means taking yourself out of the game for your own sanity and letting someone else have a go.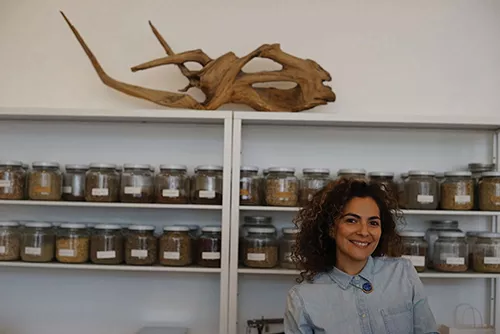 John Garay
Natalie Amendola at the Cold Spring Apothecary
So Poppy's is closed, but the team behind Beacon's Kitchen Sink Food & Drink will be opening up a similar burger bar in its space, Meyer's Olde Dutch, this month. The breakfast spot Quinn's shuts down and turns into a Japanese restaurant/live music club with the same name and decor. The Hop may have unexpectedly closed last fall because of, as they say in rock 'n' roll, "creative differences," but the chef has already moved around the corner to take over the kitchen of the new Beacon Hotel, one of two new hotels opening this spring in the city. The former bar manager at The Hop is now across the street and running Hudson Valley Brewery, one of the city's two craft breweries (the other one, 2 Way Brewing, is down by the train station.) Beacon Barks and the Beacon Bagel recently changed hands. 4th Wall Theater is out at the Beacon Theater and Beacon's own gang of roving cinematic gypsies known as Story Screen are moving in to build Beacon's first movie theater.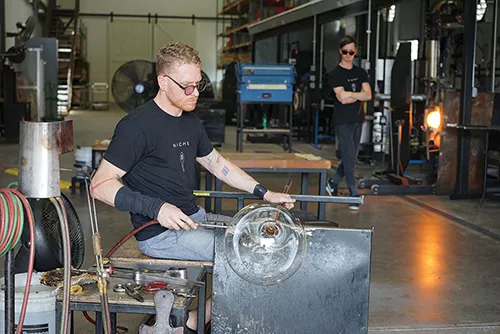 John Garay
Taylor Kurrle and Alex Demmerle at Niche Modern
It's a lot to keep track of, which keeps the city's unofficial blog, A Little Beacon Blog, so busy that head blogger Katie Hellmuth Martin recently set up a Main Street office for the effort, in the same building as the coworking space Beahive. But the frantic pace of transitions speak to a city that's trying to figure out how to be in this for the long haul, drawing inspiration from longtime Main Street stalwarts like BJ's Restaurant (over 35 years in business) and the Yankee Clipper Diner (open since 1946.) Both BJ's and the Clipper have been taking care of Beaconites for generations and continue to get better with age.
Their resiliency speaks to one more thing about the Highlands that is demonstrated down on the Beacon waterfront, at the recently rehabilitated Long Dock Park. Long an industrial waste site, the land has been slowly transformed by Scenic Hudson into a park. Originally, the plans called for an enormous hotel and convention center to be built there, with all the eco-friendly bells and whistles. Then hurricanes Irene and Sandy arrived in 2011 and 2012. Both storms flooded the park under several feet of water for days. Putting a hotel there no longer seemed like such a great idea.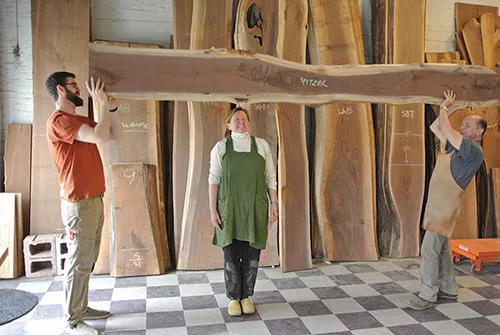 John Garay
Patrick Reilly, Jessica Wickham, and Gabor Ruzsan at Wickham Solid Wood Studio
So Scenic Hudson scrapped the hotel, went back to the drawing board, and came up with a plan for a park that could accommodate floods. Today, the park is filled with wide-open floodplains, tall native grasses, and a rental kayak storage shed operated by Mountain Tops Outfitters that's built entirely out of grates, so that floodwaters can pass straight through it instead of knocking it down.
Sure, an eco-friendly riverside convention center probably would have been a great economic boost for the region. But you can't win `em all. Sometimes the factories close, the greedy developers win, and the devil rides into town and steals your newspaper. The revamped "park that floods" down at Long Dock stands as an example of what the Highlands teach all of us who live in its shadows: How to make space in our lives to accommodate hardship as it flows in, and how to build the strength to remain steadfast until it recedes.
John Garay
Nicole Jones at Hudson Hil's Cafe and Market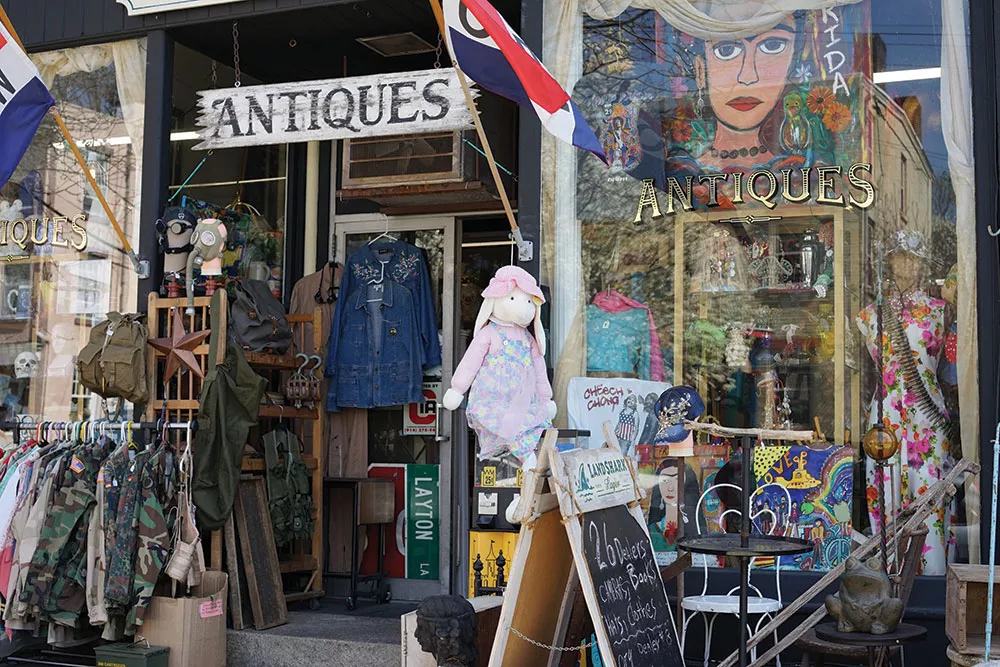 John Garay
Cold Spring Antiques Center on Main Street
John Garay
Cold Spring Apothecary on Main Street
John Garay
Jack and Vera Grady at the Garrison
John Garay
Lauren Howard and Anthony Proetta at Old Souls in Cold Spring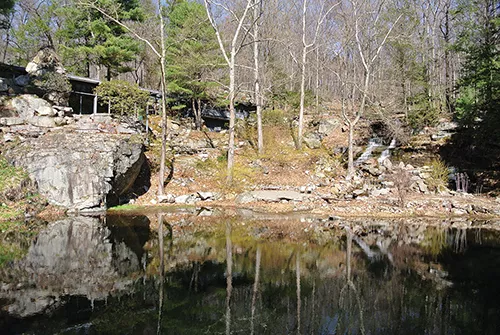 John Garay
Manitoga/The Russel Wright Design Center in Garrison