"A weed is but an unloved flower," wrote American poet Ella Wheeler Wilcox. The French artist Jean-Luc Moulène has been investigating one such plant: the
Paulownia tomentosa
, also known as the Empress Tree. For seven years, Moulène photographed this weed on the streets of Paris, where it grows up through sidewalks and beside buildings. His study is known as
La Vigie
, which means "the lookout man." The Dia Art Foundation in Beacon will show 299 of these photos, as part of "Opus + One," Moulène's first solo show in the United States. The show opens December 17 and will run for a year.
Humans build cities, where they define rogue plants as "social problems." Essentially they outlaw certain species, much as they label traditional medicines like marijuana "dangerous drugs." Concomitant with the War on Drugs is the War on Weeds. In his photos, Moulène emphasizes the banal nature of these plants. If anything, the paulownia seem to look around with a bland and foolish benevolence.
Moulène's work is all interconnected. Followers of his art know 39
Objets de Grève
["39 Objects from Strikes"], a collection of items produced by workers on strike in France from 1970 to 1990.  Though the Empress Tree is not expressly a metaphor, it's a story of unstoppable growth, of a "grassroots" movement rising up from beneath the institutions of Paris. A revolution, perhaps? Certainly a growing plant is an affirmation of life. Whitman wrote in
Leaves of Grass
: "The smallest sprout shows there is really no death."
Moulène lives in Paris, and has an urbanite's eye for the serendipities of street life. He produces works in series, allowing him to study a phenomenon like a scientist. (He scrupulously notes the date of each photo.) For example, in "documents/Le Tunnel," he photographed a particular tunnel in Paris where graffiti artists write, over the course of five years. Moulène is inventing an aesthetic journalism.
A series tends to expand to fill the universe. Beginning with the paulownia, Moulène focuses his attention on numerous aspects of Parisian life, including the fight against terrorism. (The neighborhood Moulène documents in
La Vigie
includes the Ministry of the Economy, so barricades have been erected to prevent attacks.) "Jean-Luc is saying, 'Look how we are organizing fear. Look how fear is determining our landscape, in the city,'" suggests Yasmil Raymond, curator of the exhibition. "What is that object that is ever-present today in all our buildings? The barricade. What does that have to say about the way we are living?" The paulownia is not always physically visible, but its memory lurks in the background: low, genial, but nevertheless threatening. Undeterred, this plant could destroy the City of Light. Unconsciously, it aims to turn Paris into a forest.
Moulène has insisted that none of the works in this show be revealed to the press. (The images I'm discussing were purloined from the Internet.) Instead, he offers for promotional purposes three photographs he took in New York City in 2010, while preparing "Opus + One." They show: 1) a sideways ladder, 2) a nickel next to a ruler, 3) the New York Stock Exchange. But what do they mean? Since 2) and 3) are about money, does the ladder symbolize the lack of economic mobility in America?
"Opus + One" also includes 35 sculptures by Moulène, though I don't know which ones. His sculptural pieces tend to be cheerful, minimalist, and ironic. One of my favorites (
Cinq Concentrés Concentriques
) recombines five replicas of Moulène's fingers into a three-dimensional asterisk.
"Opus + One" by Jean-Luc Moulène will be exhibited at Dia:Beacon until December 31, 2012. (845) 440-0100;
www.diabeacon.org
.
Jean-Luc Moulène, Measure, New York, February 3, 2010.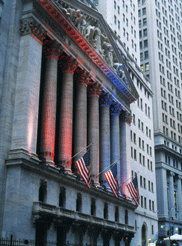 Jean-Luc Moulène, Stock Exchange, New York, March 23, 2010.