Barbara Gittings Triptych, Carl Grauer, oil onboard with gold leaf detail, 20" x 32", 2019.
Established in 1991, before Hudson was a booming mecca for art and culture, Carrie Haddad Gallery organizes seven spectrum-spanning group exhibits per year in a 3,000-square-foot gallery space at 622 Warren Street. "Mortals, Saints, and Myths" will run from June 12-July 28. "We have a very special group of Hudson Valley artists who focus on the human figure as a subject," says Linden Scheff, director at the gallery. "We like to dedicate at least one exhibit a year to the figure and the bizarre narratives that often tag along."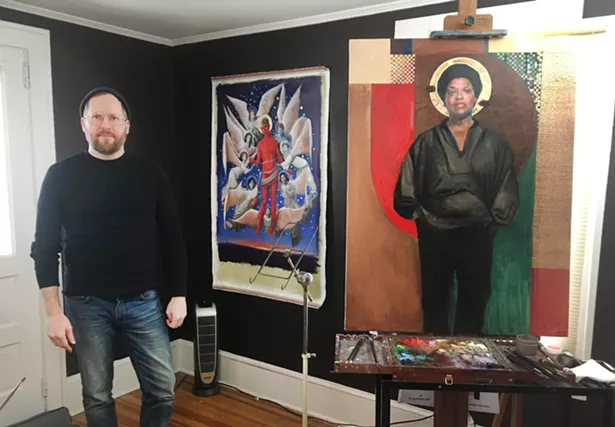 Carl Grauer in his Poughkeepsie, NY studio with his paintings of Audre Lorde (right) & The Ascension of Matthew Shepard (left)
Poughkeepsie-based artist Carl Grauer will be paying tribute to the 50th Anniversary of the Stonewall Rebellion with "The Lavender Temple of Their Most Fabulous." This new series depicts iconic figures in the LGBTQ+ rights movement such as James Baldwin, Barbara Gittings, and Audre Lorde as saints. Not all the works are styled after the Catholic fashion; Harvey Milk gets a Hindu deity treatment, with a halo and six arms, each holding his modern weapons, like a megaphone. Grauer will convert one room at Carrie Haddad into a shrine-like space, with a moving-yet-ironic, sanctified atmosphere.
"Religion has played such a strong role in my existence from birth and still does whether through faith or through rejection," says Carl Grauer. "Because of this, I am choosing to use the very form of art that the church has used to honor and remember their saints and martyrs. People may not know some of these subjects, so it is important to me to depict our history so that these events and people are acknowledged with reverence and not forgotten."
Image courtesy of artists
Kahn & Selesnick, Medusa, pastel and conte crayon on Arches paper, 22 inch diameter
Nicholas Kahn and Richard Selesnick deliver a delightful break from the norm; enter a parade of colorful characters from the Truppe Fledermaus and the ongoing series "Madame Lulu's Book of Fate." This exhibit will showcase the many layers of the collaborative team's imagination and talents with an installation of fantastical photographs and drawings. Highlights include an epic rendition of the Medieval Danse Macabre, styled in true Kahn and Selesnick carnivalesque fashion, uniting one and all on the ultimate march toward death.
John T. Unger will show two large mosaics in his debut exhibit at Carrie Haddad Gallery. "Unger used hand-cut pieces of marble and precious stones to create two life-sized mosaic reproductions of the human anatomy based off of the 16th-century anatomical drawings of Bartholomeo Eustachi," says Scheff. "I have never seen anything like it before." At the series end, there will be 14 mosaics and a total of 14 miles of carved stone.
Image courtesy of the artist.
John T Unger working in his studio.
Multiple artistic personas are required to handle the creative enthusiasm—and the volume of work—Mark Beard produces. Oil paintings. Life Drawings. Masculine bronzes. Beard is versed in a wide array of mediums, and he is a mainstay at Carrie Haddad Gallery.
Image courtesy of the artist.
Juan Garcia-Nunez, Dionisio I, 2019 watercolor on Arches paper, 28 x 20 inches
Other featured artists in "Mortals, Saints, and Myths" include Juan Garcia-Nunez's watercolor depictions of Dionysus, the youthful Greek God of fertility, wine and religious ecstasy and David Sokosh who uses a 19th-century photographic process to produce tintypes.
Carrie Haddad Gallery is a pillar of the Hudson arts community. Their long-standing presence has allowed them to work with countless artists. But this show seems to be exemplary. "This exhibit excites us because the artists are all so wildly imaginative," says Scheff. "They are unbridled in their enthusiasm for the subject—and true masters in execution."
"Mortals, Saints, and Myths" will be at Carrie Haddad Gallery in Hudson June 12–July 28, with an artists' reception June 15, 5-7pm.