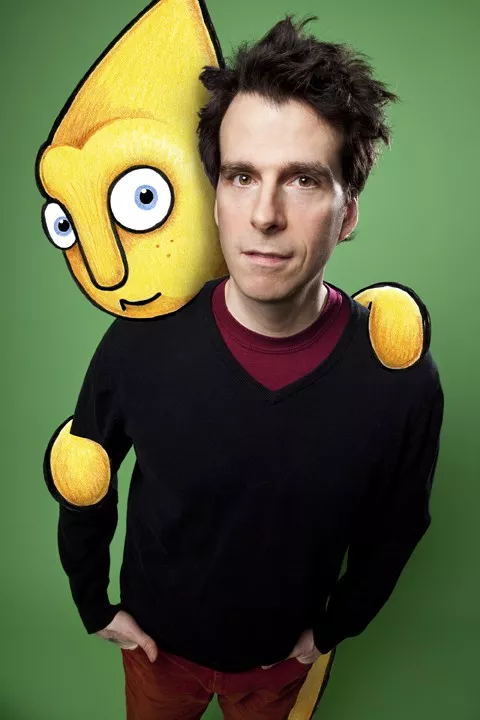 Morgan Taylor with his animated character Gustafer Yellowgold
Over the weekend, we at
Chronogram
were shocked and saddened to learn of the sudden death of Grammy-nominated local singer-songwriter and cartoonist Morgan Taylor, the creative force behind the internationally beloved animated children's music character Gustafer Yellowgold and the host of Radio Kingston's "RadioCake." Taylor passed away on August 11, after a brief illness.
Taylor, who lived in Chatham with his wife, fellow singer-songwriter and radio host Rachel Loshak, and their sons, Harvey and Ridley, was a self-taught musician and artist who grew up in the Dayton, Ohio, area. As a boy he was consumed by comic books and the pop music he heard on the radio, especially the pop and soft rock "AM gold" of the 1960s and '70s that would inform his own music. In 1999 he moved to New York, where he became the sound engineer at key Lower East Side acoustic music venue the Living Room, a club that was the crucible of early performances by Norah Jones and others.
While in New York he formed Morgan Taylor's Rock Group, an outfit in which he wrote and played many of the songs that appear on 2005's
Gustafer Yellowgold's Wide, Wild Worl
d, the first of 12 releases under the Yellowgold moniker. The namesake character, a friendly, bright-yellow young alien from the Sun who has come to explore and live on Earth, was parlayed by Taylor into a colorful multimedia world—all of it hand-illustrated by Taylor himself—of animals and aliens whose adventures he set to his quirky original songs.
The success of the series led to videos, books, CDs, DVDs, audiobooks, and other merchandise, and a Grammy nomination for 2015's
Gustafer Yellowgold's Dark Pie Concerns
. During his career, Taylor collaborated and performed with Wilco side project the Autumn Defense, Joseph Arthur, Jon Brion, Norah Jones, Regina Spektor, Rufus Wainwright, Duncan Sheik, the Black Crowes' Rich Robinson, the Polyphonic Spree, and others.
A
GoFundMe
account has been set up to help Taylor's family.