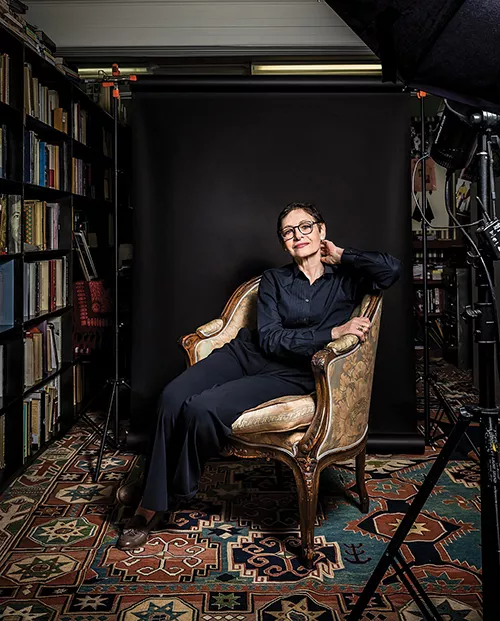 On my way to meet The Price of Illusion author Joan Juliet Buck, I suddenly become self-conscious about what I'm wearing, a version of my freelance writer uniform: ratty old jeans, a turtleneck sweater, and beat-up suede Mary Jane flats I bought in 1996.
I mean, I'm about to interview someone who was editor of Paris Vogue from 1994 through 2001; who began her brief marriage to British journalist John Heilpern in a dress made for her by hand by her pal Karl Lagerfeld; who as a young woman had an affair with Donald Sutherland, and flirtations with Tom Wolfe and Leonard Cohen; who considers Anjelica Huston a surrogate sister, and counts Tina Brown, Charlotte Rampling, and Paloma Picasso as friends.
What was I thinking?
But then Buck, 68, arrives to meet me at Rhinecliff's Morton Library, where for the past three years she's rented an office in the basement while living in a small apartment in Rhinebeck. To my great relief, she's dressed even more casually than I am—sweats, a long-sleeve T-shirt, rubber Wellies, and a simple black knit cap atop her signature gamine haircut. On her, the effect is effortless chic.
"Hello!" she calls from across the street in her trans-Atlantic accent, not fully American, but neither fully British or European. "I think you might be looking for me? Joan?"
From the minute we meet, Buck is warm, accessible, and completely down-to-earth, and I'm reminded that her book, although chock full of anecdotes of her brushes with the rich and famous, is all about cutting through the glittering illusions of fame to what really matters. I'm meeting the real Joan, the one who, after spending six years making sense of her life through writing her memoir, has come to consider airs of grandeur hazardous to one's health. This is the no-bullshit Joan, who has taken as a cautionary tale her actress mother's affliction with trigeminal neuralgia—a condition that caused excruciating pain in her cheekbones—after smiling relentlessly through her unhappy marriage and other regrets.
Buck leads me into her writing space. It's a cozy, bohemian den, filled with rare books, journals, and artifacts from a life that has taken her to many rarefied places, filled with boldfaced names. Take the sepia photographic portrait of Clark Gable sitting on her desk, for example.
"That," she says, pointing, "was taken by my father," Jules Buck, a movie producer who for much of his life considered army buddy John Huston his best friend. He also pretty much discovered Peter O'Toole, with whom he'd later partner in a film production company.
Buck's star-studded childhood began in Los Angeles, but was rerouted to Paris during the McCarthy Hearings, when she was three. Soon after, Joan, Jules, and her mother, Joyce—who considered Lauren Bacall her best friend—moved to London, and also spent a fair amount of time in Galway, Ireland, in Huston's home, St. Clerans.
She naturally grew up to become a nomad and jet-setter, briefly touching down at Sarah Lawrence College; the Malibu beach house her best friend, Anjelica Huston, shared with Jack Nicholson; Santa Fe; Milan; the South of France; and back and forth to Paris, where she ultimately landed at Vogue.
She never really wanted the magazine job. "I only took it because I was blocked on my third novel," she recalls. Before Paris Vogue, there were stints at Glamour and Women's Wear Daily, but fashion wasn't really her thing. "This guy I was going out with had ended things with me, it was snowing out, the kitty litter stank, I owed a tax bill, and so I thought, alright, I'll do it."
Although it's been argued that Buck revolutionized the magazine, adding depth to it in various ways, over time she fell out of favor with the powers that be at Conde Nast, Vogue's publisher. They asked her to take a "sabbatical," and curiously ordered her to check into a rehab facility back in the US. Buck knew the break wasn't temporary. This phase of her life was over.
• • •
The subterranean office at the Morton Library is a long way from the tony Paris arrondissements Buck used to inhabit, but it's a comfortable, fitting refuge for the period of her life she categorizes as "post-multiple-shipwreck." Indeed, Buck is living in the wake of some major career calamities.
First there was that ouster from Paris Vogue, and the very public false claim that she had a drug addiction, for which she needed to attend rehab. (People at Paris Vogue thought they saw syringes in Buck's bag and assumed she was on drugs, but they were actually vials of sea water she carried in her bag to balance her electrolytes.)
That didn't stop her from going to Cottonwood, on Vogue's dime. One of the funniest and most endearing passages of The Price of Illusion takes place at the rehab, where instead of protesting that she doesn't need to be there—and blood tests absolutely confirm she doesn't—she decides to make the best of the situation.
"When I was told, 'You have to take a sabbatical,' I thought, Okay, it's over.
Here was her chance to get back to writing. "I thought, 'Shit, I've got to write again. But what am I going to write about?' For me the experience of being the editor in chief of Paris Vogue hadn't been an experience. There had been no real moment, there had been no true connection at any point. There would be these moments of effervescence during the meetings where I would get people to make the ideas come together, and that was fabulous. But that was from a small part of my brain. It wasn't engaging all of me. And none of it had felt real."
When she realized Cottonwood was a rehab, rather than a spa, she actually became excited. "I thought, I'm going to go somewhere I would never go." She would have access to another world, a new world, where she could have real experiences, with other people who were also having real experiences. "Everyone in Paris was on tranquilizers or drunk. I thought, Nobody there is going to be drunk or high, and I can cry."
In a Twelve Step meeting there, she hears a woman, a poodle groomer, share her story about cocaine addiction and suddenly identifies. "She was talking about me," Buck writes. "Me and Vogue. The spell of Vogue... This woman and her coke were me and Vogue, me buying the clothes, buying the parties and the famous names and the access to everything that glittered and shone and was superior and wonderful, and it cost me so much that I didn't have time to write anything except more pieces about the clothes and the glamour and the parties and the famous names and everything that glittered and shone and was superior and wonderful..."
She jumps up and yells, "That's me! You're me!" to the applause of everyone in the room. Translation: Hi, I'm Joan, and I'm an illusion addict.
After rehab, Buck began dabbling in acting. In 2009, she landed a small role in Nora Ephron's Julie & Julia, playing Madame Elisabeth Brassart, head of the Le Cordon Bleu cooking school. She also was able to reconstruct something of a career freelancing for magazines. But then, in 2011, came shipwreck number two.
American Vogue assigned her a profile of Syrian first lady Asma al-Assad. Buck didn't really want to do it. "I hate writing profiles," she says. "How do you impose a narrative on someone else's life?" But she needed the work. "And I thought, if Vogue wants this profile, there must be a reason."
The result was essentially a puff piece highlighting Asma al-Assad's flair for style and her work with the Louvre to curate museums in Syria, and painting her husband, Bashar al-Assad, the son of a dictator, as a potential reformer.
Cue the Assad regime's warfare against its own people just weeks after the profile ran. Vogue took no responsibility for the series of editorial choices that led to the creation and publication of that piece. Instead, the magazine hung Buck out to dry, canceling her longstanding freelance contract, and deleting the piece from the archives on its website. "No one would touch me after that," Buck recalls.
In a way, although it hurt, Buck saw it as a blessing. Now she could step away from the superficial profile writing she hated. Now she could really write. She landed a contract for her memoir and set to work.
"I crawled into the book," she recalls, "and I allowed my nostalgia and my love and my longing to rebuild everything that was lost, and to spend time in my mind with the people I had loved. It was a refuge. I got to hide and remake all that."
Writing the book helped her make sense of everything.
"The reason for writing this book was to figure out what had happened," she recalls "How did I accumulate all of this incident and drama? I didn't come into the book with an attitude about my life except that it seemed to be a series of failures and catastrophes and things that I had tried to repair. First I thought, These are 'moral tales from the world of chic.' Here's this gorgeous world, but this sort of karmic shit keeps happening."
What stood out to her was what she had discovered at the rehab: She'd lived under the influence of illusion. "Illusion cost me everything," Buck says.
The book—heartfelt, candid, humorous—has helped her regain her footing, but in unexpected ways. "Strangers are opening up to me," she says "I didn't know that if you opened your heart, people would open theirs."
She's now writing personal essays for Harper's Bazaar and working on a collection of them, in her office in the library.
Although she still has the soul of a nomad, she says she's enjoying life in the Hudson Valley. "I had this longing to be outside of New York City in a village, in beauty, on a train line," she says. "I have no idea where home is. But one thing I know: When I'm coming back here from the city in a car with somebody, on the train just after Poughkeepsie, I get this feeling of aaaahhh..."