Winona Barton-Ballentine
Suzi Edwards in her living room. One thing she loves about her modular home's design is the nine-foot ceilings throughout the house. Edwards wanted plenty of space to display her collection of art as well as some of her own work. Here she's prominently displayed a painting of Monet by her late husband. Intermixed are some of her own pieces and a few collected over the years.
It doesn't matter how formidable the project—Suzi Edwards isn't afraid to play around. Whether it's creating giant public mosaic installations for the Florida Botanical Gardens or the Orlando Shakespeare Festival, or devoting herself to an immersive spiritual study that might lead her around the world, Edwards trusts her intuition to guide her. She begins with ideas that intrigue her—it could be an image, a color, or an ancient text—then she reworks the pieces into a collage of glass and stone, a painting of found images that tell a new story, or a personal daily practice of breath and movement. "My ideas come from everywhere," Edwards explains. "It's often just something I see in my head. The process is always very fluid."
She took this same approach when building her three-bedroom, two-bath modular lake cottage near Omega Institute in Rhinebeck. Like Edwards's life story, the home is both a little quiet and a little crazy. The home sits on the banks of Long Pond and borders wetlands—a peaceful place ideally suited for quiet contemplation. However, the modular layout allowed Edwards to be as inventive as she liked with the interior design. It also gave her the chance to turn a long-held vision into reality very quickly. Or, as she puts it, "It was like boom! Instant house."
Winona Barton-Ballentine
Edwards added a 300-square foot covered porch to the modular home's original layout, which is often the site of her daily meditation practice. The home features scenic views of Long Pond.
The Middle Way North
Edwards's first went to the Omega Institute—the place she calls her spiritual home—in the `90s on a bit of a whim. Although she'd sojourned in Woodstock during her youth, it wasn't until she was a single mother with two sons and living in Florida that she found her place at the holistic retreat center outside Rhinebeck.

"I came across a catalog with beautiful Buddha statues set in blooming summer gardens," she remembers. "They had yoga classes, communal meals, and the best workshops on the planet." She was intrigued. Her children spent summers with their father so she decided to visit. Finding the secluded retreat tucked away in rural Dutchess county, "was a bit like looking for an earring on a beach," she remembers. It was also the culmination of a long and somewhat circuitous spiritual quest.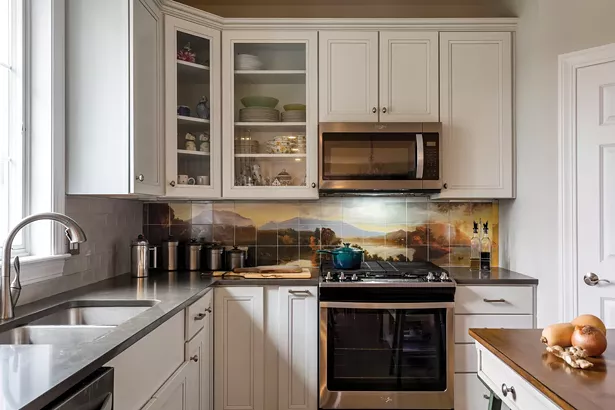 Winona Barton-Ballentine
After choosing a modular layout, Edwards worked with general contractor Debra Benjamin to personalize the home's design. In the kitchen, she created a colorful backsplash inspired by the Hudson River School of landscape painting. She then commissioned the Colorado-based company Enduring Images to print the painting on tiles.
Edwards's early life was one part wild adventure, one part seeking. She'd spent her childhood in the Virgin Islands, where her family owned a hotel, and then went on to become a successful fashion designer in her 20s. It was a glamorous life that included rubbing elbows with celebrities and witnessing the heyday of `60s-era London and New York, but it also left her unfulfilled. She details those early years, and the path that eventually led her to yoga and meditation, in her spiritual memoir Quiet Mind, Crazy Heart, which was published in June. By the time she found Omega, her spiritual seeking had led her down many paths, including studying yoga with Swami Vishnu at the Sivananda Ashram in the Bahamas and becoming part of the Hare Krishna centers in New York and Washington, DC. "Omega felt like home right from the start," she explains of that first visit. "It's a seeker's paradise with many schools of thought and traditions represented. It's a wonderful spiritual and intellectual buffet."
That first trip began an almost 30-year collaboration. Edwards initially visited for workshops but eventually became Omega's community arts facilitator, sharing her devotion to her creative practice with others visiting the center. The creative arts, Edwards believes, are the next evolutionary step on the path to mental and spiritual health. "Yoga and meditation are widely accepted now," says Edwards. "I think the next spiritual practice is creativity. It's very important for everybody to have a creative outlet. It's really an antidote to depression."
Winona Barton-Ballentine
The home's design features three bedrooms, with the primary bedroom suite tucked away downa gallery-like hallway at the back of the home. With views to the pond, Edwards had fun with the colorful wall design. She found the wallpaper print painting online and then hired a local contractor to install it. Her dog Hazel enjoys the relaxing space.
Leap and the Net Will Appear
In 2010, Edwards decided she wanted a permanent home in the Hudson Valley and began looking on both sides of the river. Nothing she saw appealed, until one day, walking through the village of Saugerties, she came across the Benjamin Custom Modular showroom. "The designer in me did cartwheels when I saw walls filled with sample boards of siding, flooring, countertops, and cabinets," says Edwards. "I immediately thought, 'Now that's a great idea.'"

Run by general contractor Debra Benjamin, the colorful shop presented a revolutionary idea of modular home building. Rather than drab, mass-produced structures, Edwards saw the modular layouts as a jumping off point for new designs. "You really can design a home the way you want it," Edwards says. "And you can do it quickly." Benjamin's building model appealed to Edwards's creativity and she built her first home, a two-story Colonial, in the village of Rhinebeck that year.
She was happy with her Rhinebeck home. However, Edwards had come to the area for Omega, and she was still drawn to having a permanent residence on or near the grounds. In January of 2020, when two, three-acre lots adjacent to the Omega property became available, Edwards saw her opportunity to make her dream a reality. In Florida at the time, she had a friend go look at the land and then bought the acreage sight unseen. Edwards contacted Benjamin again, this time choosing a one-story Westchester Modular Highland model home for her new lot.
Winona Barton-Ballentine
A guest room near the home's entrance is decorated with textiles and art from Edwards's travels. The home is roomy enough to accommodate guests—including Edwards's grown sons and grandchildren—without feeling overwhelming.
Staying mostly within the home's original footprint, Edwards redesigned the 2,290-square-foot modular layout on her computer while she was still in Florida. "Because of the timing, many problems came up during the process," she remembers. "The only way I got through it was my meditation practice. Every time I got caught in the ping-pong match of possible decisions, I learned to take off my glasses, sit quietly in a chair, and breath."
Third Eye Design
She liked the Craftsman-style home's open concept design, but thought she could push the open feel even further. At the center of the layout, side-by-side hallways led to either the primary bedroom suite or down to the basement. By erasing the wall between the two halls and extending the floor, Edwards created a central gallery space for an eclectic family portrait collection. (She reimagined the basement entrance outside and added Bilco doors.)
To expand the flow between kitchen and dining room, Edwards removed a pony wall of cabinets and replaced it with a smaller kitchen island she found online. Along the edge of the kitchen, a colorful backsplash was inspired by the paintings of Thomas Cole and Fredrick Church. By merging the artists' styles, Edwards created her own landscape painting in the Hudson River School vein and then commissioned the Colorado-based company Enduring Images to print the landscape onto tiles. She also had fun with the bathroom tiles, creating a blue-and-white tile print satirizing the cultural phenomenon of "Karens" and "Kenneths."
Winona Barton-Ballentine
Like the rest of the house, the design of the primary bathroom was completed online before Edwards actually saw her plan made manifest. For the bathroom, she created another tiled picture, this one titled Karen and Kenneth.
By swapping the two garage doors for glass walls, Edwards transformed the 864-square-foot garage into a light-filled studio space with soaring ceilings. (The kitchen's former pony wall is now art supply storage in the garage.) She then repurposed the small hallway connecting the studio with the house into her ad hoc office. She also added a 300-square-foot covered porch to the back of the home facing the pond.
Edwards deliberated the most over the home's hardwood flooring. "I wanted it to look like a French bookshop circa 1860," she explains. She first considered Pergo, but realized that wouldn't be luxe enough. Trusting her creative instincts, she finally decided on distressed wide-plank oak floor boards from Foster Flooring in Staatsburg. With nine-foot ceilings and abundant wall space, Edwards knew the home would provide ample space to display art.
After she'd finalized the design, Benjamin's team went to work, first installing an onsite foundation. The home was fully constructed in a nearby factory complete with internal wiring, cabinets and all the chosen finishes. Benjamin's team then trekked the two box-like parts down the winding country paths to the home site and spent the winter of 2021 installing and finalizing the home.
When Edwards flew up that May she was nervous about seeing her creation. "I was anxious and hoped I would like what I'd built," she says. However, her intuition hadn't failed her. The well-laid-out home was a symmetrical balance of comfort-minded details and her distinct, creative flourishes. What's more, it was walking distance to the Omega grounds. "I know with absolute confidence that I am just where I need to be."