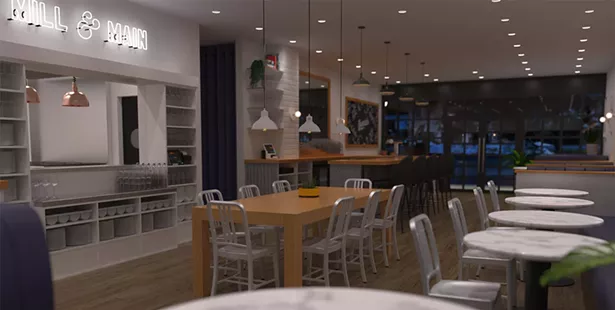 A rendering of Mill & Main's finished interior.
At the end of Kerhonkson's short Main Street (different from the main drag, which is inexplicably called 42nd Street) sits a formerly vacant, run-down, and flood-damaged building that dates back to 1971. Thanks to resident couple Claudia Sidoti and Paul Weathered and their son Christopher Weathered, the defunct building is being brought back to life as Mill & Main, a much-needed restaurant, coffee shop, and marketplace. While construction is still underway, with Mill & Main hopefully up and running in the fall, the family already harbors hopes that it will become a gathering place to "nourish the local community and surrounding areas with food and hospitality from the heart."
Mill & Main's restaurant will have a seasonal menu that celebrates local producers, as well as a full-service bar stocked with local beers, small batch spirits, and natural wines. The cuisine is eclectic, driven by the couple's heritage: Colombian and Italian for Sidoti, Caribbean for Weathered. They'll have dishes from burgers and fish fritters to fresh pasta and charcuterie boards. "We gravitate toward the things that we like to cook and eat and share with other people," Sidoti says. "The menu is going to reflect us as a family, and what the seasons and the area are offering us."
Most of Mill & Main's providers are regional or even hyper-local, like Kerhonson-based Acorn Hill Farm for cheese and yogurt. Christopher Weathered describes the provisions in the marketplace as "a standing curation of different ingredients and products that we find interesting," including both local items, like the eggs, and traditional foods and flavors of their heritage, like Caribbean hot sauce.
Sidoti and Paul Weathered got a weekend house in Kerhonkson seven years ago, often driving past the spot that would become Mill & Main. Though they both built careers in the food and hospitality industries, they didn't move upstate to start a business. "Food finds me," Sidoti says. "It keeps drawing me in. I couldn't help myself."
The couple found out that the space was going up for auction in 2017. "The next thing you know, we owned that building," Sidoti remembers. They told their son of their plans, who had followed in the family footsteps and was working at the prestigious Blue Hill at Stone Barns at the time, learning about sustainable agriculture.

Christopher Weathered, now a partner at Mill & Main, is excited about creating a local food source in Kerhonkson, where there are very few dining and grocery shopping options. "We recognize where we're opening up, and we don't want to become another vegan place," he says. "We want to be accessible to Kerhonkson and have it be an everyday sort of shop."
Since the purchase, the family has renovated both the interior and exterior, including the two apartments on the second floor of the building. They are still in the process of redoing the first floor to accommodate their vision for a multifaceted food and hospitality business, and will finish in a few months.
A rendering of the sooncoming bar at Mill & Main.
The restaurant will be separate from the coffee shop and marketplace, divided by a wall down the middle of the building. The marketplace is 750 square feet, a space that the family hopes to make available for private events after-hours in the evenings, such as food tastings or community networking. "We want to bring people who are passionate about food together," Sidoti says.

The Mill & Main coffee shop and marketplace are opening October 8, while the restaurant is slated to debut later in the fall. In the meantime, stay tuned to their Instagram for news on pop-up events and collaborations with local businesses.
Mill & Main

317 Main Street, Kerhonkson, NY 12446
millandmainstreet.com
[email protected]