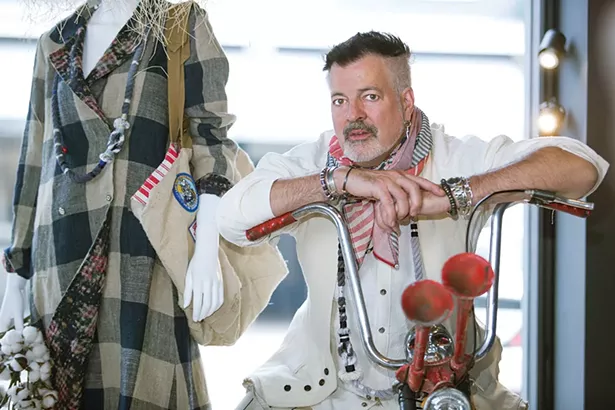 "I believe in defining your own silhouette through fashion," says Mikel Hunter, owner of the eponymous fine art and clothing boutique on Warren Street in Hudson. Throughout a 25-year career as a fashion stylist and art director in New York City, Hunter developed his brand in a boutique on Martha's Vineyard, curating a tight selection of high-end, artisanal products and limited-edition collaborations with designers, all the while fighting the Lilly Pulitzer undertow. "For me every artist and artisan has a story to tell, and my boutique starts a conversation with clients eager to hear their tale," Hunter says.

His Hudson location opened in November 2017; the 2,000-square-foot space includes men's, women's, and gender-fluid fashion. "At least 65 percent of my stuff is unisex. Savvy people can interchange pieces and make them work," he says. An advocate of self-expression through fashion, Hunter prides himself on the quality of his products and delights in expanding his customers' awareness. "So much of what I do is education, really letting people look at workmanship and the details." he says. "That is a huge part of my passion."


While fashion is at the forefront, Hunter's shop also features bold work by handpicked contemporary artists like Robert Szot and Terry Rodgers. And he has plans to turn his curator's eye to home goods in the near future, stocking a selection of exquisitely crafted products like handblown murano glass and
Patch NYC
quilts.
The vibe of Mikel Hunter boutique in Hudson is something like couture with a punk edge (think handwoven sequined silk wraps and funky fine iron jewelry made with gold and diamonds). The highly curated selection marries artisanship, texture, and a Fuck You, counterculture attitude that is so refreshing in world of cheap, mass-produced goods. "The boutique experience is very interactive," Hunter says. "If you're up for it, it is a petting zoo of beautiful things."
Instagram: Mikel_hunter