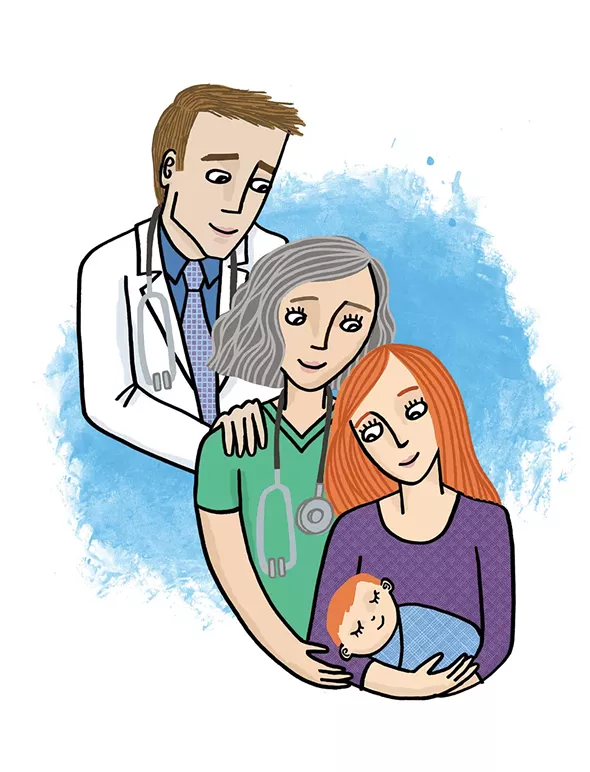 When Rebecca and Zachary Lewis' baby, Noa Sage, was born in September, their experience combined the best of both worlds: home birth and hospital birth. The midwife in attendance was home-birth specialist Susanrachel ("Birdie") Condon of Hudson Valley Midwifery, but the chosen setting was the Family Birth Place at HealthAlliance Hospital Broadway Campus (formerly known as Kingston Hospital), where Pitocin, pain meds, and emergency C-section obstetricians were just an arm's reach away. And it's a good thing they were. Rebecca's labor was a three-day marathon including two days of early labor at home, and a fair share of harrowing moments in the hospital. "I started off in the birthing tub, which was great—I really, really wanted to be in that tub," she says. "But [Noa] just wasn't coming. Her hand was up by her head, and her elbow was sticking out. After five hours in the tub, Birdie said, 'You have to get out of there.' They said I needed Pitocin, which hadn't been the plan—the plan was to have a natural birth, though it didn't exactly pan out that way." Once the Pitocin strengthened her contractions, Rebecca opted for intrathecal pain relief as well, and after an epic four-and-a-half hours of pushing, she was able to deliver Noa vaginally—no small feat for both mother and midwife. Adds Rebecca, "If I was in a different hospital with a different practice, I would've had a C-section for sure."
Support That's All-Encompassing
Having a planned hospital birth with private midwives in attendance is a brand-new option, and a very welcome one, for many of the Hudson Valley's expectant parents. Two local hospitals—HealthAlliance in Kingston and Columbia Memorial in Hudson—have recently extended privileges to independent midwives who practice autonomously, rather than under the authority of physicians. While many midwives work in a hospital setting, most must adhere to the style and schedule of a highly medicalized and corporatized birth culture. Private midwives, on the other hand, are free to practice a more traditional midwifery model—a holistic, woman-centered model that considers birth to be a natural process and that minimizes medical interventions as much as possible. Most private midwife practices have about a 5 percent Caesarean rate, compared to a staggering 32.2 percent rate of Caesarean births nationwide. And when a C-section is really necessary, midwives have a backup physician on call to perform the surgery and birth.
Private midwifery in a hospital setting affords women and families more choices—and choices are exactly what they want, according to Susan Rannestad of Hudson Valley Midwifery, who has been practicing locally (primarily as a home-birth midwife, but now at Kingston Hospital too) for over 27 years. "The future of medical practices is the corporation- and conglomerate-owned business; however, women want their maternity care to be more independent and holistic," she says. "They want to know who's going to be with them at the birth. They want to choose the style and setting." Rannestad adds that midwifery is individualized to the mother, who can select what's right for her family; it also gives women an active level of participation in their care, providing them with education and counseling. At the same time, midwifery today has room to include all the technological advancements of modern maternity. "Midwifery can encompass the same medical care that women want—early diagnosis and testing, prenatal care, sonograms, or not—integrating health and education for a better outcome."
Home Sweet Hospital Birth
Women choose to deliver in a hospital or at home for various reasons—and for the Lewises, who recently moved from New Paltz to Germantown, there was a lot of family pressure to deliver in a hospital. "I come from a family of doctors, so the thinking is pretty conservative," says Rebecca, a social worker. She and Zachary (a real estate developer whose latest project is a new food hall in uptown Kingston) also have two big dogs at home, and they didn't know how the pooches would react to the commotion of labor and birth. So when they heard about a team of home-birth midwives that recently got privileges at Kingston, going with them was the obvious choice. "I met them and thought, they're awesome," says Rebecca of Rannestad, Birdie, and their partner Whitney Hall. They told her she could stay at home for a good part of the labor, and when that time arrived, one of the midwives came to her house to check her progress—something that would never happen with a conventional medical practice. After Noa was born, the midwives paid several more home visits; they also remained available by phone or text. "A big part of why I chose them is all the postpartum care. My daughter had trouble latching on, and they wanted to make sure she was gaining weight."