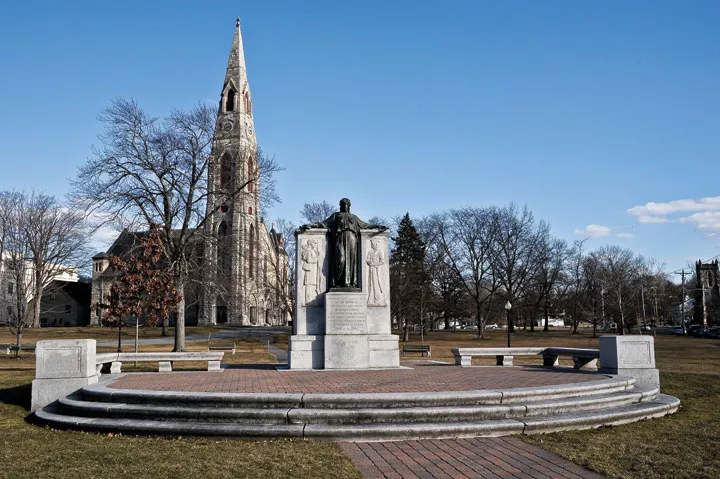 Civil War Memorial in Goshen.
A large part of Orange County is definitively quaint, with clean suburban sidewalks, bursts of floral color in the spring and summer, and historic buildings housing country gift shops or casual eateries. And in many of its small towns, new businesses are filling empty storefronts that have been bare for years, bringing a modern edge that keeps these locales from growing stale.
Montgomery is such a place, especially on or near the picturesque Union Street. The recently opened Forget Me Not gift shop, for instance, is located right along Union and offers trendy jewelry plus a large selection of chic Vera Bradley accessories and other attractive novelties. The nearby Wolf Gang Gallery displays original works by local artists, including by its owner Mikey Teutul of "American Choppers" reality TV fame. Yoga on the Wallkill sits along its namesake river's banks; after a relaxing class, yogis can walk across the street for some retail therapy at Recycled Style, a retro, high-fashion secondhand shop offering clothing, gowns, shoes, jewelry, and purses from various decades. Owner Maria Beltrametti's loveable border collie, Shadow, will nuzzle lucky visitors for a game of fetch.
Harness Racing Museum in Goshen.
But even with the influx of newer energy, there are several Montgomery mainstays that no trip is complete without visiting. Copperfield's Restaurant on Clinton Street has been open for about 25 years. Since then, they've expanded from a hometown beer joint to a casual restaurant with a multicultural menu and Irish pub-like setting. Owner Paul Satkowski, a Montgomery resident, bought into the business in 2000 and has worked to expand its offerings. "I wanted to make it a place where anyone—my mother, someone's grandparents, or some 25-year-old just looking for a good time—can all feel comfortable," he says. "Because that's how Montgomery is itself—it's got a real community feel that welcomes everyone." Part of the tavern's ongoing renovations have included purchasing new furniture handmade by a woodworker in Ireland, now set around a conversation-encouraging fireplace. They've also increased their beer selection to 27 taps of domestic and imported favorites. "We believe we have the most taps in our surrounding area, and we offer a unique selection; we've got Guinness and other classics, but we also carry local beers," Satkowski says.
Just up the road, the two-floor Village Sampler is another scene staple. It's been open since 1985 and offers nostalgic gifts, country-themed housewares, Crabtree & Evelyn body care, and baby clothes upstairs; downstairs is a chocolate-lover's dream featuring a display case of various truffles opposite a wall of shelved confections. It's housed in a building that's roughly 200 years old; past lives include a law school, a livery, and an antiques shop. "I've lived in Montgomery for more than 40 years and the Village Sampler has always been one of my favorites," says Lucille Cuneo, employee and mother-in-law of owner Barbara Cuneo. "My son and daughter always gave me boxes of chocolates from here before they took over in 2008. Barbara told the owners she always loved the shop and to let her know if they ever intended to sell; well, they started talking and eventually they sold it to her. They knew she'd keep the store the same way they did, as a nice, friendly, charming shop for all seasons."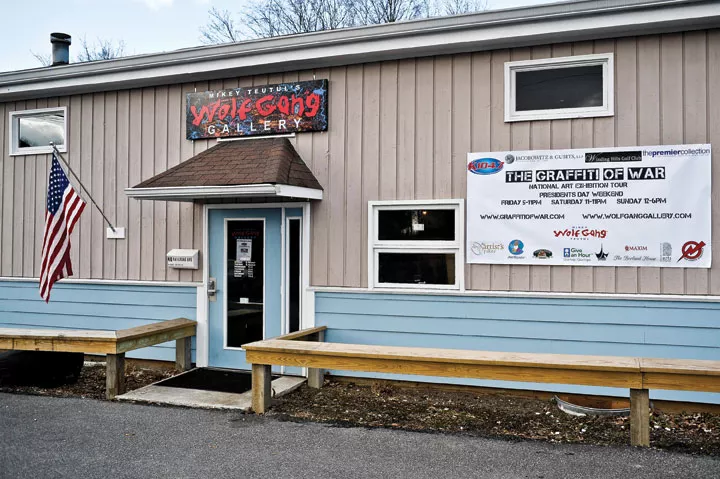 Mikey Teutul's Wolf Gang Gallery in Montgomery.
Just outside of the walkable village area sits Camillo's at the Crossroads Restaurant, offering locally sourced American cuisine cooked by CIA grad Christopher Camillo. (Lucille Cuneo at the Village Sampler claims Camillo's serves "the best pot roast.") In the early 1900s the building was home to a general store and still maintains that appearance, with a large front porch and rustic exterior. It became a German-American restaurant in the 1970s until its owner past away in 1995. Camillo took over in 1997 and continues to serve an array of dishes, from pork filet mignon with apples, pears, and bourbon to clams Provençal with angel hair pasta.
Happy Buddha Yoga in Goshen.
Similar to Montgomery in its quiet community vibe, Goshen is also the site of a gradual transition toward a rebirth; while the village still maintains its historic charm, it's becoming hip without even realizing it. Goshen is well known for sites such as the Sarah Wells Trail, a state route named after a pioneer woman who was among Orange County's first settlers, and the nearby Harness Racing Museum and Hall of Fame. This National Historic Landmark features collections and educational exhibits from harness racing's past and present, plus a 3-D race simulator open to the public. But once you pass by what's locally known as "Lawyer's Row"—connected houses of myriad architectural styles, currently home to various law offices—you'll find a collection of unique small businesses and studios, and no shortage of places to eat.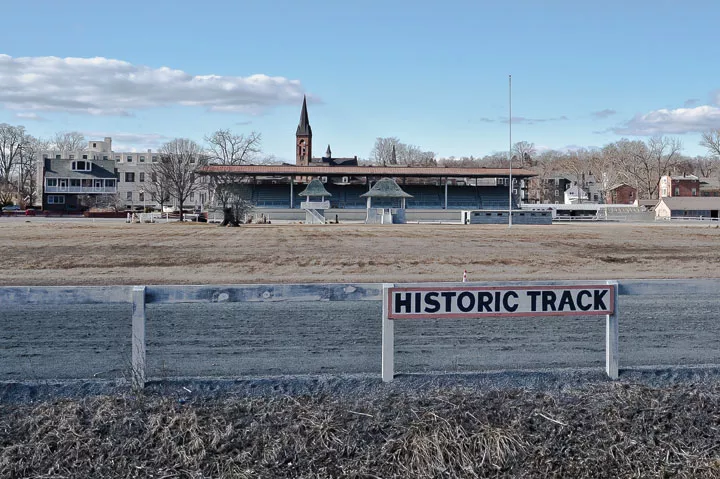 Historic Harness Racing Track in Goshen.
Open since 2010, Bistro Lilly, owned by residents and married couple Rose and Anatoly Shevchuk, has already gained an envious reputation as a casual-yet-elegant eatery with artistically presented dishes. The pair also own Goshen Gourmet Café, a highly regarded café frequented by locals, commuters, and passersby. Across the street, Moose's Retro Café, owned by CIA grad chef Tom Picchione, offers what they call "home cooking from the good old days, with a twist." This includes such items as hot dog cordon bleu—a hot dog wrapped in ham, topped with Swiss cheese and bacon—and a mac 'n' cheese dish made with cheese sauce, basil, pesto, chicken, bacon, roasted red peppers, and topped with fresh mozzarella.
For scenesters and the young-at-heart there's Prolifix Skateboards and Apparel, a funky skateboard and snowboard shop, and nearby Happy Buddha Yoga, where one can take a "Buddha Rocks" class featuring Vinyasa-style yoga taught to classic rock hits. The studio is a growing, evolving yoga center offering various classes by a trove of teachers, each with his or her own style.
Ayres & Galloway Hardware and Orange County Trust in Middletown.
Music-lovers will find more options of interest in nearby Middletown. Alto Music, a music and gear store that bills itself as "the most complete music store in the world," is just around the corner from Route 211. Housed in a former indoor amusement park, Alto offers a huge selection of guitars and basses, drums, pianos, DJ equipment, recording tools, and more. "We're a full-service music store in a 30,000-square-foot building and we cater to everyone from professional producers to the kid who just wants to learn an instrument," says store manager Dennis Shepherd. Middletown's highway access to Manhattan has helped bring numerous clientele—including famous names that Shephard prefers to remain mute about—up to the store. "We're really lucky to be in this location," Shepherd says. "Route 211 brings a lot of traffic our way. Also, there's a wealth of musicians in the Hudson Valley and we can provide them with anything they need—­they don't have to go to the City."
Downtown Breads and Bake Shop in Montgomery.
Middletown also has a new hot spot for blues lovers. Brian's Backyard BBQ & Blues, a family-owned barbecue joint, features some of the area's best blues artists—Myles Mancuso and The Dan Brother Band—and national stars like Bobby Massano and J. Geils. But those looking for other music genres in a more chic environment will find it in Cosimos Brick Oven Ristorante & Bar, best known for their wood-fired pizzas and happening happy hours, or at Blue Martini, which is gaining popularity for its lively afterhours entertainment.
While many think of this side of Orange County as being filled with quiet main streets, desolate ghost malls, and roving farms, there's been an inner renaissance taking root that's finally ready to bloom. As Shepherd notes: "New stores are even opening in the empty shopping centers. The whole area is really coming back around, and that's good news for everyone."
Resources
88 Charles Street Cafe
Bistro Lilly
Comfort Experts
Ethan Allen at The Bells (845) 565-6000
Gentle Touch Body Care (845) 342-6668
Happy Buddha Yoga
Howell's Cafe
Pleasant Stone Farm
Wildfire Grill (845) 457-3770
Wolf Gang Gallery
Yoga on the Wallkill
Lisa O'Gorman, Sandy Spitzer, Mike Jarezko (instructor), and Gail Brach at the Wallkill River School in Montgomery.