MHV's running club supporting a Leadership Orange run at Angry Orchard
If you're the kind of person who makes a beeline to the farmers market every weekend, grabs your morning cup of joe from the coffee shop around the corner, and supports your nearest indie bookstore every chance you get, it's high time you started banking with a financial institution based in your community too.
Mid-Hudson Valley Federal Credit Union (MHV) is a non-profit financial institution owned by its over 85,000 member-owners who call this region home. From its origins in the 1960s as a financial cooperative for IBM Kingston's employees, MHV has grown into one of the largest credit unions in New York State and offers services to members in seven counties throughout the Hudson Valley.
MHV's main branch location on Morton Blvd. in Kingston
Like all credit unions, MHV is committed first and foremost to its members—so you can rest assured that the team members who work at its 14 branch locations throughout the Hudson Valley have your best financial interests at heart.
"The success of the people and communities we serve is paramount to the credit union people-helping-people philosophy," says Michael Mattone, MHV's VP of Community Impact. "The Hudson Valley is our home, and that drives our commitment to helping the businesses and families here thrive."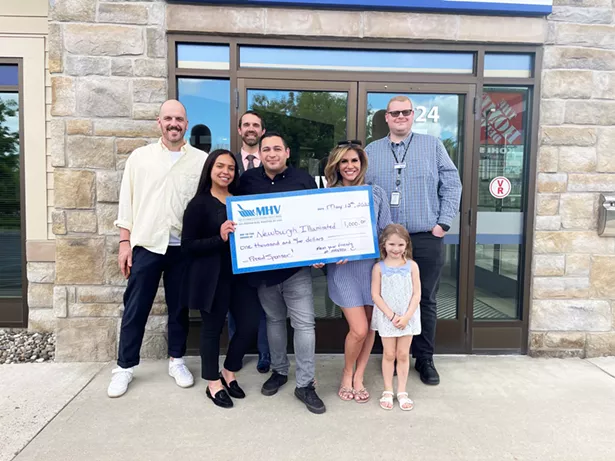 MHV Newburgh branch team providing a donation to sponsor Newburgh Illuminated
In addition to the benefits you'd expect from any established financial institution such as a wide variety of checking and loan products, credit cards, mortgages, investment and retirement services, mobile and online banking, and extended hours at its branches, MHV provides guidance and education to its members at every stage of their financial journeys.

It offers an entire portfolio of financial education from articles to eBooks and videos to webinars that are carefully designed to address the most basic banking skills to more complex financial topics.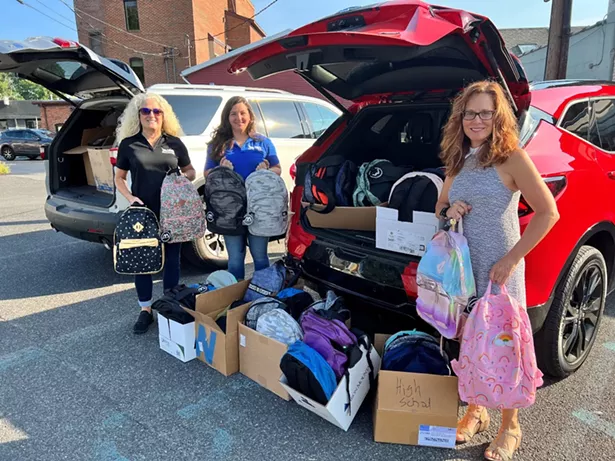 MHV staff members supporting the Back to School Backpack Drive for People's Place
And there's more to MHV's community commitment than financial education. Its leadership and staff create meaningful impact in the communities they serve through both financial support and volunteerism.

In 2021 alone, MHV donated over $200,000 to almost 100 local organizations including the United Way of Ulster County, Westchester Medical Center Foundation, The Children's Home of Poughkeepsie, Sparrow's Nest, and the Newburgh Urban Food and Farm Initiative, and its staff members volunteered over 1,500 hours of service to the community.
Opening an account at MHV is easy. Membership is open to anyone who lives, works, worships, volunteers or attends school in Ulster, Dutchess, Orange, Westchester, Rockland, Putnam or Sullivan County. In addition, members' families, including spouse, children, grandchildren, siblings, parents, grandparents, and members of your immediate household are also eligible to open an account.
To learn more about MHV, visit mhvfcu.com.