Michael Lindsay-Hogg
"Mick Jagger from The Rock & Roll Circus"
What term would you use to describe someone born to Hollywood royalty who came of age in the middle of Tinseltown's golden era and Swinging London, and worked with both the Beatles and the Rolling Stones at their headiest 1960s heights, capturing them in two of the most iconic music films of all time, Let it Be and The Rolling Stones Rock and Roll Circus? For director, author, and visual artist Michael Lindsay-Hogg, the term "Zelig" feels wholly inadequate. "Maybe 'Zelig, but with more ideas,'" says a laughing Lindsay-Hogg, who will screen the latter film and read from his memoir Luck and Circumstance at Basilica Hudson on August 8 and host a reception for "Are You Game? I'm Game," a showing of his latest artworks, at BCB ART in Hudson on August 9.
Born in New York in 1940, Lindsay-Hogg got his start as a director in the mid '60s on the British television pop music program "Ready Steady Go!" when he was 24. "My being around the same age as a lot of the musicians we had on the show was vital, I think," he says. "We didn't quite know we were in the middle of a cultural revolution at the time."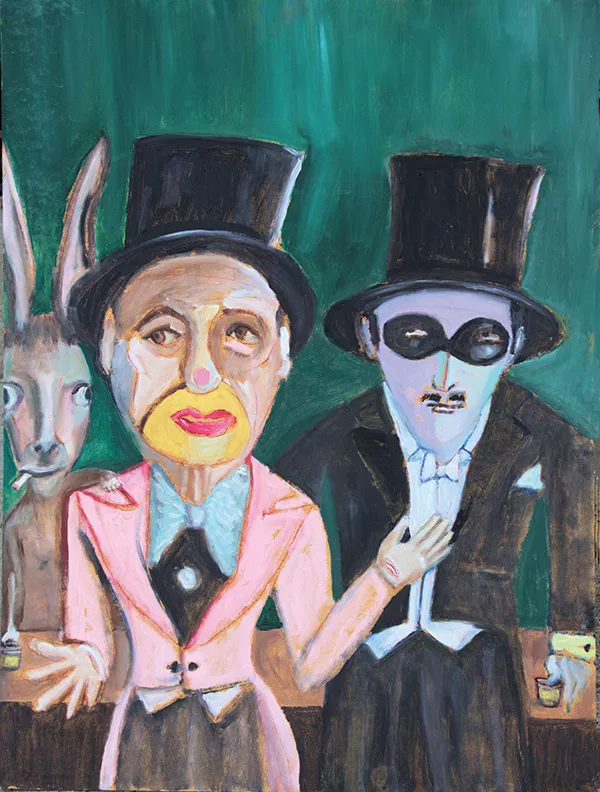 Michael Lindsay-Hogg
Donkey/Clown/Man
His TV connections and youthful hipness netted him gigs directing pioneering music videos for the Beatles and the Rolling Stones, which in turn led to the making of 1968's BBC-TV special The Rolling Stones Rock and Roll Circus. A long-shelved landmark of rock cinema, it features memorable appearances by the Stones, the Who, Jethro Tull, and the Dirty Mac, a thrown-together supergroup comprised of John Lennon, Eric Clapton, Keith Richards, Yoko Ono, and Mitch Mitchell. Next came the 1969 Beatles documentary Let It Be, which culminates with the Fabs' now-legendary rooftop concert at the Apple Records office building in London—which was Lindsay-Hogg's idea. "George didn't want to perform in public anymore at that point so we shot them playing in the basement, but it was obvious for the film they needed an audience to play off of," the director recalls. "I suggested, 'Hey, why don't you do a concert on the roof? That way, the fans can see you but you won't have to directly interact with anyone.' Paul was into it, but right before they were supposed to play, George and Ringo said they didn't want to do it. But if Paul and John were into something, the others would go along with it. John had been totally quiet, but at the last minute he just blurted out, 'Fuck it, let's do it.' So they went out and played."
Lindsay-Hogg moved further into TV, film, and theatrical direction and took up painting in 1999. "I'm self-taught, so it's all about going wherever it takes me," he says. His mother was actress Geraldine Fitzgerald, and for years he assumed his biological father was her first husband, Sir Edward Lindsay-Hogg. But as Luck and Circumstance (Knopf, 2011) fascinatingly chronicles, the long-swirling Hollywood rumors were true: Michael's actual father was none other than Orson Welles, who briefly lived with Fitzgerald. "Even if my life was presented as a fictional work, you'd say, 'Oh, come on,'" he quips. "In writing the book I ended up knowing more about myself than I'd ever anticipated."
Michael Lindsay-Hogg will host a screening of The Rolling Stones Rock and Roll Circus and read from Luck and Circumstance at Basilica Hudson on August 8 at 8pm. (518) 822-1050; Basilicahudson.com. Tickets are $10. "Are You Game? I'm Game" opens at BCB ART with a reception on August 9 at 6pm and runs through September 7. (518) 828-4539; Bcbart.com.