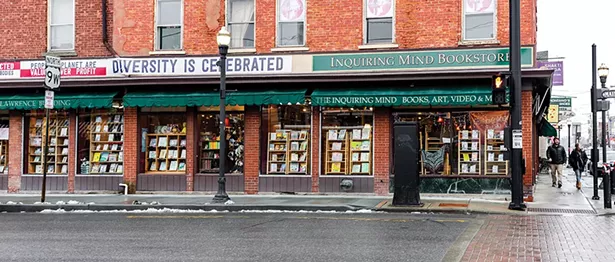 Photo by Anna Sirota
Inquiring Minds Bookstore is an independent bookshop with locations in Saugerties and New Paltz that's not afraid to wear its politics on its storefront.
Saugerties is having a moment. Driving in from the south on Route 9W, across the Esopus Creek's Hudson River delta, you wind steeply uphill and are delivered into one of the most alluring little shopping districts in the Hudson Valley. Partition Street is narrow. The tightly clustered historic architecture and the current roster of well-appointed stores and quality restaurants offers more than one might rightly expect from a village with a population of 4,000 people.
But it wasn't always this way. Saugerties has seen its fair share of economic tumult. In some ways, the town is still recovering from the loss of IBM jobs decades ago. Those jobs had revived the town after the loss of industrial jobs generations ago. Now, with an influx of new businesses and the continued passion of stalwart older ones, Saugerties is positively buzzing.
Map illustration by Kaitlin Van Pelt.
A Community with the Right Mix
Ed Montano, the fourth-generation co-owner of
Montano's Shoe Store
(opened in 1906), says the village and surrounding town of Saugerties is the busiest he's experienced in the 35 years he's worked at the family store.
"Saugerties is popular now," Montano says. "I think it's because we have the right mix. There are great stores, art, restaurants, and things to do. There are a lot of new people coming in but locals seem content, too. There's something for everyone. No one feels excluded."
Photo by Anna Sirota
Catskill Animal Sanctuary has provided a home for over 5,000 farm animals rescued from cruelty, neglect and abandonment since it opened in 2001. CAS opens for public tours again on April 4.
Older businesses like Montano's, Town and Country Liquors, the Exchange Hotel, and the iconic Orpheum movie theater are interlaced with modern boutiques and specialty shops like Bosco's Mercantile, the Willow Tree, Mother Earth's Storehouse, Perfect Blend Yarn and Tea Shop, and many others. Saugerties also boasts a healthy smattering of character-rich antique stores, candy stores, ice cream parlors, and two tattoo shops.
Montano credits the town for not losing sight of the needs of long-time residents. Things like the reconstruction and recent reopening of the Kiwanis Ice Arena, this winter, have been meaningful to the active community."All the businesses support each other," says village mayor William Murphy. "That's what markets the town in general. It's a combination of the great atmosphere and so many activities that bring people here."
Photo by Anna Sirota
Falling Waters Preserve is a 149-acre Scenic Hudson property on the Hudson River with hiking trails, picturesque waterfalls, and the ruins of the Mulford Ice House, dating back to pre-refrigeration days.
In warmer months, the mayor said, locals and tourists alike mingle at large events at Cantine Field to enjoy a schedule of activity including the Caribbean Carnival, the Sawyer Motors Car Show, and the Garlic Festival, which draws a crowd of tens of thousands each September.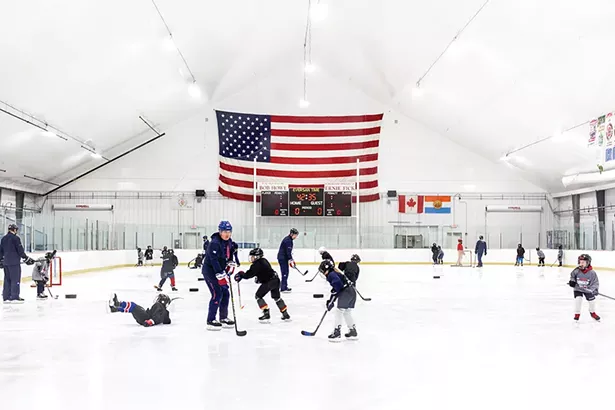 Photo by Anna Sirota
Junior Rangers youth hockey league practiceat the Kiwanis Ice Arena, which re-opened inDecember after a $1 million renovation.
Two Anchors of Different Shapes
Back in the village, at the corner of Partition and Main streets, Inquiring Minds Bookstore and Cafe has become one of Saugerties's most recognizable storefronts. Opened in 2003 by Brian Donoghue, the sprawling shop is filled with new and used books and records, plus coffee and plenty of room to lounge around and read or maybe start a revolution. "I think a book store is essential," said Donoghue, "I think we've been an anchor for the community. People have told me we were part of the reason they decided to move here or open a business here."
Inquiring Minds is also a base for progressive thought in the area and it wears its liberal heart on its sleeve. Alongside new releases and antiquarian treasures, Donoghue fills his highly visible window displays with striking protestations of President Trump and GOP policies, including stark imagery of caged migrant children at the US border.
Photo by Anna Sirota
Noa Jones and Karma Wall teaching at Middle Way School, a Buddhist school for children in West Saugerties. Founded in 2018, Middle Way School has 29 students, and plans to continue expanding by one grade each year.
The displays have stirred controversy in the town's conservative circles, but Donoghue feels standing up for justice is more valuable than the potential lost business. "We try and be a catalyst for change and get people to think," Donoghue says. "We have a personal responsibility to our community to give people a space to address the issues of the day. The community is changing and growing and becoming much more accepting and progressive, and that's all you can ask for."
Rooting the business district at the other end of Partition Street, down by the creek and the village beach, is Diamond Mills. The sprawling hotel, restaurant, and event space resides on the site of the former Martin Cantine Paper Mill. Originally built in 1888, the mill was a key part of the industrial boom that birthed the Saugerties you see today.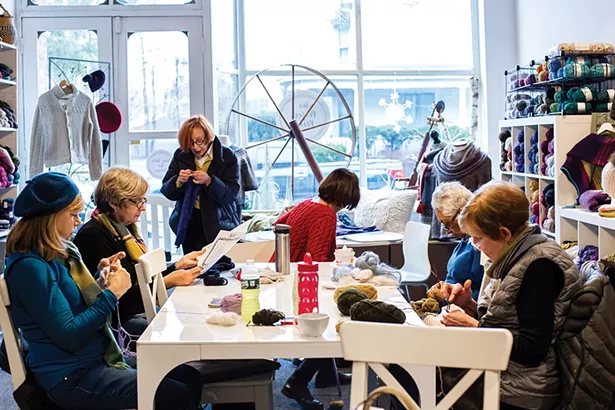 Photo by Anna Sirota
The Perfect Blend Yarn and Tea Shop is a retail space and home to a dedicated community of knitters.
Looming over the old factory's waterfall dam, Diamond Mills now provides high-quality accommodations and dining to all visitors but perhaps most notably for those coming to enjoy local equestrian events put on by HITS, a national events management company, based in Saugerties. HITS primarily produces hunter/jumper horse shows throughout the United States. Both Diamond Mills and HITS are owned by Tom Struzzieri, who's invested millions in the town since opening HITS's base of operations here 16 years ago.
A Taste for Every Bud
The restaurant scene in Saugerties is versatile, resilient, delicious, and sustaining. There are some swell dining spots, like the
Dutch Ale House
,
Bella Luna
,
Miss Lucy's Kitchen
, and
Black-Eyed Suzie's
, but there is also an impressive spectrum of more casual spots with far more than casual menus, such as
Love Bites Cafe
,
Olsen and Company
,
Ohana Café
, and
Mirabellas
. Grab-and-go mainstays like
Slices Pizza
and
Buns Burgers
thrive as well and a few older spots like
Rock Da Casbah
and
Pig Bar
(currently under renovation) keep things moving.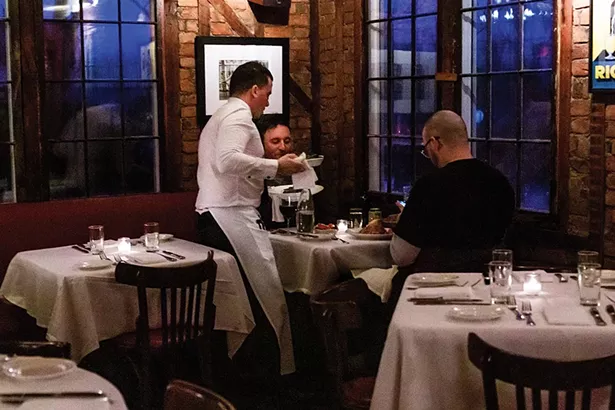 Photo by Anna Sirota
The Red Onion, located on Rt. 212 between Woodstock and Saugerties, has served innovative farm-to-table cuisine in a fancy farmhouse setting for nearly 20 years.
Aimee Marone is originally from upstate New York but lived in Hawaii for a decade. Two years ago, she returned and stumbled upon Saugerties. She fell in love with the town at first sight and opened Ohana Café. The café specializes in crepes, not Hawaiian food, but an island influence permeates the feel of the eatery and a few dishes too. Ohana, Marone says, means family but also a sense of family that extends beyond blood to a connection with one's community. She says she feels ohana in Saugerties. "I moved back from Maui two years ago and fell in love with Saugerties because it reminded me of Hawaii, in a way," she says. "The community sticks together. Saugerties is this great hidden gem."
The Art Scene Stretches its Wings
In recent years, galleries and art venues have had a growing impact on Saugerties. Spaces like the
Emerge Gallery
and
11 Jane Street
have created places to view artwork and have also started new community-centric programming to bolster creative expression throughout town. "The combination of a small village, the larger surrounding natural beauty, and a very strong creative community is all coming together to create something special," says 11 Jane Street's founder, Jennifer Hicks. "My goal is not to come in here as some hoity-toity city person. I want to show people that art isn't scary or snobby."
Last year, stakeholders created the Saugerties Arts Commission, and the young organization has already begun fostering relationships between businesses and local artists. "We opened just four years ago, but the response has been fantastic," says Robert Langdon, founder of Emerge Gallery and an arts commission board member. "There's a really large amount of artists and creative people in Saugerties and there's a real sense of camaraderie."
Photo by Anna Sirota
Opened in 2014, Union Shave is part of a movement of retro men's barbershops that offer a shave and a haircut with attitude.
Both Emerge and 11 Jane Street will be taking part in a village-wide celebration of poetry month in April. Langdon is facilitating collaborations between local visual artists and poets and is coordinating the placement of art and poems in shop windows.
Saugerties Chamber of Commerce Chairman Mark Smith recently revealed that this spring and summer, butterfly sculptures painted by local artists will be installed throughout the village and eventually auctioned off to support local charities. Smith says people have asked, why butterflies?
He says he feels the symbolism is apt for Saugerties, literally representing the natural beauty of outdoor attractions like the Esopus Bend Nature Preserve and as a metaphor for a town spreading its wings.
Yet another artistic endeavor, still quite a ways in the distance, is the creation of the Tidewater Center. The performing arts center, to be built on the ruins of another old paper mill, in a marshy area along the Esopus, is to be the permanent home of the contemporary puppet theater troupe Arm-of-the-Sea. Patrick Wadden, cofounder and artistic director of Arm-of-the-Sea says that realizing the center may take some time, but they are excited and motivated to make the dream a reality. "We love making plays that spark wonder, engender joy, offer insights, and inspire the next generation of environmental activists," says Wadden. "We've been a touring company for 38 years. Now we hope to create a home at the Tidewater. We're nearly finished with the planning and permit process, which positions us to raise funds for construction. Our mantra is: inch by inch!"
Saugerties Ain't Mayberry
While Saugerties becomes more recognized as a regional draw, it's also still a real town, in the real world, struggling with real problems. Opioid abuse has been a serious issue in the municipality and—most troubling for Mayor Murphy—in the school district, where past youth overdoses have shaken the community. "Mayberry is a fictional town," says Murphy, who lost his own brother to addiction three years ago. "I know it first hand. You arrest one drug dealer and another pops up. You have to keep at it. As a father and a coach, my goal is to keep it out of the schools. Our police chief is working incredibly hard."
In January, Chief Joseph Sinagra announced the police department's new certification as an "opioid prevention provider." They will now offer classes to residents 16 and older in how to administer the overdose-interrupting drug Narcan.
Murphy has been mayor for 10 years and says this health and safety progress goes hand in hand with economic growth. A rising tide lifts all boats, and he says this current boom has been a long time coming for residents. "I give all the credit to our old anchor businesses," the mayor says. "They weathered the storms of the `80s and `90s, and now they are finally seeing the benefit."
Saugerties may not be Mayberry but that's a good thing. Saugerties is real. It's overcome hard times and is working to address its demons head on. The new Saugerties is modern, cool, and honest. It's creative and culturally relevant. But heck, if Mayberry is what you're after, feel free to whistle your way down to the creek.