I just kind of have a knack for putting things together," says Steve Morris, the owner of Steve Morris Designs on Route 9W in Port Ewen. The self-taught artist and draftsperson, who works mostly in metal but will create objects with other materials if a project grabs him, has designed and fabricated—and often installed—everything from sleek, contemporary-looking wall sconces and lighting to whimsical, organically inspired furniture, elaborate spiral staircases, and entire living spaces. For one client's home, Morris created a modern-meets-Moroccan entertainment room and lounge complete with curved walls and doors, keyhole arches, and comfortable, built-in couches with illuminated crescent-shaped cutouts in their bases.
For the past dozen years, Morris has worked with homeowners, interior designers, architects, builders, and business owners in the Hudson Valley and New York City to produce architectural metalwork and functional sculpture. For a garden enthusiast in Tuxedo Park, Morris created a 25-foot facsimile of a white birch tree made out of stainless steel and carbon steel. Although the client had many real trees on his property and could afford to plant many more, he said he couldn't get another metal tree like the one Morris made. "He was very excited about it," Morris recalls. "He really liked the way that we did the stainless-steel bark."
For an artist's home in Woodstock, Morris made four large bronze birds, three of which the client wanted mounted on the roof. The smallest bird measured 42 inches from head to tail; the largest, about six feet. "Each feather was cut out of sheet metal," says Morris. "There were thousands and thousands of feathers. I welded feathers on for weeks." According to Morris, the installation was "crazy." The roof had to be pierced so the birds could be mounted to the ridge beam with big bolts, and each bird had to be separately grounded with a heavy copper line in case they attracted lightning.
Not every client has needed, or wanted, decorative trees or roosting birds. Functional projects have included signs, display cases, bars and barstools, deck and staircase railings, balconies, and gates (although one client commissioned Morris to create and install a metal gate between two metal trees—a fanciful "gate to nowhere" for her yard). To help him realize his designs, Morris employs three studio assistants. Carmel Holt, the artist's romantic partner for the last 12 years, handles marketing, advertising, and graphic design, and she works with Morris on the creative direction of the studio. Morris designs everything himself, and he says that most of the sculpture, which comprises about half of his business, is commissioned by other artists who appreciate his aesthetic and craftsmanship.

Morris states that it has been hard, at times, to explain his business. "People ask, 'What do you do, exactly?' And I answer, 'Well, although I couldn't engineer your house, I could certainly design your house,'" he says. "I wouldn't exactly call myself an interior designer, because we would make most of the furniture as well as design it. An interior designer would go to a home-design store and pick out the pieces for you and put together an ensemble for you.
"We do make furniture of all different types, but I wouldn't say that we're just furniture designers," Morris continues. "We do a lot of railings and staircases. I would not say that we were just railing designers. We do sculpture, but I wouldn't say that I'm a sculptor. We do a lot of custom lighting design, but I wouldn't say that I'm a lighting designer. Again, when people think of lighting design, they often think of somebody who has an understanding of lighting and who will place fixtures that they find from available sources. We actually make the fixtures. My crew makes the stuff. I don't just draw it out and give it to another crew to make it."
Morris first started working with metal on a much smaller scale when, at age 17, he learned jewelry making from Woodstock artisan Susan Carey. The two became business partners, but after five years of running a successful jewelry business, Morris admits, "all I wanted to do was ride my motorcycle." He moved to Brooklyn and became a motorcycle messenger (a viable occupation before the days of fax machines and the Internet). Two years later, he moved back upstate and did construction work before starting another jewelry business, called Morgan Designs. He ran the business himself and sold earrings made of sterling silver and semiprecious stones to high-end boutiques and department stores. "I did really well with Morgan Designs," he says. "I had reps in the city, reps in LA, reps in Texas. Out of that, I started to do jewelry accessories."
In order to avoid purchasing expensive earring trees for the 200 different designs in the line, Morris bought washers, nails, and brackets from P&T Surplus in Kingston and figured out how to weld them together to create his own earring trees. Then, impatient with the time it took to set up each individual earring stand at trade shows, he returned to P&T for inspiration. "I went in the back, where there were all of these old cars, and I took a cutting torch and cut up the sheet metal into different shapes—cats and dogs and stars—that were anywhere from 12 to 20 inches. I drilled a bunch of holes into the sheet-metal shapes and made those into stands. That way I could get 10 pairs of earrings on a stand, and setup started to move faster at the shows." Other designers began ordering Morris's stands. Later, three jewelry companies commissioned Morris to design and fabricate their display booths.
In the mid '90s, when Morris was in his early thirties, he began doing commercial work in New York City. He created "old-school, carnival-style" display cases for a gift-boutique owner in Greenwich Village. The business grew from there, as Morris found himself taking on more jobs in both the city and the Hudson Valley. He did all of the metalwork, including balconies, railings, lighting, furniture, and a fireplace surround for musician Pat Metheny, who was having a house renovated in Ulster County. "I realized that I could bring my jewelry background and add to it what I had learned about big metal pieces to start doing more designwork and metal fabrication." He adds, "Everything I do, I've taught myself. Nobody has shown me how to do any of it. I have a natural engineering skill, and I'm a pretty good draftsman."
Before he started Steve Morris Designs in Port Ewen, Morris worked out of an 800-square-foot studio on property he owns in Marbletown. He bought the 4,000-square-foot building on Route 9W, a former auto body shop with a "nice concrete floor," in July 2004, and, after renovating the building and completing other projects, he officially opened the new design studio and workshop in May 2005. He says that business quadrupled in 2006.
While Morris is quick to cite people and styles that have influenced him, from Frank Lloyd Wright and Antonio Gaudi to the Arts and Crafts movement, art deco, art nouveau, and the space-age designs of the 1950s, he says, "Like most artists, I'd have to say that I'm inspired by nature. I love being outside." For the first 12 years of his life, Morris lived on Staten Island. "Most people wouldn't think of Staten Island as a beach community," he says. "But when I was a kid, my house was an eighth of a mile from the beach. I spent quite a bit of time by myself wandering around the beach, looking at stuff."
Although Morris works primarily in metal, using stock sheets of steel, stainless steel, bronze, and aluminum, he has also worked with wood to create trims, staircases, and furniture. This spring, Steve Morris Designs will introduce its Hudson line of furnishings, which will incorporate materials such as driftwood and bricks reclaimed from the shores of the Hudson River. The project was inspired by Morris and Holt's concern for the environment and their desire to "give meaning to the high-end things Steve designs and produces at the studio and showroom," according to Holt. "We want to raise awareness of the Hudson River and its many environmental challenges," she says, "as well as provide a reminder of the river's great strength and beauty." Three percent of each sale will benefit the Hudson River watchdog organization Riverkeeper.
Steve Morris Designs is located at 156 Broadway, Port Ewen; (845) 339-0144; www.stevemorrisdesigns.com.
Jennifer May
Steve Morris uses a grinder to shape what will be a stainless steel-and-bronze snake chandelier.
Jennifer May
The basement of a house in Lake Katrine was transformed into a club-like lounge complete with built-in benches that light up, a stainless steel bar, and a media/entertainment room with "keyhole" entryways.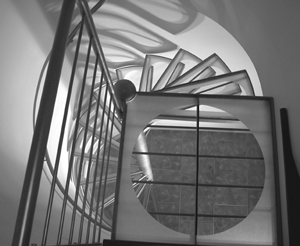 Jennifer May
The stainless steel-and-sand-blasted-glass spiral staircase in a Shokan residence leads up to a sand-blasted-glass landing.
Jennifer May
Steve Morris reflected in his massive Delano Mirror in the showroom of his studio in Port Ewen. The flat-cut curlicues are attached to thick sheets of mica, which can be illuminated.