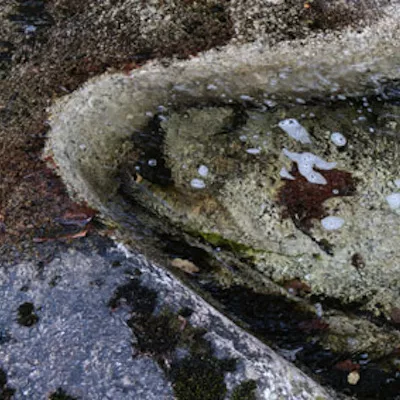 Eric Francis
Detail of stone bed of the Coxing Kill on the Grandmother Land in High Falls, New York. The direction of water flow is to the left, a few feet north of the waterfall.
Mercury will be retrograde from this Saturday, Oct. 4 through Oct. 26. During that span of time, we get a total lunar eclipse on Wednesday Oct. 8 and then a solar eclipse on Thursday Oct. 23.
These events open up a space of unique opportunity, yet the overall effect could be some confusion, and the possibility of getting blown off course. Before that happens, you might want to check your navigation -- where are you headed, or where do you think you're headed? I think that it will be essential to know your priorities, your objectives and your goals, so that at least you can keep some perspective.
There's another pretty wide-open possibility, however. If you investigate and decide you don't have any desire or plans to which you're truly committed, then this astrology will help you shuffle the deck and make some discoveries. It's interesting enough, potent enough, strange enough, that you could come out in a totally new place, on whatever level of your life you're considering.
Speaking to the first possibility, if you have some definite objectives, then keep your focus and observe the opportunities that arise in the mix of upcoming events. Unexpected developments can help you advance in ways you were not planning on and could not have foreseen. At least using astrology, we can see that much.
Also this week, Mars is making its way across a very crowded Sagittarius; many minor planets are concentrated there. Mars makes its way out of Sagittarius in late October, concurrent with the end of the Mercury retrograde that begins this weekend.
Right now Mars is working its way into a square to Chiron, which will be exact Oct. 4. This arrives on the heels of Mars recently square Neptune.
Here is how I compared those events in a recent post on Planet Waves: "If Mars square Neptune would benefit from a little more integrity, Mars square Chiron would benefit from relaxing a little and not worrying so much about integrity. Mars square Chiron wants to be so perfect that neither Mars nor Chiron can function optimally, Mars as an agent of desire and Chiron as an agent of awareness."
There are indeed moments when it's best not to act. However, since life on our planet tends to be a mix of inaction and poorly timed action, I suggest feeling out this scenario carefully. Whatever action you take will need to be decisive, most likely subtle and also taking in full use of your senses and your instincts.
Also working in the background is that Venus changed signs to Libra earlier this week. In a phrase, this says skip the details and turn on the charm (in whatever form, such as affection, beauty or quality of presentation).
All that said, the planet to watch most closely this weekend is Mercury, newly in Scorpio, about to station retrograde at 1:02 pm Saturday. We are now in what some call the 'storm' phase — the phase of Mercury's slowest daily movement. So the message is to take a pause initiating new projects and intentions, and slow down a bit so that you can review and complete what you've started.
Notice when you're not noticing what you're doing, or your environment, especially while in transit. We live in a busy world of instant reply, but the next week or so calls for deliberate thought, speech and action while Mercury is turbulent and we approach this first eclipse of October.