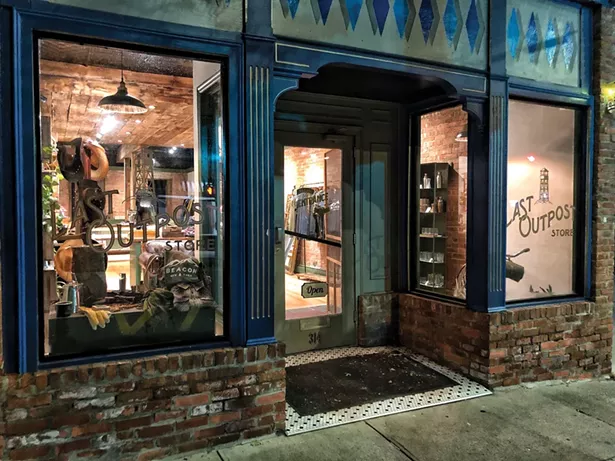 Our readers fell in love fast with Last Outpost, a timeless and stylish shop that opened on Beacon's Main Street just last August. "A woman came in and said, 'Did you know you're nominated for a Chronogrammie?' and I said, 'Wonderful! But how does anyone even know who I am?'" says Chris Cimino, who opened the outdoor apparel and lifestyle shop with his wife, Allison.
It turns out that good taste gets noticed, and our readers' choice for men's shop is a cut above the rest with products ranging from sustainably sourced cotton T-shirts to elegant, practical enamelware that transitions from kitchen to campsite and back without a hitch. And even though Last Outpost was forced to close its doors during lockdown, loyal customers stuck around via online sales. "We started getting the website together soon after we opened, and then it became urgent in March," says Cimino. "A couple of weeks later we announced [the site] and neighbors and customers stepped up. We started free local delivery and people were sending the most beautiful messages back."
The Ciminos met in New York City (he's from Carmel, she's from St. Louis) and relocated to Beacon, where they found the future home of their shop in an 1886 building in early spring 2019. They spent four months renovating—dropped ceilings were removed to reveal old-school pressed tin. They added 20-foot long shelves repurposed from a derelict building in Wappingers Falls and made a display rack out of a discarded wooden ladder, and then set about filling the shop with things they loved, classic and novel.
"It's curated so that when you come in, there's a lot to see," says Cimino, of the photogenic shop. "I'd say 75 to 80 percent of the store is artists, most of whom we know. There are things we make ourselves—the beard, hair, and skin oil, Allison's sterling silver jewelry. Then there's Craig, our FedEx guy. He makes the birdhouses. The belts are from a leathersmith I know, and our soaps are made right here in Beacon. The rest is sustainable in some way. People come in and fall in love with a t-shirt and then find out their purchase funds the planting of 10 trees. And there is always flannel. I am a total flannel guy, I live in it, so we stock it year round."