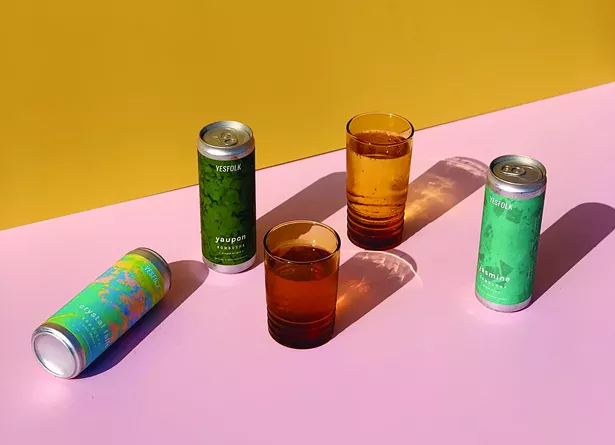 Courtesy of Yesfolk Tonics
In a late 19th-century brick church building in Troy known simply as "The Church," artist's lofts have been converted from old Sunday School classrooms, concerts are held in the nave, and in a space downstairs beneath the altar, which used to be utilized for Catholic practice of perpetual adoration, or, a years-long 24/7 relay of prayer, is now the inner sanctum of Yesfolk Tonic's kombucha-brewing operations. "It's a pretty special place," says Yiyi Mendoza, who cofounded the upstate fermented soda business with her husband Adam Elabd. "And now, it's our version of a cheese cave."
Unlocking Potential

Before electricity and refrigeration, the process of fermentation helped keep food from spoiling. Still, it has another benefit: It helps make a food's nutritional value more available to the body. "Fermentation gives you the best that food has to offer," says Mendoza. When you use traditional preservation processes such as fermentation, pickling, or curing, not only are you unlocking nutrients, vitamins and enzymes, you're also allowing a community of beneficial bacteria to flourish in that food. As you eat it, you're adding to the beneficial microflora that already exists in your gut. The benefits of positive microflora connect to all of the systems of our body, from brain function, to the immune system, to digestion and other organ function.
Today's mass-produced foods, Mendoza says, have lost a lot of those benefits: "Things that are common in our everyday life—like pickles, cheese, yogurt, cured meats, sour cream, wine, even some kinds of bread—ave been part of the American diet for a very long time, but they're no longer made in a way that's actually adding nutritional value to your body."
A Healthy Legacy
Mendoza's interest in health-supportive fermented foods and beverages, like kombucha and kefir, stemmed from her Mexican grandmother, a
curandera
, a native healer who practiced natural medicine. "She would prepare natural medicine for a living—natural ways of healing the body, something we could do before going to the doctor or taking Tylenol." In 2010, Mendoza studied natural medicine during an internship in southern Oregon, where she expanded on this ancestral knowledge, learning other natural medicine techniques, from homemade tinctures to growing medicinal herbs.
Elabd's introduction to pickled and preserved foods was through his paternal grandmother, from Egypt. "She always had her own cured olives and pickled Egyptian lemons," Mendoza says. "Egyptian cuisine is very rich in fermented foods—there are all these pickled condiments that go along with your food—and Adam grew up learning from her and helping her prepare these foods for his family."
Culture Shock
In the winter of 2016, Mendoza and Elabd moved from Southern California to Troy, NY to be closer to Elabd's family, expecting to be met with the same
basement-brewing, pro-fermentation culture their had left on the West Coast.
Little did they know, three and a half years later, they'd have a family-owned, family-run, six-employee business.
"In California, we had been studying natural medicine, herbal medicine, fermentation as ways to start to take charge of your own health," Mendoza says. "When we were getting ready to move, Adam had started doing education around fermentation and writing a cookbook about it—
Fermenting Food Step by Step
[2015]. In Southern California, many people were interested in how to do this. It was a lifestyle." When they arrived in upstate New York, they had to adapt to some mild culture shock. Here, when it came to fermented foods, widespread awareness and interest was not yet the case.
"This area is pretty big on homesteading and farms, and there is great local and organic produce available. Definitely, parts of the health movement are parts of people's everyday normal life, but the interest in classes to make kombucha or sauerkraut just wasn't the same," Mendoza recalls. Instead of teaching others how to make their own fermented beverages at home, they joined a small handful of other regional producers in the work of introducing people to the ideology of fermented foods for the first time.
Local shops and restaurants offered to sell Eladb's and Mendoza's kombucha and kefir drinks, and soon, a business began to emerge. Diverging from the classic black-tea brew, Yesfolk offers five tonics using beyond-organic, single-origin tea bases—jasmine, yaupon, Black Dragon, Royal Phoenix, and Emerald—all brewed in American oak or glass. They also offer two plant-therapy flavors using adaptogenic and medicinal herbs like Soft Rays, a green-tea kombucha infused with tulsi, St. John's wort, and saffron. Their website even recommends food and spirit pairings, like the Black Dragon, which plays nicely with stout, mescal, asada tacos, and massaman curry.
A Family Affair

"If we were still in California, we would never have thought to open a kombucha or kefir company because there are plenty already," Mendoza says. "But this was something we could bring to this community." Now, it's sold in places like
Rough Draft in Kingston
, in distinctive pastel watercolor tallboy cans, designed in collaboration with artist Felicity Grace Jones, or on tap at Lil Deb's Oasis in Hudson.
When Yesfolk began to take root in the Capital Region and the Hudson Valley, Mendoza's brothers Frank and Javier Mendoza relocated from California to help get it off the ground. They've been in Troy ever since, and last year, two of Mendoza's cousins, Santiago Alcaraz and Daniel Siordia, came on board as well. "It's not always easy as a family business but fortunately for us, we all like to be around each other," Mendoza says.
Now, a resurgence of interest in fermentation is brewing in upstate New York. Poor Devil Pepper Co. makes fermented hot sauces in Hudson. Hosta Hill kimchi and kraut and South River Miso are made in the Berkshires, Small Town Cultures' fermented vegetables, and Sugarhouse Creamery's traditional cheeses in the Adirondacks, are just some of the many enterprises making traditionally fermented foods.
And in Troy, on Saturdays from 1pm to 6pm, Eladb, Mendoza, her brothers and cousins can be found pouring tastes of fermented beverages on tap during their tasting room's public hours.


Yesfolk Tonics Tasting Room

224713th Street, Troy, NY 12180