Deborah DeGraffenreid
A morning status meeting at Rabe & Co. The design firm's office is in the loft space of KenRabe's apartment on the grounds of Beacon's Roundhouse.
Most visitors to Beacon know that the factories at the east end of Main Street, for years boarded up and falling down, now house a warren of boutique hotel rooms, a destination restaurant, and one of the coziest fireplaces in the Hudson Valley to sip a mug of coffee by while watching the play of seasons through expansive windows. But once the fire dies down, head outside the main building of the Roundhouse (as the series of buildings are collectively known as,) turn left, double back towards the falls, and you'll stumble upon a long, low-slung building that runs parallel to the Fishkill Creek. And maybe you even know that the front of this building holds one of the Valley's hottest event spaces, booked with weddings every weekend from now until the day Mount Beacon slides into the Hudson.
Keep walking. Peek behind the tall wooden fences. There are more surprises in store.
It's there, behind the fences, that a series of lofts runs from the event space all the way back to a thicket of woods. From the outside, they look squat and small. But knock on a door, and when it swings open you'll find soaring lofts, impossibly expanding to the sky. The kind of lofts you read about in books about New York City in the 1970s, when SoHo was the home of artists and revolutionaries instead of $12 bagels and $12,000 handbags.
When graphic designer Ken Rabe first saw those skyward spaces, he knew it was time to get in on the ground floor.
Born and raised in Fishkill, Rabe was living in Astoria when the Roundhouse project began coming together. After years of doing lucrative design work for ad agencies, Rabe and his colleague Liz Birch decided to open their own design company, Rabe & Co. Birch was living in Beacon at the time, and heard from her father-in-law about the Roundhouse. She figured they'd need some designers so she, in her own words, "bugged them until they finally gave in."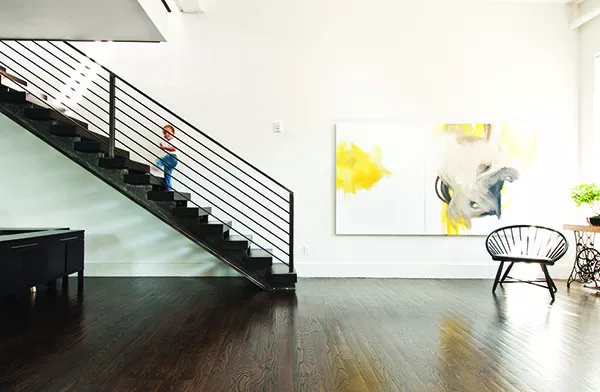 Deborah DeGraffenreid
Front entry of Liz Birch's loft. Painting by Stephen Spaccarelli.
O Pioneers!
Soon Birch and Rabe were crafting the design plans for the Roundhouse and touring the buildings. But even in their decrepit state, shot through with patches of ivy and wayward saplings poking their way through the walls, Rabe knew it was perfect. He'd been saving his money for years in order to buy his own place, only to watch the market in New York City creep out of reach. This was something graspable. "I kind of pulled them aside," Rabe recalls, "and said 'Uh, I think I want one of these.' And they said 'That's great. Now go convince a bank."
New York City may have a lofty tradition of unconventional live/work spaces, but the Hudson Valley does not. That meant that Rabe had to be a pioneer, and explain to banks what his vision was. And as the old joke goes, a pioneer is the guy on the trail just ahead of you with the arrow on his back.
But after withstanding enough slings and arrows, Rabe was finally able to get a bank on board. He was the first one to purchase a loft in the building, which he set up as both his home and the office of Rabe & Co. His commute is now about 30 seconds.
Birch is not so lucky. Her commute to her new office takes almost a whole minute. She and her husband bought the loft directly next door. "Some of our friends think this was some kind of diabolical plan, for me to get Ken to move up here and then set up shop literally next door to us," says Birch. "But he's from here! He still has friends and family here. He knew Beacon."
"Yeah, I remember old Beacon," says Rabe. "It was very different than it is now."
Deborah DeGraffenreid
Custom dining room table by Thomas Filiaggi of Loft 3F.Scored slate artwork by Stephen Spaccarelli.
Mister Clean
That difference becomes apparent when touring Rabe and Birch's lofts, showcasing a design aesthetic that would have been hard to find here 20 years ago. For Rabe, whose own work is steeped in minimalism and simple, clean lines, it's easy to see what drew him to the space. Majestic dark wooden beams tuck into black metal staircases and railings, forming an elegant structural patchwork that supports the two levels. The walls themselves are neutral canvases, large and splayed with light from track lighting and they sky. Works by local artists mostly sit against the floor, so that the walls can remain blank and open to interpretation. Everything one would need for daily living, like books and pint glasses, are tucked under tables or in vintage lockers. Like Rabe's design work, there is nothing fussy, ostentatious, or out of place. It silently makes its statement, and then turns the conversation over to you.
"It actually reminds me of scale, which is something Ken's always talking about when we're designing logos," says Birch. "A logo needs to look just as good printed large as it does when it's printed small. Ken's place is like that."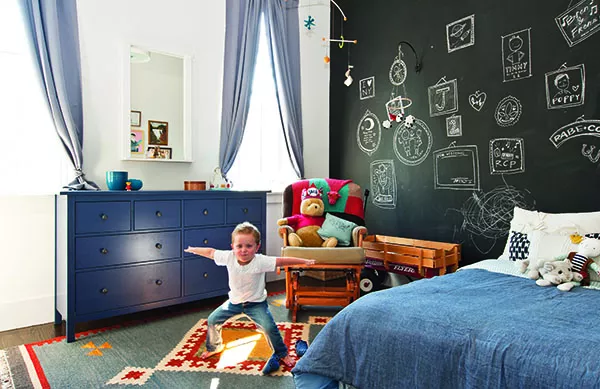 Deborah DeGraffenreid
Birch's son Jack in his bedroom.
A Child's Oasis
There's still a sense of that scale that's retained when one walks out the door and into the loft that Birch shares with her husband and son. Birch claims it's more cluttered than Rabe's place, which is understandable to anyone who has a toddler at home. But not by much. Here the lustrous dark wooden beams have been painted a nautical white, and a vintage jukebox glows in the corner. Stacks of keyboards, samplers, and mixing boards lay atop each other on various desks (among other things, Birch's husband is a noted ringtone designer.) And sure enough, there are hand-me-down Fisher Price houses and Ewok Village playsets in the corner. But the space still remains remarkably open and free, something that Birch says is a godsend in snowy Hudson Valley winters when their son Jack can run around or push a scooter for hours without bumping into anything. And for when the high ceilings are just a little too mind-blowing for him, the couple has turned one of their unused kitchen cabinets—and when was the last time you heard anyone claim they had one of those—into a fort for tucked away playtime.
For Rabe and Birch, the live/work combo has become a dream come true. Instead of working in the city and entertaining clients down there, they now invite clients to come up from the city and visit them in Beacon...and then send them home with some farm fresh eggs after sitting on Rabe's back deck and taking in the view of the creek. "Our clients come up here, and they just lose their mind," says Rabe. "They can't believe we get to live and work up here."
Still, the system does have its downsides. On brutal, snow-strewn days, Birch still does have to walk outside for about 30 seconds to get to work. But it's a solvable problem. "We're thinking of putting in a panel door on our common wall for the winter," she deadpans. "That way, I can just balance my coffee and cereal on my laptop and slide on through to work."