In the kitchen of Bell's Cafe, jars of exotic herbs and spices from the Mediterranean line the shelves: za-atar, harissa, sumac (not the poisonous one), turmeric, and several curry blends. Bottles of pomegranate juice fill another shelf and a bowl of pomegranates on the wooden countertop await peeling and seeding. While the name of the restaurant has remained the same for 25 years, in the past two years everything else has changed, including the owners.
"As long as I can remember, I wanted to cook," says Keith McMorrow, co-owner. McMorrow dropped out of corporate life as a manager for FedEx to attend Peter Kump's Culinary Institute in Manhattan. Running a kitchen in Queens after graduation, McMorrow met Yael Manor (now McMorrow), who moved to New York from native Israel to attend the French Culinary Institute. Keith says he was Yael's boss, "for about this long." He snaps his fingers. Yael shrugs her shoulders and nods, laughing.
Their first years as a couple, they traveled back and forth between New York City and Keith's weekend home in the Greene County town of Durham. They looked at opportunities to cook at restaurants in the area, and when a friend told them she had seen an old luncheonette named Bell's Café for sale in Catskill, they took a field trip. Yael recalls the day she peeked inside the closed shop windows. Two months later, it was theirs.

The building was a pleasant surprise. "It's a gem. We just peeled away the layers," says Keith. The circa 1830s building was well maintained when they bought it, though in need of cosmetic updates. In the first year they closed the restaurant every few days to renovate. The McMorrows handled most of the renovations themselves, incorporating elements from the previous owners left behind—like a circa 1950 freezer refashioned into a dessert case. A dropped tile ceiling hid beautifully embossed tin. Arched wood and glass details on the front windows were also buried. Upstairs, in the two floors they call home, they found gold-painted wallpaper behind the plasterboard.
Today, Yael and Keith pay homage to the earlier incarnations of Bell's Café, and to the town of Catskill, in framed photographs on the wall by the kitchen. Horses weave through streets filled with bonnet and petticoat-clad women and men in wide brimmed hats. There are also black-and-white photographs of the shop as an ice cream and soda parlor, as a diner, and as a candy shop. Though they changed everything else about the menu and the interior, they left the name and the original hand lettering on the front windows. "Why mess with the karma?" Yael asks.

September marked the second anniversary of the new Bell's Cafe and they took a vacation to Yael's home in Israel. They loaded their luggage with Turkish coffee, Arabic cooking and serving utensils, English-language cookbooks of classic Israeli and Arab dishes, and the unique spices which are second nature to Yael and in which Keith delights such as harissa, a spicy chili pepper blend from Yemen; and za-atar, a classic Middle-Eastern spice blend.
Keith brought a specialty coffee pot back from Nazareth. Known as a fingan, it brews a cardamom-laced Arabic coffee which is sweet and thick and served in narrow white cups. Flipping through a Mediterranean cookbook, Yael points to a photograph of a similar pot nestled amongst heaps of flaming coals in an open-air fire. She flips the page again and points to a photograph of a brunch dish they had a run on after a New York Times article made it famous. Shakshuka consists of eggs cooked in a spicy tomato stew and is served with a breadbasket for dipping. "And this," she says, pointing to a photograph of a braised chicken dish on another page, "is why we brought the sumac and pita pan back from Israel." She laughs. "We do international research and bring it to Catskill."
They are still looking for the right word to summarize their cooking style. They used "eclectic" for a while, until the word became trendy. "The items on our menu are not mainstream—you could say they are hearty, ethnic, and peasant on a gourmet scale," says Keith. Certainly it is Mediterranean inspired—as viewed from Israel, Morocco, and Egypt, as well as Europe.
In late January one of the entrées was Kibbeh Soup, a traditional Iraqi soup made with green vegetables and large beef dumplings. The soup has lemon and parsley overtones and is spiced with peppery bahar, a blend of turmeric, cumin, cinnamon, and nutmeg.
On that same chilly night, dinner began with a salsa verde made of parsley, capers, garlic, and olive oil served beside thick slices of warm Italian bread. Next we tried one of Bell's Café's signature dishes, fatoush salad. The salad is served on a hand painted yellow bowl which Keith picked up in a market in Israel and is loaded with fresh pomegranate seeds, cucumber, tomato, lemon, a hint of mint, slivers of red onion, shaved romaine lettuce, and chunks of crunchy homemade pita dressed in fresh-squeezed lemon and virgin olive oil—a fresh, healthy, and invigorating combination of tastes. We also sampled the Bell's Cafe version of French onion soup. A pastry as light as a cloud hovers above the sweet and rich onion broth, and is delicately balanced on the rim of the bowl. Keith explains the soup takes four hours to prepare. "The onions are added in three layers," he says. The first batch caramelizes in a lightly browned butter and adds sweetness; additions ensure a variety of textures. Spanish Manchego cheese oozes between onion and pastry in the steaming broth as a subtle accent.
We followed the soup and salad with a trio of fish cakes served on a puree of slow-roasted fresh tomatoes, olive oil, garlic, harissa, and cilantro. The slowly warming spice in the tomatoes hits deep in the back of the throat—a perfect remedy to winter aches. The McMorrows shred their thyme-infused duck leg guazzatto and serve it over torn pasta in a porcini mushroom sauce—both comforting and filling. For desert we had kataifi with a cream cheese filling, similar to a baklava—with a simple syrup and pistachios, served warm—with cappuccino.
"We are lucky because our customers are willing to try new things," Yael says. And new things constantly appear; the McMorrows change the menu every few weeks. "We get bored otherwise," says Keith.
The weekend brunch menu remains constant, however, as they fear the wrath of their regular customers—many of whom come once or twice a week. The egg and tomato shakshuka is a staple, and other items include vegetable or corned beef hash; Challah French toast; potato pancakes served with apple sauce and sour cream; and half a dozen kinds of eggs including the farmer's casserole in which eggs are baked with bacon, peppers, and potatoes. They do grilled Italian Panini sandwiches with various fillings including roast lamb served with grilled vegetables and harissa spread; or fresh mozzarella, tomato, and pesto. There are salads such as the sautéed Hallomi made with mushrooms, roasted red peppers, and sunflower seeds and set over mixed greens.
"We try to know everyone who comes in," says Yael. The couple take turns cooking and serving. During the week Keith tends customers while Yael cooks. They switch on the weekends and Yael takes charge of the front of the house while Keith cooks. With only 30 seats, even on the busiest nights, it is possible for the McMorrows to staff the cafe themselves.
Portions at Bell's are generous, and entrées range from $16 to $22; appetizers, soups, and salads from $5 to $13; brunch dishes are in the range of $8. The small wine list was created by the Wine Merchant in Hudson to complement the neo-Mediterranean fare, and features bottles from France, Spain, Italy, South Africa, and the US ranging in price from $21 to $38.
In a town which has been largely neglected over the past years, Bell's Café is one of a kind. Catskill is building momentum, however, and the cafe is already surrounded by antique shops, art galleries, and boutique kitchen stores. There's a gourmet coffee shop opening across the street. Bell's Cafe was recently selected by the Boston Globe as a worthwhile place to eat when day tripping in the area. As Keith says, "Hudson and Saugerties were neglected for a long time and look at them. It's Catskill's turn now."
Bell's Cafe is loacted at 387 Main St. in Catskill; Dinner is served Wednesdays to Saturdays from 5-10pm; Brunch is served Saturdays from 10am-3pm and Sundays from 9am-3pm. (518) 943 4070; www.bellscafeny.net
Jennifer May
A fingan, an Arabic coffee pot, used to brew sweet and thick cardamom coffee.
Jennifer May
Plucked pomegranate seeds on a bowl the McMorrows purchased in a market in Israel.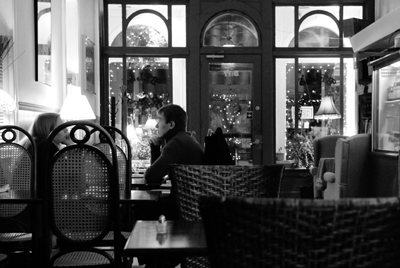 Jennifer May
The interior of Bell's Cafe, looking out on Main Street in Catskill.