Soppressata at Barb's Butchery.
I call it "happy meat." It's my shorthand for meat from animals that are raised humanely, eating a natural diet in their natural environment and meeting their makers in as stress-free a manner as possible. "Happy meat" stands in stark contrast to meat from animals raised in factory farms where they are routinely dosed with antibiotics, fed a diet that often bears little resemblance to what they would eat in the wild, and subjected to a (mercifully short) lifetime of profit-maximizing cruelties.
As awareness of the meat industry's unappetizing practices spreads, so, too, has the demand for meat that is humanely raised by local farmers—a shift in consumer consciousness that is taking place both nationally and locally. Fortunately for us, supply is following closely on demand's heels, and the Hudson Valley recently welcomed not one, but two new shops offering locally and humanely raised meat products.
Anthony Heaney and Emily Sherry-Bonilla, co-owners of Provisions
A Different Kind of Deli
On Woodstock's main drag, Provisions is offering up what some are calling "the best sandwich I've ever had," made with local, humanely raised meats that are butchered and prepared in-house and paired with goodies like the fresh mozzarella and focaccia that are made each morning by co-owner Anthony Heaney.
Heaney, a veteran of the local restaurant community who has also worked as a stone mason, landscaper, and beekeeper, trained as a whole-animal butcher at Dundore & Heister in Pennsylvania last year. "This is the first time in my life that I've been able to make a connection between what I was cooking and an actual animal—there was a whole pig on the table and now it's a sausage, egg, and cheese on our homemade bread. And that's pretty much the coolest thing ever—connecting it from the pasture to the plate," says Heaney.
Co-owner Emily Sherry-Bonilla also got her start working in local restaurants before going to graduate school. While she was finishing up her masters in social work, she answered a Craigslist ad for a part-time job as an assistant to Jessica Applestone of Fleisher's Meats in Kingston. Long story short, the part-time job morphed into a very full-time gig and Sherry-Bonilla eventually became Fleisher's COO. "When I met Josh and Jessica (of Fleisher's) I was pretty close to a vegetarian, as were my children. I was really concerned about getting them clean food with no antibiotics in it—that I could afford, and they really opened my eyes to what existed," says Sherry-Bonilla.
Heaney and Sherry-Bonilla have been friends ever since the sixth grade at Rondout Valley Elementary school. After spending many years putting in long hours for other local establishments, both were ready to step out on their own. "We realized that we had very different strengths but that they could work together," says Sherry-Bonilla.
The fact that they were financing and staffing the venture on their own allowed them to move quickly, opening for business at 65 Tinker Street in mid-April, a mere two months after signing the lease for the space. According to Sherry-Bonilla, business has been nonstop ever since—a mix of loyal locals and tourists who either wander past or actively plan a pilgrimage after reading one of the glowing reviews on TripAdvisor or Facebook.
Rooster in the Henhouse sandwich at Provisions.
Although the sandwich offerings change daily, early favorites include the Bird Is the Word—pulled roasted chicken with a roasted lemon and dill aioli, arugula, and fresh tomato, and The Horse You Rode in On, Provision's house-made roast beef with house-made pickled onions, fresh arugula, and a beautiful bright purple horseradish roasted beet crema. The breakfast sandwiches get plenty of love too, with one patron describing the house-made sausage, egg, and cheese on focaccia as "a party, actually a full-on rager (keg stands and all) in my mouth." But the sandwich that's inspired the most devotion is the Provisions Banh Mi—roasted pork belly, pickled jicama and daikon radish with a cilantro-hoisin slaw. For my part, my heart belongs to the pastrami—the result of a complicated, weeklong process that results in a mouth-watering mouthful of meat. "We let the beef brine for many days and then it dry cures and we smoke it—we have a wonderful smoking partner in Steve Slutsky at Hickory Smokehouse on Route 28. Then it gets steamed here and we cool it for 24 hours," explains Sherry-Bonilla.
Although both owners have many years of experience in the kitchen, Sherry-Bonilla credits some of the food's appeal to Heaney's butchery training. "When you understand the animal that way, you've got way more power to make it taste delicious. You know what part of the animal the meat is from, what kind of work that muscle did and how much fat is in it—and all of that matters."
Despite being a new venture, Provisions already has the feel of an old favorite, with friends and customers popping in to say hello even on Wednesdays, the one day of the week they're closed. "For us, the biggest surprise has been the community—how invested people are in us succeeding. People have been so kind and are really looking out for us. I think some of it is because they know Anthony or me, and some of it is just because we make really good food," says Sherry-Bonilla.
Everyone who walks in the door gets the same friendly treatment, from the folks who work in the store down the street to construction workers to second homers to Jogger John or one of Woodstock's other beloved street people. "There's a lot of disparity in Woodstock—people with second or even third homes and people with literally no means, and they all converge here. We never turn anyone away—we feed everyone. We started our pay-it-forward board so people who can afford it can buy a cup of coffee or sandwich for someone who can't—it takes the stigma out of it for them," says Sherry-Bonilla.
Keep an eye out this summer for the introduction of soft-serve ice cream, as well as an emphasis on cold sandwiches, salads, and more of Sherry-Bonilla's divine pickled vegetables.
Sloppy Joe lunch special with seasoned fries at Barb's Butchery
Bringing Really Good Bacon to Beacon
In early December, Barbara Fisher opened Barb's Butchery, Beacon's first nose-to-tail butcher shop, at 69 Spring Street. "I didn't do it to be a foodie or because it was trendy. I just really care about the source of my food," says Fisher, who eschewed meat of any kind for about a decade after reading the work of Temple Grandin. "It grossed me out sufficiently that I was pretty much a vegan for the entirety of the `90s. But then I started running and I began to crave iron, so I started eating meat again. And it was really hard to find anything I felt okay about in terms of my own health and the sustainability of the practices involved," says Fisher.
A math professor for many years, Fisher began to feel the need for a change after her two young daughters were born. After carefully considering what Beacon needed and what she felt she could do, she began to explore the world of whole-animal butchering and sausagemaking with Mark Elia of Hudson Valley Sausage Company. "Sam Wildfong, the farmer at Obercreek, my CSA, suggested I reach out to Mark, and we hit it off right away. I worked with him for about a year and a half—he taught me how to break down different animals, helped me with the equipment here, gave me the sausage recipes. He's just been awesome," says Fisher.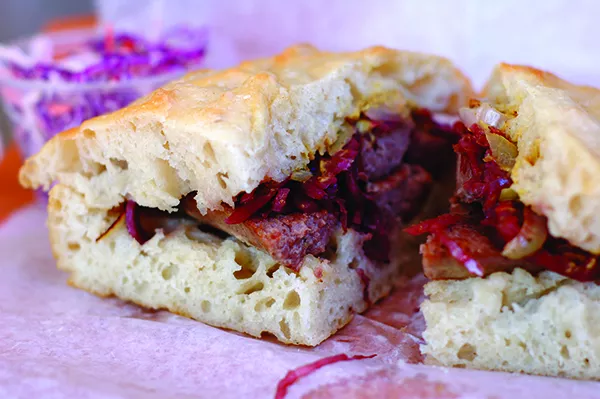 The Brat Pack sandwich at Provisions
Barb's now offers any cut you can imagine (just ask and they'll cut it) of humanely raised, local beef, pork, chicken, veal, and turkey, as well as a huge selection of house-made sausages, jerky, pub grubs, and cured meats. Fisher sources her animals primarily from Meiller Farm in Pine Plains, Meili Farm in Amenia, and Fazio Farms in Modena, among others.
If you're looking to grab a meal, Barb's offers a decadent daily lunch special ,featuring soups like posole or smoked ham, potato, and leek, and heartier fare like the smoked brisket sandwich or the roasted pork belly on brioche with apple slaw. The lunch menu, which changes on a weekly basis, is devised primarily by Fisher's staff—almost all of whom are current or former culinary students. "I tell them what we have to work with in terms of meat and then they come up with the recipes and make sure everything tastes amazing," says Fisher.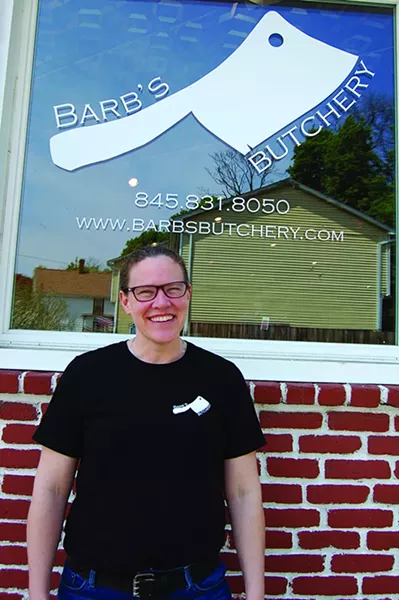 Barbara Fisher, owner of Barb's Butchery.
No matter what you choose, I recommend getting the fries—soft on the inside, crispy on the outside, and dusted in an addictive blend of celery salt, smoked paprika, onion powder, Hungarian paprika, salt, and pepper that is reminiscent of Five Guys' famous spice mix. The sloppy Joe sauce is similarly habit forming—a perfect mixture of savory, sweet and spiced made from tomato paste, garlic, chili powder, cumin, salt, tomato puree, apple cider vinegar, Worcestershire sauce, dark brown sugar, smoked paprika, and mustard powder. Served on a fresh brioche bun, it makes for a very memorable meal.
But opening a nose-to-tail butcher shop is not all beer and skittles. Not surprisingly, Fisher has done the math and she acknowledges the challenges inherent in this type of business. "Our success depends so much on the strength of the local economy—we can never compete with Stop & Shop or even Adams. We can never charge $3.99 for pork tenderloin—not from a pig that's been raised right." Fortunately, the rewards are equally clear. "I like taking a whole animal and turning it into something someone can eat for dinner and I love that I can feel really proud of the meat—it's just a truly good product," says Fisher.
Fisher's plans for the future of the shop include starting a "Second Sunday" pop-up, potentially developing a partnership with a local CSA, and offering a series of butchery classes. "I'd like to teach people things like basic knife skills and how to debone a chicken so that they can start buying whole birds and save some money. Plus, it's super satisfying," says Fisher.
RESOURCES
Provisions Deli Facebook.com/provisionsdeli
Barb's Butchery Barbsbutchery.com