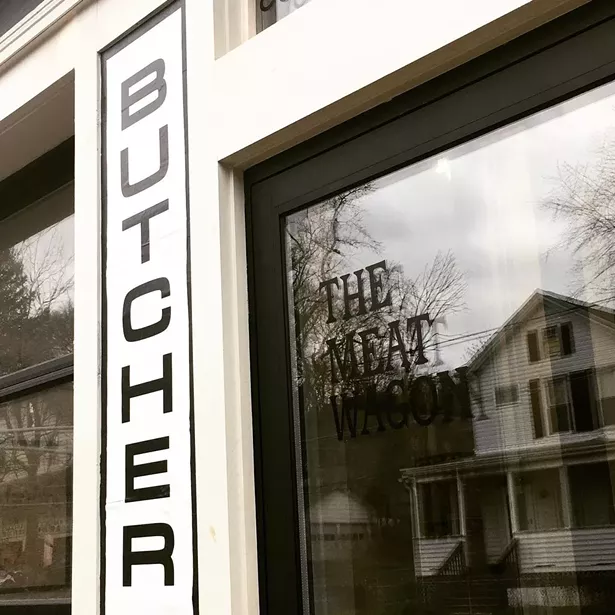 When Fleisher's Craft Butchery closed the doors of their Uptown Kingston location, butcher Stefano Diaz looked around and didn't see many options. Fast-forward four years, and the Fleisher's alum has just cut the ribbon on his own whole-animal butcher shop in Midtown Kingston: The Meat Wagon.

In 2017, just short two years after he completed Fleisher's intensive butchering apprenticeship, Stefano Diaz suddenly found himself out of work. He tried a stint at the meat counter at Adam's Fairacre Farms, but after Fleisher's whole-animal approach, the grocery store model just wasn't cutting it for him.
Eventually, the Poughkeepsie resident found the Marbled Meat Shop in Cold Spring, where he helped develop a fledgling butcher program into an established shop. The owners, a couple who had left the city for greener pastures, were self-taught. "When they moved upstate, they were very confused as to why people were getting their meat from Walmart. So they just dove headfirst into butchering and self-trained," Diaz says. "I came in at around year 2.5 and taught them how to set up a case and how to use the whole animal."
As the Marbled Meat Shop gained traction, expanding into a prepared food program and a bigger space, Diaz was also thinking about his future. He launched his side-hustle, the Meat Wagon while working there. "The goal for the Meat Wagon was to have essentially a traveling butcher shop," he explains. "But it never actually happened. The mobile part of it ended up being me traveling to deliver bulk meat to people."
While the original vision never crystallized, the Meat Wagon gained a name for itself nonetheless, and deliveries gave way to farmers' markets. Diaz started regularly attending the Kingston Waterfront Farmers' Market and then the Poughkeepsie Vassar Farmers Market.
And still, the hole left in the Kingston community by Fleisher's closure was left unfilled. Then, in early 2020, Diaz was contacted by John Dixon, who had purchased a building in Midtown Kingston that he was outfitting to be a butcher shop. When the pair finally met up to discuss, they realized they were both Fleisher's alum, who had shared a brief overlap at the Uptown location. Aligned on values and direction, Diaz decided to rent the space on Hasbrouck Avenue, in the previous location of Ruby's Soul Food, and on January 15, the Meat Wagon had its soft opening.
"We are filling cases and doing custom cuts for people—trying to be a small neighborhood butcher/bodega," Diaz says. The bodega side of the operation is a small selection of basic provisions like milk, flour, eggs, and pasta.
At the Meat Wagon, Diaz continues to practice the ethics and whole animal butchering techniques inculcated at Fleisher's, sourcing pastured animals, raised ethically without antibiotics or hormones. "First of all, in a grocery store they are not getting in whole animals. They are getting boxed meat that is being cut into New York Flanks and sirloins. And they are grinding a lot of stuff," Diaz says. "It is a disassociation with the animal. That's the number one major difference—the connection to the land, to the animal, to cooking and being able to talk about your meals. Then you get into the quality—how the animal lived and the quality of the meat. A happy animal is going to taste completely different than an animal on small square footage, not on grass."
The Meat Wagon's grass-fed beef is sourced from Rosenkrans Natural Beef in the New York Finger Lakes region,; pasture-raised lamb and woodlot pork comes from Kinderhook Farm, certified human poultry comes from Green Circle Chicken, a collective of Amish and Mennonite farms in Lancaster, Pennsylvania; and the pastured, free-range eggs come from Garrison-based Mercurio Farms. "I know these animals are living great lives. I've gone to farms and talked to farmers," Diaz says. "I've worked a couple days on Kinderhook Farm and been able to see the whole entire process. That is the important thing—the welfare of the animal automatically transfers into the meat itself."
With intimate knowledge of the anatomy and butchering possibilities of each animal, Diaz and his staff of two other butchers are able to recommend lesser-known cuts that match customers' needs. "The difference between a grocery store meat counter and a butcher shop is the conversations you're able to have," Diaz says. "You can say, 'Hey, I want exactly this trimmed, or 'I want it to look like this.' At a grocery store, you have to choose from what is there."
The most underrated cut of meat, in his opinion? The London Broil. "People are just afraid of it because their moms messed it up," he says. "It's a nice cut that just needs salt and pepper. Sear it or grill it for 7-10 minutes a side. Then let it rest, and it's perfect."
For pastured meat and more dinner prep suggestions head to the Meat Wagon, which is open Thursday-Sunday, 11am-7pm. You can also call ahead or email to ask about cut availability and to place an order.
Meat Wagon
331 Hasbrouck Avenue, Kingston
(845) 536-6631
Thursday-Sunday, 11am-7pm