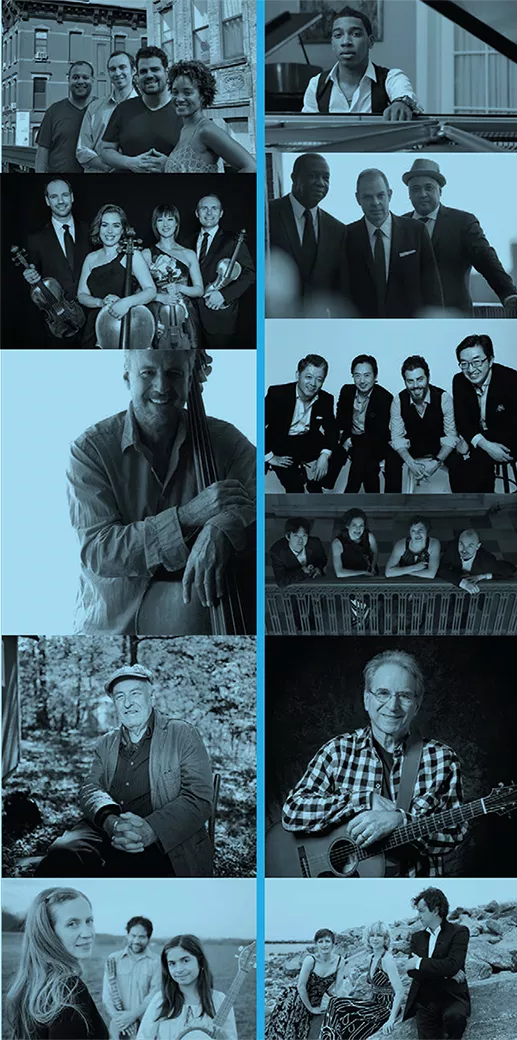 Left column from top: The Harlem Quartet,Jasper String Quartet, Nilson Matta, Karl Berger, Elizabeth Mitchell and Family.Right column from top: Christian Sands, The Bill Charlap Trio, Shanghai Quartet, Jupiter Quartet, Happy Traum, Trio Solisti.
Tucked away in the forest of Hurley, just outside of Woodstock, is the rustic wooden Maverick Concert Hall, a National Register of Historic Places site and the home of America's oldest continuous summer chamber music series. Hand built in 1915 by a small crew led by series founder and writer Hervey White (a cofounder of the nearby Byrdcliffe Arts Colony), the shed-like structure is perhaps most famously known as the venue where composer John Cage's controversial 4'33" was premiered in 1952. Each summer, the Maverick presents concerts by some of the world's top classical and contemporary soloists and chamber ensembles; performances by jazz, folk, and ethnic music artists; and, for children, the popular Young Mavericks Festival. This season—Maverick's 104th—looks to be another stellar run for the magical series.
Maverick 2019 opens with two concerts by the locally based choral ensemble Ars Choralis, who will collaborate with a group of chamber musicians to play music by Bach, Mendelssohn, Brahms, Villa-Lobos, and Pärt (June 22 and 23). Long-time Maverick favorites the Shanghai Quartet return to play works by Beethoven, Dvorak, and contemporary Chinese composer Tan Dun (June 30), while other standout picks include the Catalyst Quartet with pianist David Gortler (July 21), Jupiter Quartet (July 28), Pacifica Quartet (August 25), Trio Solisti (September 1), and Escher String Quartet, whose program includes Shostakovich's String Quartet No. 10 (July 7; Shostakovich will also be the subject of a lecture on July 11). Aficionados of modernism should mark their calendars for the concert by the Maverick Chamber Orchestra conducted by music director Alexander Platt of selected pieces by Glass, Berio, and Schoenberg (August 24).
A concert celebrating the centenary of Pete Seeger's birth features Woodstock folk legend Happy Traum, who will be joined by an all-star cast of players that includes Elizabeth Mitchell, Tony Trischka, Jay Ungar, Molly Mason, Simi Stone, and Adam Traum (July 6). Another special tribute event starring Steve Gorn and Friends honors the life and music of Ravi Shankar (August 10).
Jazz offerings this year include recurring fave Bill Charlap with his trio (June 29), Nilson Matta's Brazilian Jazz Quartet (July 13), the Christian Sands Trio (August 3; Sands will deliver a Young Mavericks concert that afternoon), and Karl Berger's All-Star Sextet (August 31). The kid-friendly Young Mavericks concerts include those by Elizabeth Mitchell & Family (July 6) and Frederic Chu and David Gonzalez (July 20).