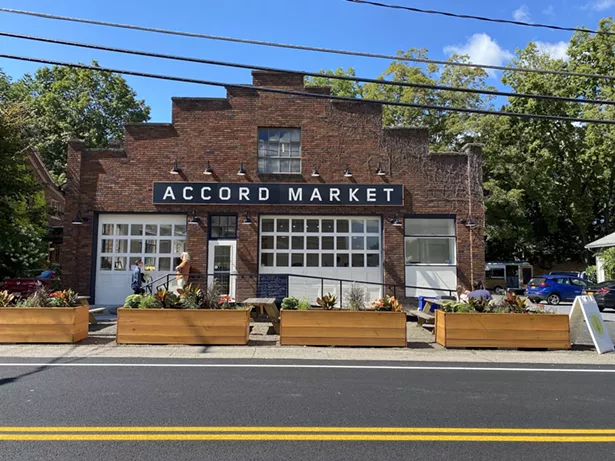 The Rondout Valley has long been famed for its fertile soil and is still dotted with farms today, many with their own roadside farm stands and markets. And yet, despite this abundance of local producers, the corridor between Marbletown and Wawarsing has lacked a traditional grocery store that brings all the abundance of the area's farms and value-added producers under one roof, along with the less glamorous necessities of daily life like TP and laundry detergent.*

It's a hallmark of living off this stretch of 209: the weekly grocery haul—an afternoon in the car tripping down to Peter's in Napanoch, up to Emmanuel's in Stone Ridge, or over the mountain to Sunflower in Woodstock. During the growing season, Saunderskill Farms has dutifully filled the role of community hub and local produce market, but every winter, the lights go dark. So the opening of Accord Market on the small hamlet's Main Street earlier this month is understandably BIG NEWS for anyone who lives within a 10-mile radius.
Most recently the studio of local artist, author, and activist Maria Reidelbach, the historic brick building at 21 Main Street, Accord was originally built in 1932 as a Ford Dealership. At different times over the next near-100 years, it served as a bus depot, roller rink, movie house, and pottery studio. And now, finally, as a sorely needed grocery store.
"We had heard about the heyday of Accord. When the train used to go through, there was such a lively downtown here," says Emily Haas-Godsil, an ex-TV producer who moved to Kripplebush with her husband Ryan McRee in 2017. "We saw the need for something like this." Early in the pandemic, the couple met restaurateur and fellow upstate transplant Henry Moynahan Rich, who had just purchased the brick market building and the house next door a few months prior. "We both had similar visions for the space," says Haas-Godsil. "We saw the obvious need, which really only grew during the pandemic. And there has just been a revitalization of people wanting to buy locally as they think about climate change and the long-term impact of their buying choices. So that desire to support local farmers and dairy farmers and meat has only expanded."
The trio also brought in Noah Bernamoff, chef, restaurateur, and co-owner at Otto's Market in Germantown as a partner during the planning process. "We loved what that general store was for the community—that's the model we wanted to use here too," she says. "Noah brought some of the grocery expertise, too."
With soaring ceilings and big metal factory windows, the interior of Accord Market has a bright, lofty feel with spacious aisles for easy, comfortable browsing in an era of social distancing. The produce and meats are sourced locally with veggies from farms like Tributary and Back Home in High Falls; fruits from Westwind Orchard; venison, elk, and buffalo from Highland Farm; pastured beef from Grassroots Farm; and sustainable steelhead trout from Hudson Valley Fisheries. The pre-packaged center-store staples, bulk supplies, and dairy products come at a range of price points that aim to balance organic and sustainable practices with accessibility.


There are a lot of specialty shops where you go "just to buy a bottle of olive oil," as Rich says, but the Accord Market founders were clear that that was not what they wanted. "It's an actual grocery store," he clarifies. With one of their major deliveries delayed due to a holiday weekend scheduling snafu, some of the shelves are still empty, but they will be filled shortly, as will the bulk bins for dry goods, toiletries, and cleaning supplies to round out a small but complete market that stocks everything from tampons to tapenade, baking soda to beer.
There is even a limited kitchen section with supplies like cleaning brushes, storage containers, wax paper, and tin foil. But back to the beer, a small cooler aisle stocks brews both local and domestic (think
Arrowood
,
Industrial Arts
, PBR, and Tecate all playing nice together in one uber cold fridge) as well as hard cider. If you're jonesing for vino, they'll send you down the street to another budding Accord venture:
Bluebird Wine Shop
, which specializes in organic and low-intervention farmers wines.
Sustainability is top of mind for the founders of Accord Market (Rich's restaurant group Oberon also runs Rhodora, the country's first zero-waste eatery.) In addition to composting their food waste, Accord Market is also encouraging all of their prepared food vendors to use compostable plastics. In addition to sourcing renewable power and investing in carbon credits to offset production and transportation of their inventory, the market will also be a TerraCycle collection spot for hard-to-recycle materials.

"The most sustainable part of the grocery store is that if you live in Olive, Kerhonkson, or Accord, it can potentially cut 30 to 45 minutes off your drive to get groceries, especially in winter when there are fewer farm options," says Rich. "All of [Oberon's] projects are 100-percent renewable and scope-3 carbon neutral. We plan to continue that will all our projects in Accord and hopefully they can be examples of successful adaptive reuse, which has a dramatically lower carbon footprint than new construction."
Among the other projects Rich refers to is the historic granary complex down the street, which he purchased with Renn Hawkey and Vera Farmiga. The vision for the granary is to create a mixed-use building with a restaurant, cafe, an art gallery, and office and retail space. "We're creating more shared public space in the middle of town for members of the community to run into one another. The pandemic was fairly isolating and I can only go the post office so many times a day!" Rich says. "Main Street is a beautiful, historic commercial corridor that was teaming with activity for 100 years until the '80s. Bringing jobs, goods, and services back to Main Street while restoring and revitalizing the buildings is the plan."
Off to the Races
Accord Market is co-managed by Evan Glenn Adams, who did a yearlong stint at the High Falls Food Co-Op before working at Sunflower Market, and Christian Ortiz, who brings seven years' experience at beloved local institution Cherries. In an unlikely twist for a rural upstate location, Accord Market is open seven days a week from 10am to 7pm, all year round.
"We want to be here for the people who actually live here," Haas-Godsil says. "People on Instagram and Facebook, the Chamber of Commerce, the Rondout Valley Growers Association—everyone is so excited about this. It's been pretty amazing. Of course we're not going to be everything to everyone, but everyone is just so happy that there is something here that they can walk to and get the basics. The support has been extraordinary."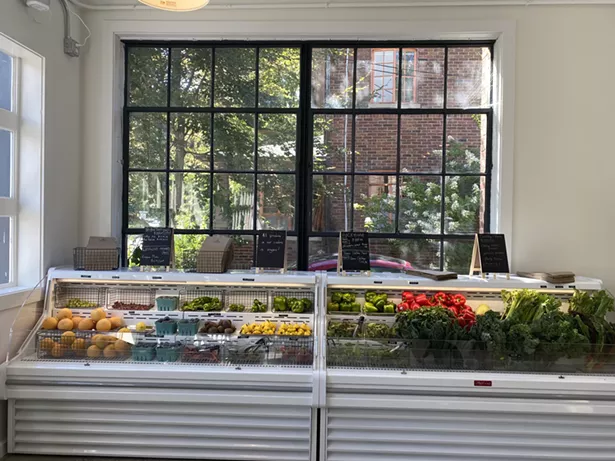 Accord Market is open daily for in-store shopping from 10am-7pm, with online order pick-up from 10am-12pm.
*An earlier version of this piece referred to this stretch of the Rondout Valley as a "food desert," which is a mischaracterization of the region and an incorrect usage of the term. This area is rife with farms and there are many places to buy fresh, local food.

Accord Market
21 Main Street, Accord
(845) 377-0060