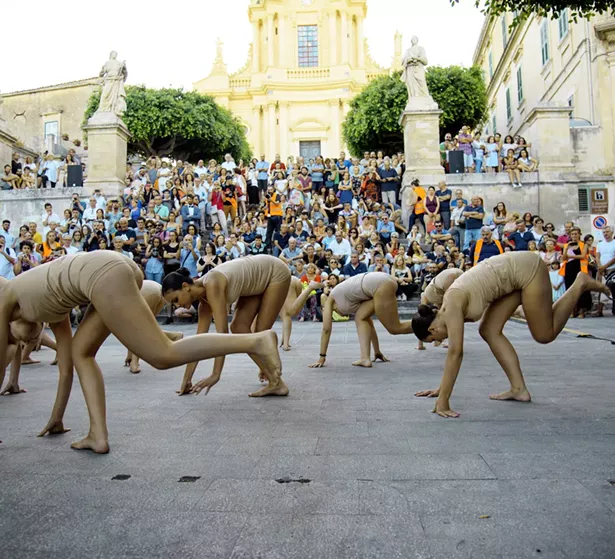 Photo by Andrea Samonà, courtesy the artist and Laveronica Arte Contemporanea
Marinella Senatore, Modica Street Musical, The Present, the Past and the PossiblePerformance curated by Matteo Lucchetti, June 8, 2016.
With 100 amatuer and professional performers gathered together and a crowd local onlookers, the streets of Cold Spring will be flooded with creative synergy when Marinella Senatore and The School of Narrative Dance come to perform on November 16.

Commissioned by Magazzino, an Italian Postwar and Contemporary Art Museum in Cold Spring, the daylong event consists of a curated series of performances and improvisations by the School of Narrative Dance and locals, such as cheerleaders, marching bands, classical musicians, choirs, dancers, athletes, and community activists.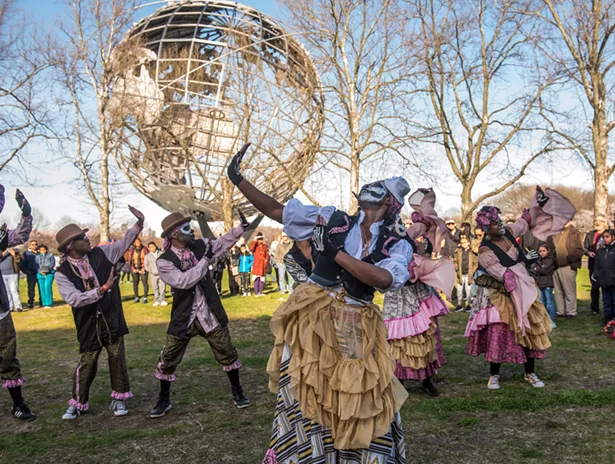 Photo by Stephanie Berger, courtesy the artist and Laveronica Arte Contemporanea
Marinella Senatore, Protest Forms: Memory and Celebration Part II, 2017, Queens Museum
Active audience participation will be encouraged, as the event is designed to celebrate community and the sharing of ideas through artistic mediums. All the performances are curated by Ylinka Barotto, Associate Curator at Rice University's Moody Center for the Arts. Barotto has previously curated at the Solomon R. Guggenheim Museum, where she was involved in the Young Collectors Council that worked to bring emerging artists into the light. She has also hosted conversations between the media, artists, and the public on trending topics with the Guggenheim Public Program.
Rome- and Paris-based multimedia artist Marinella Senatore's projects hold a strong focus on audience participation and the formation of an impromptu collective to affect change. With her training in music, fine arts, and film, Senatore pulls in various mediums to share her message of exchanging ideas across communities and cultures. Her most recent performance project was Protest Forms: Memory and Celebration, a multimedia installation and performance on the legacy of protest in countries around the world, which ran from 2016 to 2018 in Italy and New York.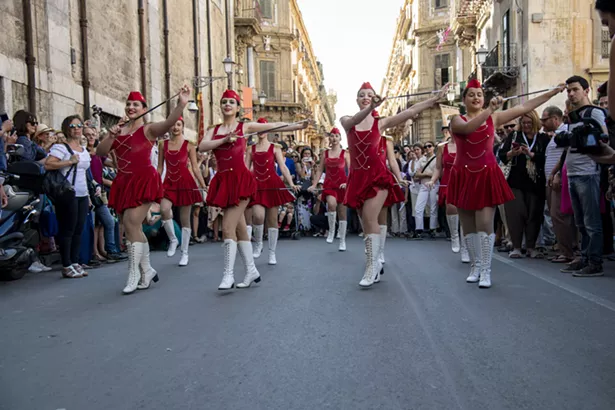 Courtesy the artist and Laveronica Arte Contemporanea
Marinella Senatore, Manifesta12, Palermo Procession, 2018, public performance
Senatore founded the School of Narrative Dance in 2013 as a multidisciplinary alternative training ground for performers to learn through expression rather than strict structure. As the name suggests, the school aims to spread stories through performance, with a focus on tales of liberation and empowerment. They have performed at sites around the world, such as in the Venice parade in 2015 and in Zurich in 2017.
"We are delighted to work with Marinella Senatore, an artist renowned for her ability to foster new connections between people," says Vittorio Calabrese, director of Magazzino Italian Art Foundation. "Serving the people of Cold Spring and the Hudson Valley has always been at the core of our mission, and we are excited to invite the community to partake in a performance with one of the most important Italian figures in the contemporary art world."