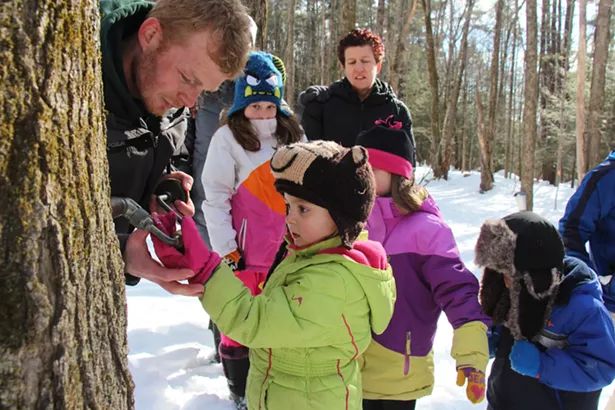 courtesy of the Ashokan Center
Making maple syrup requires a distinct dance with the weather. Ideal sap running weather is when temps get above 40 degrees during the day and below freezing at night. The colder the weather, the sweeter the sap. But too cold can make the sap slow to run. Last year's polar vortex created a slow start for maple syrup season, reducing the availability of that lighter, sweeter syrup grade. This year, we might have the opposite effect, where warmer temps throughout the winter and above 40-degree days in February might offer a darker sap. With annual maple festivals coming up in the next few weeks, your family can see for yourselves what's what in maple production this year.
At the Ashokan Center in Olivebridge, they cut to the chase, offering an all-day pancake breakfast so you can immediately put that delicious syrup where it belongs. The festival presents hands-on tree tapping and maple sugaring demonstrations for all ages. In keeping with the Ashokan Center's mission to teach, inspire, and build community through shared experiences in nature, history, music and the arts, there will be blacksmithing opportunities, crafts, and live music. Nestled at the foot of the Catskill Mountains on 385 acres of forest, the Ashokan Center is the perfect spot for a family hike, too. If you've never experienced the engaging community ambiance at the Ashokan Center where child-friendliness, an open-hearted village vibe, and the music just seem to flow, the maple festival might just be the sweetest time to give it a try.
Ashokan Maple Fest at the Ashokan Center, 477 Beaverkill Road in Olivebridge: Saturday, March 12th, 10a-4p; $5, kids under 3 are free; pancake breakfast $6; blacksmithing experience $5. Live music performances by Jay Ungar and Molly Mason at 12:00pm and 3:00pm, and Story Laurie and Ira McIntosh at 1:00pm. Dress for the weather.
Want more? The Hudson Valley is a hub for maple syrup production. Check out last year's feature for more spots. (Be sure check individual websites for this year's dates.) And take a peek at this listing of Upper Hudson Valley farms for more maple festival ideas.