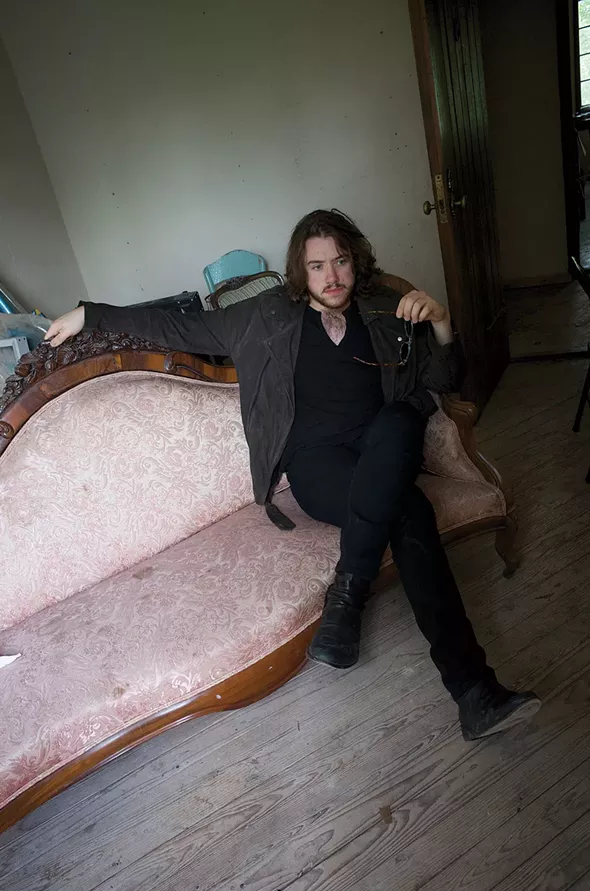 Craigslist is congested with castoff guitars made by First Act, the budget brand whose very name makes no secret of its products' purpose as learner's models for kids. It's not hard to imagine the typical scenario that leads most of these crude instruments to their penultimate places in the virtual junk store: Kid sees pop star playing guitar on TV; kid begs parent for guitar; parent buys kid guitar; kid takes a few lessons; kid gets bored and moves onto something else; guitar goes up for grabs, ready for the next young would-be rocker to repeat the cycle. But then there are those rare cases where something sticks. Where the gifted meets the gift, and the music world is all the better for it.
"I think I started playing guitar accidentally, just to feed my obsessive nature," says Connor Kennedy, whose first axe was, incidentally, an Ibanez. "It gave me something to do every day for three to five hours after school. I'm not into sports, which is what most of the other kids were into." If that's really the case, it was a happy accident indeed: Kennedy, who turns 23 this month, is one of the most in-demand guitar players on the Hudson Valley scene, a promising singer-songwriter, and the leader of one of the area's hardest-gigging bands. And it all started in Saugerties.
Somewhere by Connor Kennedy
Update Required
To play the media you will need to either update your browser to a recent version or update your
Flash plugin
.
Kennedy hails from the town's working-class neighborhood of Barclay Heights, which lines the sides of Route 9W southeast of the village, on the opposite side of the Rondout Creek. "It's kinda dumpy and there wasn't much there—a bowling alley, a McDonald's, and a few other things," says the guitarist, who was subsumed by classic and hard rock (Alice Cooper, Led Zeppelin, Pink Floyd, AC/DC) before he'd even picked up the instrument at age 10. As luck would have it, just couple of years after he'd started lessons, there turned out to be a perfect incubator for his budding talent right in town.
At 13, Kennedy began frequenting the open mic night at the town's Inquiring Mind bookstore, where he was able to try out his chops outside the solitude of his bedroom. "That was really the first time I'd ever been aware of any kind of scene happening in Saugerties," he recalls. "And it was a great thing for a while, this weekly gathering of outcasts and weirdos and friends. It definitely helped me a lot early on." He next began playing out as a solo blues performer, but rather quickly saw the limitations of the "blues prodigy" novelty tag. "That would've been easy, to keep doing that," he says. "But ultimately I realized that if I did I'd never really be taken seriously as an artist. When I got to be 15 or 16, I refused to have posters that advertised my age."
It being Saugerties, there was, of course, a legacy looming just up Route 212: that of Bob Dylan, Big Pink, Woodstock, and the Band. Kennedy, though, was only vaguely aware of it. "My family had moved here from North Jersey and they never went to the festival," he explains. "We had the DVD of Hendrix playing at that, but the actual town of Woodstock? I had no idea it had ever been this big thing. It was just a place where there were stores that sold T-shirts of the bands I liked and had all this pot stuff in the windows." Eventually, though, he found himself patched into to the region's hallowed history when he began attending Levon Helm's Midnight Rambles, earning his free admission in exchange for emptying the trash after each event at the percussionist's famous Barn studio in Woodstock. "I'd gone there with my parents a couple times before I started working there, and that's when I started to put two and two together as to who Levon was and what made him and the Band so great and important," Kennedy says. "In the parking lot I'd meet people who came there from Kenya or Europe or Japan just to come to the Ramble and see Levon. I'd sit right behind him every night and watch him play. That whole experience taught me so much, it was an amazing opportunity."
When Amy Helm caught his first proper performance, a set at the town's farmers' market, the singer and daughter of the late Band drummer instantly took notice. "I'd met Connor at the Ramble but I'd never seen him play before that," she says. "I think anybody who sees him sees something very special there. Besides being such an incredible talent as a player, he has an intuitive understanding of how to work with other musicians that's way beyond his age."