In the 1930s, Gardiner town historian and former SUNY New Paltz history professor Carleton Mabee was a student at Columbia University. Possessing a sense of racial justice not in fashion at the time, Mabee often took the short trek uptown to Harlem, where a startling urban renaissance offered jazz, gospel, theater, and art. Mabee was fascinated with this flowering of Negro culture, and breathed freely of its perfume. He would attend the Abyssinian Baptist Church on Sundays, where gospel masses shook the rafters. One of the most compelling uptown attractions, however, was Father Divine.
A short African-American man dressed in a tailored suit and radiating charisma, Divine drew people because he offered low-cost feasts (25 cents or less) at a time when the Depression had emptied most pockets. Mabee, whose modest budget was gobbled up by the cost of college books, was grateful for the bountiful meals of chicken, gravy, and mashed potatoes.
In addition to a full belly, Mabee also received an earful of rhetoric. Father Major Jealous Divine (1880-1965) was the head of a religious sect called the Peace Mission Movement. Preaching a combination of Old and New Testament scriptures, Divine gathered followers and organized utopian communities. Here, black and white people lived together—a startling proposal during this racially charged era. Mabee was fascinated by this emerging sect. He heard Father Divine fulminate only once, speaking of the enduring power of God's love, but the memory of that magnetic preacher persisted.
Seven decades later, Mabee (who turns 95 on Christmas Day) has returned to the story of Father Divine. A Pulitzer Prize-winning historian (for a 1943 biography of Samuel F. B. Morse), Mabee has completed a book on Father Divine, who had a community of followers in Ulster County.
The result of six years of research by Mabee—often by poking through old newspapers and musty county records and by interviewing survivors of the sect—is Promised Land: Father Divine's Interracial Communities in Ulster County, New York (Purple Mountain Press, 2008).
His followers came from New York and from the South in the 1930s, buying up tracts of inexpensive land to build and manage hotels, stores, restaurants, gasoline stations, guesthouses, resorts, and shoe repair and barber shops. In fact, Ulster County once boasted the highest concentration of members of the Peace Mission Movement, with residents living in Krumville, Lloyd, New Paltz, Elting Corners, Stone Ridge, and Kingston. All told, there were 31 different Divine communities in the area, most bearing the name "peace" in the name of the establishment and a photograph of their well-dressed leader on the wall.
Bill Rhodes, professor emeritus at SUNY New Paltz and a colleague of the nonagenarian Mabee, asserts that the historian's subjects are chosen with an eye toward the man's own belief in racial equality, integration, and nonviolent social change, and that much of his scholarship is related to the education of blacks.
Promised Land
is not merely an inventory of the buildings that stood in tribute to Father Divine in Ulster County; the book, meticulously researched, also delves into the life and deeds of a man who was complicated in his endeavors, but ultimately a pioneer in the fight for desegregation. Mabee cites Father Divine as one of the people, like Martin Luther King Jr., who paved the way for Barack Obama to occupy the White House.
An engaging man, Divine was also a controversial one. He preached a "Modesty Code" that banned smoking, drinking, obscenity, and accepting bribes. He believed in faith healing over Western medicine—except in cases of emergency. He insisted that shopkeepers in his flock accept cash only, sell at competitive prices, and refrain from selling tobacco or liquor. The code also forbade a mixing of the sexes; even husbands and wives were housed by gender on separate floors.
Those who disobeyed were cast out from Divine's blessed social experiment.
Followers were a fervent lot. They took new names to reflect their spiritual rebirth, such as Victory Dove and Sweet Love. They conducted their businesses quietly and honestly and even drew begrudging respect from neighbors. (They paid their debts on time and in cash.) Yet there were limits to their piety; some found the vow of celibacy most trying. Since Divine was absent from the Mid-Hudson Valley more often than not, his adherents might relax certain strictures of faith in his absence, Mabee says. "There were many suspicions that there was a lot of sex going on," he explains. "There are many people who claim that or charge that. And [Divine] would say himself, 'You're supposed to be living in Utopia and you're not.'"
"He was asking for perfection," Mabee says of Father Divine's mission. "He would say, 'You people talk too much about material things.' About possessions, about money, about how you sell this product, and how you make this product. 'And you should be thinking about eternal things. You should go on to infinity,' he would say."
On the plus side, Divine was a pacifist who worked toward uplifting the status of the Negro in America, lobbied for an antilynching bill in Washington, and recognized women as equal to men in the movement. He saw no need for churches and encouraged people to speak directly to their Lord. His communal dinners served as a sacrament.
Divine had a gift for working a crowd. At one of the Divine dinners, Mabee remembers how the man purposely kept people waiting. When he finally appeared, a combination of impatience and anticipation caused the crowd to erupt in wild cheers. "He was very clever in things like this," Mabee says.
Father Divine exhibited a typical lack of consistency known to evangelists. While telling his supporters to eschew materialism, Divine traveled to his numerous outposts in New York, Long Island, and Ulster County in a blue Rolls Royce. Not requiring much sleep, Divine was known to travel at night and show up at peace settlements unexpectedly.
"He was a strong boss," Mabee says. "He was really quite autocratic in his behavior sometimes." Divine maintained a large entourage. Secretaries organized his appointments and scheduled his appearances while lawyers protected him from the many lawsuits that dogged him through his life and challenged his empire.
Many citizens of Ulster County bristled at the lifestyle of these new neighbors, Mabee says. They found the no-sex policy "unnatural," and saw their desegregation campaign as a threat to civilization (read: Euro-American white supremacy).
Detractors did not mince words; a New Paltz town father addressed Father Divine's followers in a 1936 letter to the local newspaper. The message read, in part, "We just don't want you here. You're black, you're ignorant, your money comes from mysterious sources that we don't understand. You're following a hypnotic figure."
Eventually, a few buildings owned by Divine acolytes were burned down.
Granted, there was an odd bent to Divine's utopia, Mabee says. Young women were ordered to wear navy blue shirts and dark red jackets adorned with a white "V" (for virtue) over their hearts.
"Among other things, he said he wasn't claiming to be God, but his followers called him God," Mabee says. But he dismisses the notion that the Peace Mission movement was a cult. "He didn't have members, he had followers, and followers can be enthusiastic or not enthusiastic."
At one point, Divine planned to establish his international headquarters in Ulster County. But that did not happen. The Divine empire would soon suffer several setbacks.
In the tradition of Shakespearean tragedies, the most potent act of betrayal came from within. A follower known as Faithful Mary (aka Mary Rozier), a former streetwalker who had been redeemed, operated a hotel in High Falls. In 1937, she declared Divine a charlatan. She wrote a memoir titled God: He's Just a Natural Man (1937, Universal Light Publishing Co.), which claimed Divine was a sex fiend who made unwanted advances toward her. Citing his willingness to be called "God" by adherents, Mary planned to set up a competing egalitarian movement.
Reporters dubbed the irate woman "Faithless Mary" and happily spread her allegations. These charges had a negative impact on the Peace Mission Movement.
Mary's movement did not gather supporters, Mabee says, which prompted her decision to return to Father Divine, hat in hand. After she agreed to renounce her accusations before Divine supporters in a large Harlem hall, "Father Divine accepted her back in the movement," Mabee says, "but refused to give her any considerable responsibility." Mary eventually left for California and reverted back to her dissolute ways.
In the 1940s, following the death of his first wife, known as Mother Divine, Divine married Canadian Edna Rose Ritchings. "He called her the reincarnation of the Virgin Mary," Mabee says. Despite their leader's commitment to desegregation, many followers deplored his marriage to a Caucasian and departed.
When Father Divine relocated from New York to Philadelphia, his Hudson Valley visits ended. Without the guidance of this charismatic leader, the local communities deteriorated. By the late 1950s, five Peace Mission properties in Ulster County had been sold off. By the man's death in 1965, the glory days of Father Divine's movement were a memory, traceable in Ulster County only by a handful of extant buildings on whose outside walls one could detect the word "peace" in fading paint. An encampment named Kingston Mansion lasted the longest, since people from Divine's Philadelphia temple would periodically visit. But the building, located in the Wilbur neighborhood of Kingston, closed in1985.
If the Ulster County communities had never existed, Mabee says, the movement would have not been diminished; Divine communities flourished on the West Coast, as well as in Switzerland, Australia, New Zealand, and Germany, despite the fact that Divine never visited them. The Universal Peace Mission Movement continues today in Philadelphia.
However, in addition to making strides toward modern desgregation, the Divine followers provided a boost to Ulster County business when it was most needed.
"In a place like High Falls, the economic community was virtually made by Father Divine for several years during the Depression," Mabee says. "It saved High Falls is one way to look at it."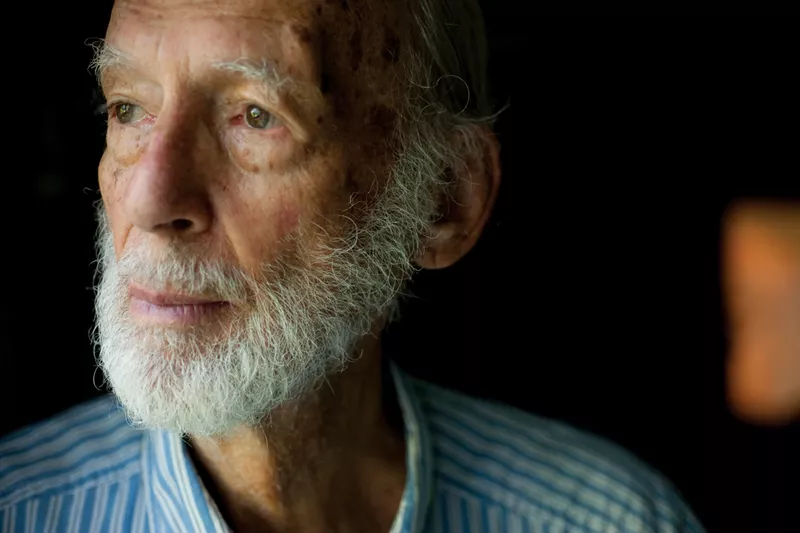 Jennifer May
Historian Carelton Mabee.
Jennifer May
Among Father Divine's progressive causes was an anti-lynching bill, which was brought before Congress.
Jennifer May
Many Divine settlements were easily identified by the word "peace" appearing on buildings, such as this barn in west park circa 1941