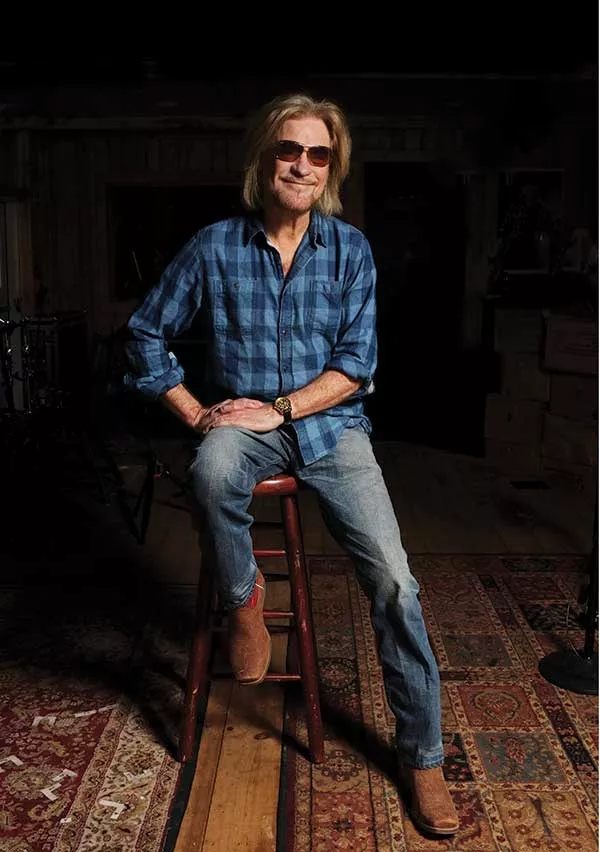 Please, please," says the handler's voice. "Come on in."
So you do, and you're surrounded by the warmth of golden wood. It's a good-sized place, with room for about 150 seated or 300 standing. There's a low stage at the back of the main room, a lengthy bar along its side, a formidable kitchen, and a side VIP room with an auxiliary cooking area. Everything's bathed in a combination of late afternoon sunlight and the soft glow of the punched-tin light fixtures that hang from thick timber beams overhead, making it all very Colonial-New-England-farmhouse-hearthy. There's activity along the peripheries, where kitchen and wait staff bustle in preparation for the opening hour. Sitting all alone at a center table, engrossed in his iPad, is a guy you should recognize. Long, blond hair. Shades. This is Daryl. Welcome to his house.
Yes, that Daryl. The front half of Hall and Oates, the biggest-selling duo in the history of recorded music. You know the hits—they're karaoke staples around the world: "Maneater," "Rich Girl," "Kiss On My List," "Private Eyes," "Out of Touch," "I Can't Go for That (No Can Do)," and on and on. The cozy Pawling restaurant and live music venue we're in is Daryl's House, the new home of "Live from Daryl's House," the singer's smash TV show. Its present digs were the longtime site of the Towne Crier until that club relocated to Beacon in 2013. Hall moved in soon after, opening the remodeled site under its new name on Halloween last year with an exclusive intimate show with his partner, John Oates.
"I wanted people to be able to come and hang out and listen to the artists who were playing on 'Live at Daryl's House,' but of course it wasn't practical to open my home up to everyone," explains Hall. "So this place became available and it just made sense [to reopen it as a nightclub and move the program there]. I believe in clubs. For musicians they're a great place to really learn your craft. And I like the atmosphere. I started my career in clubs."
That career began in the supremely musical Philadelphia area. Born in suburban Pottstown in 1946, Hall had an instant advantage on his path to vocal stardom: His father was a professional singer and his mother worked as a vocal coach. Although his mom mentored him in classical styles, it was black music—soul, in particular—that grabbed him hardest. "The neighborhood I grew up in was racially mixed, so I heard a lot of gospel and R&B," Hall recalls. "And I started out singing in church, like a lot of the black soul singers did. There was definitely a regional Philadelphia sound." By 1965 he'd enrolled at Temple University and begun contributing to that sound by working as a session musician for the renowned songwriting and production team of Kenny Gamble and Leon Huff and forming vocal harmony group the Temptones with four other white students. The quintet cut some locally successful singles for the Arctic label (now highly coveted by Northern soul collectors) and fared well in the city's mainly black soul scene, even trumping the legendary Delfonics in one battle of the bands. One night in 1967 Hall was at a campus dance when a fight broke out between two rival fraternities, prompting him to make a hasty exit. In the elevator on the way out he met Temple freshman John Oates, then a member of a group called the Masters. The two hit it off straight away and started playing together. "I was into expanding my musical language, so I liked what John brought to the table, which included a lot of folk and bluegrass influences," says Hall. "What started out as a friendship turned into a partnership in a very natural way." The partnership was put on hold, however, when Oates transferred to a different school and Hall dropped out of college and signed on as a staff songwriter at another production company.
"I don't think Daryl was writing much for himself when we met," says Woodstock singer-songwriter Tim Moore, who was the firm's lead writer when Hall arrived in 1969. "We lived next door to each other, so we started hanging out and writing these songs that were just kind of larks." As a vehicle for their larks, Hall and Moore formed Gulliver, a rock band that released one album on Elektra in 1970. "It was obvious Daryl had a really great voice," recalls Moore. "He loves to sing. If there's anything he loves more than that, I don't know what it is." After Gulliver's demise Hall continued to do just that, floating around the studio scene and doing backup vocals on records by such Philly soul greats as the Stylistics, the Intruders, and his old Temptones rivals the Delfonics. The floating lessened, though, once Oates returned to town and the pair resumed their association.
The twosome eventually hooked up with infamous music industry mogul Tommy Mottola, who became their manager and procured a contract with Atlantic for the release of their first three albums, Whole Oates (1972), Abandoned Luncheonette (1973), which yielded their first hit, "She's Gone," a number 60 single (number seven after its 1976 rerelease), and the Todd Rundgren-produced War Babies (1974). A label jump to RCA for 1975's Daryl Hall & John Oates brought their first Top 10 hit, that year's "Sara Smile," and with 1976's prophetically titled Bigger Than Both of Us the duo added more pop rock touches to their blue-eyed soul sound and ended up with their first number one, "Rich Girl." Toward the end of the decade the partners hit a wall when 1977's Beauty on a Back Street and 1978's Along the Red Ledge—which features guitar tracks by Rundgren, George Harrison, Cheap Trick's Rick Nielson, and Robert Fripp—and 1979's X-Static all charted low. In one of rock history's odder pairings, during this era Hall formed an alliance with Fripp, singing on the King Crimson leader's 1979 Exposure (E.G. Records) and collaborating with him for his own Sacred Songs. A shockingly aberrant avant-rock set, it combines crashing punk ("NYCNY"), haunting "Frippertronics" á la the guitarist's work on David Bowie's Low ("Urban Landscape"), and Hall's soulful delivery couched in experimental art rock ("Babs and Babs"). Deemed too uncommercial for release by the label, Sacred Songs didn't see store shelves until 1980, three years after its creation. "Typical music-business nonsense," says Hall about the delay. "RCA just wanted me to do 'Rich Girl Jr.,' and I wasn't interested in that."
But no doubt the company forgave the singer his sidestep soon after, as the early 1980s became the era when Hall and Oates owned the AM airwaves. In the first half of the decade, their onslaught of number one singles seemed unstoppable and the molten platinum flowed fast via the albums Voices (1980), Private Eyes (1981), H2O (1982), and Big Bam Boom (1984). The wild ride and the hits slowed down as the `80s closed (the group's last Top 40 tune was 1990's "So Close"), although Hall and Oates, who were inducted into the Rock and Roll Hall of Fame in 2014, have continued releasing albums and touring individually and together. Along the way, Hall developed another interest that would shape his life: restoring historic homes.
"Old houses and music," he says. "Those are my passions. Growing up near Philly, I fell in love with antique architecture. My grandfather was a mason, so I guess I got some of it from him, too." The singer has acquired and preserved several dwellings in the US and England, including two 18th-century houses near Hartford, Connecticut, that he had moved to Millerton and later discovered were connected to the same Colonial family. One of these homes became the initial site of "Live from Daryl's House," which began in 2007 as a webcast. The weekly episodes star the host and a different musical guest performing together, conversing about music, and preparing and enjoying a meal. "I don't like to tour as much as I used to, so I thought [the show] would be a great way for people to still see me and my friends play and for me to expose them to some newer artists," says Hall about the series that has aired on national TV since 2011. Among its many guests, the program—"still a web show at heart," Hall maintains—has featured his idol Smokey Robison plus Oates, Joe Walsh, Darius Rucker, Todd Rundgren, Sharon Jones, Billy Gibbons, Cee-Lo Green, and others, including numerous up-and-comers.
One of the latter is soul artist Mutlu, who also hails from Philadelphia. "I was one of the first guests on the show, and it's been an honor to work with one of my favorite heroes—plus it's cool that we have that Philly connection," says the young singer, who has toured with Hall and Oates, appeared on the broadcast multiple times, and performs frequently at Hall's Pawling nightspot. "[The club] has a great sound system and works equally well for acoustic or full-band shows. There's a really comfortable vibe. Basically, the place is an extension of who Daryl is." Extending himself further, Hall has parlayed his love of home preservation into another television show, "Daryl's Restoration Over-Hall," which debuted on the DIY Network last year and chronicles the musician's renovations of historic properties.
Pop music legend. Media raconteur. Nightclub and restaurant owner. Looking at the impossible peaks he's reached over the course of his 50-year career, what were his proudest moments? "There've been so many significant things. . . it's been a real rollercoaster. . .playing the Apollo with [Temptations members] David Ruffin and Eddie Kendricks, doing [worldwide charity concert] Live Aid and [USA for Africa benefit single] 'We are the World' in 1985," says Hall, who at the time of this interview was preparing to perform with Oates at the White House. "But really, the high point is now. And things just keep getting better and better."
Daryl's House restaurant and live music club is located in Pawling and open Wednesdays through Sundays. For hours, a schedule of upcoming performances, and more information, visit Darylshouseclub.com.