Franco Vogt
Elizabeth Crane will appear May 22 at 3pm at The Golden Notebook Bookstore, Woodstock, hosted by Nelly Reifler.
You're meeting Elizabeth Crane for the first time at Newburgh's Ms. Fairfax cafe. How will you know her?
By the cardigan, of course.
The acclaimed fiction writer has a jones for vintage cardigans: pearl-buttoned, beaded, floral, cashmere, lambswool, angora. "There was a point in Chicago about 20 years ago where a corner was turned," she says with a mordant laugh; she now owns more than 60. Today's model is ivory with vivid pink roses that bring out the strawberry blond in Crane's hair. You also spot an orange cotton jacket draped over her chair, and a cool silver purse.
A hipster jewel box with a craft-printed menu and specialty crepes, Ms. Fairfax sits on an upwardly mobile stretch of Liberty Street, between Dmitri Kasterine's brick-wall installation of mural-size photographic portraits and Washington's Headquarters National Historic Site. It's within walking distance from the 120-year-old brick rowhouse Crane shares with her husband, sculptor and restoration carpenter Ben Brandt.
You haven't met Ben, but you've been to his wedding, sort of. "Ben" and struggling writer Betsy Crane are characters in Crane's wig-flipping, just-published novel The History of Great Things (Harper Perennial, 2016). They get married twice in its pages, once in a dreamy beach ceremony and once in their backyard, with Betsy's dead mother inside the house, lobbing down comments from an upstairs window.
"I have a tendency to lean toward projects that are a little off-balance," Crane says cheerfully, digging into a smoked salmon crepe.
Nobody does off-balance better than Elizabeth Crane. She burst onto the scene with the widely praised story collection When the Messenger Is Hot (Little, Brown, 2003), followed by two more books of stories, This Heavenly Glory (Little, Brown, 2005) and You Must Be This Happy to Enter (Akashic, 2007), and a debut novel, We Only Know So Much (Harper, 2012). Crane has a penchant for creating smart, scrappy, emotionally disheveled, hilarious women on the verge of...well, something. Her characters often remind you of someone you know, or possibly someone you are.
The History of Great Things takes familiarity to the next level, spinning the tandem story of "Betsy Crane" and her mother Lois. Like Crane's real-life late mother, Lois Crane, the novel's Lois is an Iowa-born divorced opera singer of dizzying talent, charisma, and emotional turbulence. In a bravura feat of double-decker narration, daughter and mother tell each other's stories (often with surreal variations) in the second person, setting the rules, inventing the details of what could have happened, and arguing over what actually did:
—You don't think we should try to be accurate?
—Well, it's not a memoir. It's just a story.
—But it's a true story.
—It's not a true story, though. That's not what we're doing. Do you think you know my story?
—Yes. I don't know. Maybe. More than you think.
Besides exploring two singular lives—a willful, gifted woman who broke generational molds to pursue an artistic career, and a daughter both laid low and strengthened by her unconventional childhood—The History of Great Things is a potent exploration of fiction itself, of the myriad ways in which telling a story can transform What happened? into What if?
Plus it's funny as hell. And it hurts, in a good way. (Anyone with a mother will know what this means. It's impossible to read this novel without thinking about the woman who gave birth to you, whether or not you were "a giant bowling ball coming out of me. If bowling balls were square.")
"What interested me about doing it this way is that you start out with the known facts, the timeline, and see where it takes you, " says Crane. "What did my mother think of me? What did she think my life was?"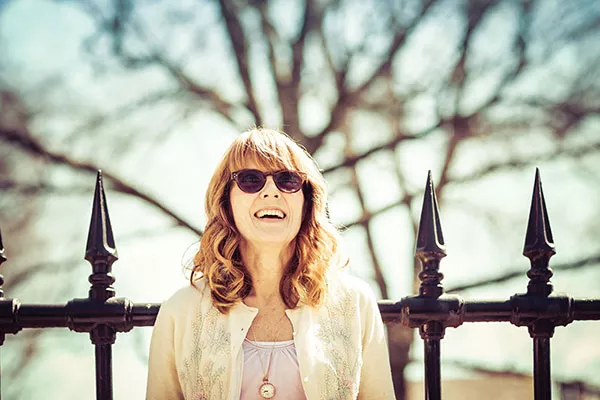 Family relationships are a sort of Venn diagram, with shared information where two people's lives overlap. But what happens outside those circles? Crane's mother knew only the bare bones of her daughter's college years; her Midwestern childhood and later love life were likewise outside of Crane's sphere of knowledge. "I stuck to really simplistic facts, and then created stories from there. I have no knowledge of my mother having an affair, but it's something that seems believable to me."
The real Lois Crane died at 63, when the real Betsy was still in her 30s. Crane wrote stories about her mother while she was alive, but the terrain was fraught. "She was larger than life, a very complex personality, and she was my mother," the author explains. "By the time she died, I came around to understanding that life must have been very hard for her. Really through writing this novel, even though I'm imagining things, I reached a new level of empathy. I think it's fair to say that her internal life was...." She pauses for some time, eyes searching. "It wasn't easy to be in her head."
The History of Great Things includes an appendix of family photos and press clippings from Lois Crane's operatic career, adding to the rich broth of fiction and fact Crane has brewed. Before writing the novel, she made two separate attempts at a memoir "about growing up in New York with this person as my mother. Manhattan had a profound effect on me. I came there in 1967 from a house with a yard and a two-parent family. That chapter about Betsy crying for a month? That's basically true."
A promising singer, Crane sang in the New York City Opera children's chorus, playing (among other things) a marketplace extra in "La Boheme" and a cherub. As an only child, she was often adrift in a world of adults. But she also shuttled back and forth to Iowa to visit her father, now remarried and with a stepfamily. The two households could not have been more different.
She went to college in Washington, DC, moving back to New York for a deadening series of short-term jobs in her 20s. "A lot of things sidetracked me," she says. "My mother told me not to be a singer—a weird message to get from somebody whose entire life was about being an artist." There was also a great deal of drinking, with brief stabs at writing.
Ever since she read Harriet the Spy in third grade, Crane had longed to be a writer. But her early efforts didn't take flight. "I was trying so hard," she says now. "Letters were where I found my voice. I used to write rough drafts of my letters and work on them. People would tell me I should be a writer, and I'd say, 'I do write, but not like this.' Then I started to read books by Rick Moody, Lydia Davis, and David Foster Wallace, people I felt were writing like themselves. It really cracked me open."
Eventually she found a job tutoring children on movie sets, including Macauley and Rory Culkin on Richie Rich. The production was based for six months in Chicago. "I really fell in love with Chicago," says Crane. "I thought, 'What do I have to do to move here?'" Two years later, a friend offered her an apartment she could afford. "It turned my life around in a weird way," she says gratefully. She taught at a preschool and started to write more seriously.
She also met her future husband. They spent several more years in Chicago, then moved to Austin, where Crane wrote and taught writing while Brandt completed an MFA program in sculpture.
After a short stint in Brooklyn, they moved to Newburgh a year and a half ago. "Our friends said, 'So you moved to the country?' But we really didn't. Newburgh really feels like a city—the landscape looks very familiar to me."
Newburgh's scrappy resurgence, multiculturalism, and fine architecture excite them both. Brandt's rehab company, Newburgh Sash and Restoration, specializes in period windows. From their own upstairs windows, they have a sidelong view of Mount Beacon and "a sliver" of the Hudson River. And there's a fenced yard for a very important dog named Percy.
Crane currently teaches at UCR Palm Desert's Low-Residency MFA program, which she calls "a dream job." She supervises five to 13 students online, a relatively light workload compared to a recent semester when she was an adjunct professor at three different colleges. "Funnily enough, I was jamming out stories that semester. I get inspired by my students," she says, adding, "Time has nothing to do with being neurotic. I've gone several months without writing. It's not a good look on me."
She's "closing in" on a new story collection called Turf. Is she done writing about her mother? It seems like a bottomless vein. "I still can't listen to opera," Crane admits. "It's much too emotional. Any role for a coloratura soprano, I have heard hundreds of times. I've heard it rehearsed."