The family's 1820s farmhouse, surrounded by ancient silver maples, is one of the oldest homes in the area. The original primitive Colonial architecture includes many decorative details added over the years. Although only an acre in size, the homestead is surrounded by orchards and fields, making it feel expansive. "I love these trees," says Rodabaugh. "They are some of the oldest around."
Like her mother before her, and her grandmother before that, Katrina Rodabaugh has been threading a needle with some kind of fiber her entire life. "My mom is an avid crafter in textiles," Rodabaugh explains. "She would move from crochet to crewel embroidery work, then on to needlepoint, then knitting and sewing. My grandmother was a quilter and my great-grandmother was a maker and a quilter as well. I inherited that lineage in a way, thank goodness."
Hailing from a small town near the Finger Lakes, where the seam of that maternal line stretches back multiple generations, Rodabaugh has created an art practice, and a life, by following the family thread. However, Rodabaugh has applied her handiwork talents to a very 21st-century problem: The effects of compulsive, trend-driven fast fashion on the environment, the economy, and on our very selves. "I see the slow fashion movement as an opportunity to mend our relationship to fashion on a micro and a macro level," Rodabaugh explains in her new book Mending Matters (Abrams). "We start by slowing down our consumption, evaluating our needs, selecting quality fibers...learning techniques to care for our clothing, and considering how to extend a garment's usefulness. While we're mending our personal relationship to fashion we can also consider our role in mending the larger fashion industry." One part well-crafted how-to book on repairing denim, another part manifesto on "mindfulness," the book is interspersed with essays contemplating how traditional handcrafting can help us not only avoid environmental degradation but also reweave the fabric of our daily lives.
Katrina Rodabaugh and David Szlasa in the former carriage house which they converted to a studio. Szlasa built the table tops out of abandoned wood he found in the garage rafters. Rodenbaugh utilizes the space to teach workshops, most recently in mending and traditional sewing techniques.
The 200-year-old farmhouse she shares with her husband, David Szlasa, and their two young sons is a working manifestation of her philosophy. Homespun, hand-worked, and surrounded by fields and orchards, the well utilized one-acre homestead serves as farm, classroom, gleaning ground, and play space. Originally built in 1820 in what Rodabaugh describes as the "Colonial stark" vernacular, former owners added decorative touches over the ensuing years, evolving the home into an eclectic but harmonious 2,000 square feet. Since moving in three years ago, the couple has improved on the place further—mending some, reclaiming abandoned wood planks to make new parts, and filling the home with pieces handmade by Rodabaugh, beloved family heirlooms, as well as carefully selected second-hand finds.
The home's back dining room was part of an addition made in the 1920s. Rodabaugh keeps her extensive collection of Pyrex crockery in a corner hutch. "My brother used to have a side business in antiques and I always loved Pyrex. Every holiday or birthday he would get me a new piece," she says.
Katrina, By Design
Although her journey has been a zig-zag, Rodabaugh always seemed to find her way back to family tradition. "I made quilts with my mom as a girl," she explains. "When I was a senior in high school, I had this moment with my guidance counselor when I dropped calculus to take a sewing class. He was livid with me. 'When are you ever going to use sewing?' he asked." Her mother stepped in to help—teaching her to straighten a hem and follow a pattern. Rodabaugh went on to college in Ithaca, where she majored in environmental studies but made extra money by designing her own dresses and selling them in a boutique downtown.
After college, she moved to Brooklyn, where she met Szlasa, an artist who specializes in performance design. Together, the two moved to the West Coast, where Rodabaugh attended Mills College in Oakland, studying poetry and book arts. It was there that her professor pointed out the common thread that ran throughout her work. "He pointed out how I'd made quilts as a child and dresses in college," she remembers. "He really encouraged me to look back at my work in fiber arts and bring that into the book arts department. That's when I really fell in love with the book arts."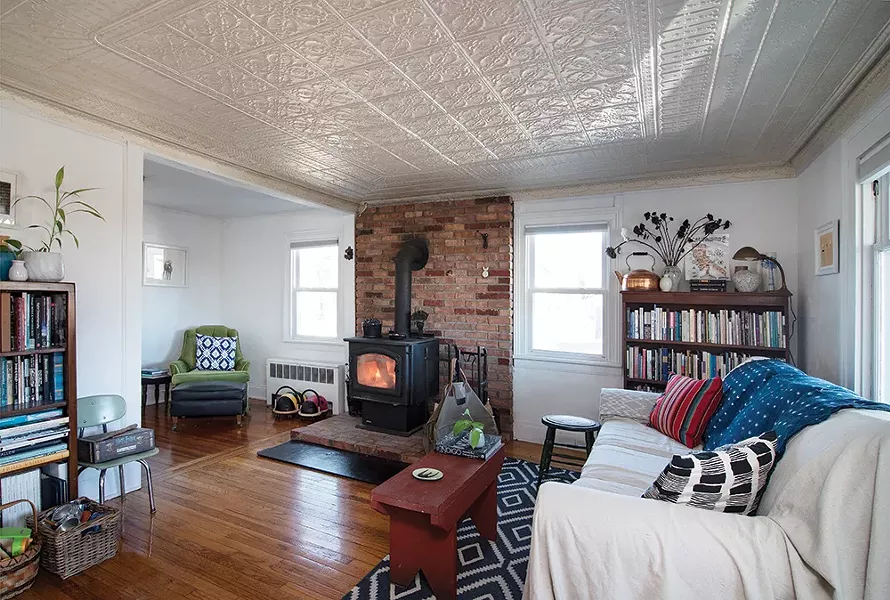 The couple added a wood stove to the front sitting room. The space is decorated with furniture pieces they've collected over the years, as well as pillows and throws handcrafted from natural fibers and hand dyed.
She started letterpress printing on fabric and creating books out of the soft materials. Eventually, she went on to create large-scale fabric installations with collaborators. Her 2013 Make, Thrift, Mend project began as a personal "art as action" piece with her publicly vowing to abstain from acquiring new clothing for a year. A convergence of events—including the 2013 collapse of the Rana Place garment factory in Bangladesh, killing over 1,100 people—spurred the project toward bigger goals and a wider audience. It also sparked her love of mending, a skill she decided to teach to others. The workshops she offered had an overwhelmingly positive response. "I was floored," she remembers. "The workshops were sold out; people really wanted to know how to mend their clothes." The project grew into a book as well as a full-fledged career. It also inspired Rodabaugh and her family's return to the Hudson Valley, where they would have more space.
Rodabaugh's upstairs studio desk. Her passion for mending grew from both her love of sewing and her background in art and poetry. "When I wrote poetry, I thought a lot about line length and how my work looked on the page. Now, I think about repair like design," she explains. "With mending, I like to use contrast and color."
Sweet, Slow, and Sustainable
An example of an over-the-knee patch explained in the "How-To" section of Rodabaugh's book, Mending Matters. "The value of fiber itself has gotten lost. It's amazing, all the forms of creative reuse that were ingrained into what people did. If you were weaving a cloth yourself, then cutting it into a dress, those cast-offs would be so important, because you wove them."
The front section of the white farmhouse Rodabaugh and Szlasa bought in 2015 is part of the home's original 1820s construction. Wrapped by a covered step-up porch, the frosted glass front door leads to attached sitting and living rooms. Here, the home's original built-in bookshelves overflow with books on crafting techniques and Rodabaugh's poetry collection underneath colorful tin ceilings installed sometime in the late 19th century. The couple added a wood-burning stove at one end of the space and the couch and chairs are decorated with an heirloom quilt and naturally dyed fabric pieces collected by Rodabaugh. At the back of the home, the kitchen and dining room were part of a 1920s addition. "When we moved in, every room was sponge-painted in different bright colors," explains Rodabaugh. The couple repainted the downstairs walls white, but realized the tin ceilings would have to be handpainted—a chore too time-consuming, even for someone who revels in mending clothes by hand—so they decided to leave the ceilings painted. "The result is we have these quirky, colorful tin ceilings against the white walls."
The couple elected to keep the home's tin ceilings their original colors, providing contrast to the white walls.
Upstairs, the couple renovated the three bedrooms and full bathroom, adding their own disntictive touch. Szlasa took wood beams found in the rafters of the garage and made headboards for the couple and both of their children. Rodabaugh hand-dyed recycled linen and cotton to create colorful homemade curtains, as well as stitched quilts for all the beds. "We ripped out every floor except the hallway, which we painted," Rodabaugh explains. The furniture is a mix of antiques found at flea markets on the West Coast and, more recently, throughout the Hudson Valley.
The third bedroom was rehabilitated into an indoor studio and guest room. "The floor was shag carpeting," remembers Rodabaugh, "underneath that, there was wood-grade linoleum, under that floral linoleum, then a layer of oil cloth and then, under that, wood floors with just the edges stained." By pulling out the layers of history the couple "gained an inch" of space in the room, but lost a bit of character. "There was a little hole in the floor, with the lid of a tin can tacked over it," she says. "I wish we could have saved it." Instead they sanded all the floors down and then finished them with a natural oil product to bring out the grain of the wood. The couple updated the bathroom with a simple vanity and shelving Szlasa made from the same stash of reclaimed wood.
Their older son's bedroom features his parents' handiwork. Szlasa made the headboard from reclaimed wood and Rodabaugh stitched the quilt as well as the hanging mobile.  
Outside, they've maximized every bit of garden space, as well as the home's original carriage house and garage. Szlasa converted the garage into a woodshed, and an adjacent room has become Rodabaugh's dye studio. Although she teaches all over the country, Rodabaugh wanted a space to hold workshops in her home. After renovating the carriage house in the spring and adding a wood stove, she now has the capacity to lead classes onsite.
Alongside an herb and vegetable garden, Rodabaugh has planted Hopi Black Dye sunflowers, yarrow, calendula, coreospis, and lavender—all for naturally dying fabrics. The family has six chickens, and this past spring they added a beehive. It's all part of the next stage of her project, a place where she hopes to continue teaching mending and natural dying techniques. The homestead all grew from the same seed: her fashion-cum-personal-art project. The advice she gives to readers? Just start. "Recognize that you have everything you need to simply begin your slow fashion journey right now, use what you already have, and simply do what feels possible today."
The recently renovated carriage house. It's the perfect example of the couple's talent and tendency for creative reuse. Rodabaugh begins her book with a quote from Arthur Ashe: "Start where you are. Use what you have. Do what you can."