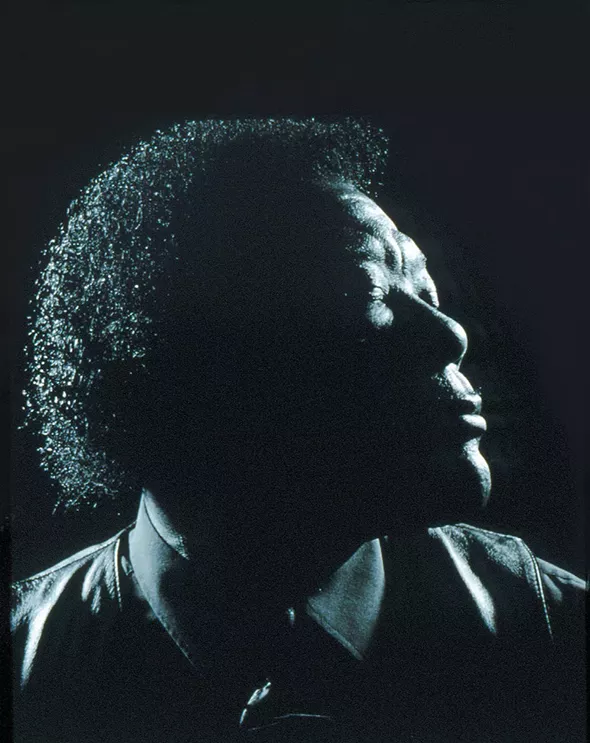 As of late, time has been taking its toll on the Greatest Generation of the blues. We lost B. B. King last May, local great Little Sammy Davis, 87, has been sidelined by a stroke, and within just the last few years Honeyboy Edwards, Pinetop Perkins, and Louisiana Red have all departed. It's tough to meditate on, but it's true: Our living links to the authentic deep blues of the American South, and even the later electric Chicago blues of the 1950s, are dwindling fast. But there is a handful of these treasured conduits to the Real Deal still standing. One of them is Luther "Guitar Junior" Johnson, who has direct ties to both blues epochs and will visit the Towne Crier on January 16.
The 76-year-old singer and guitarist (who shouldn't be confused with the similarly named bluesmen Luther "Snake Boy" Johnson, Luther "Houserocker" Johnson, and Lonnie "Guitar Junior" Brooks) was born in Itta Bena, Mississippi, and moved to Chicago in 1955. There, he began an apprenticeship with the great Magic Sam, picking up on the guitar king's distinctive West Side style—stinging single notes interspersed with distorted rhythm chords. Developed for the most part by Magic Sam and Otis Rush, the West Side sound made a deep impact on Eric Clapton, Mark Knopfler, and other rock players. From 1972 to 1980, Johnson played in Muddy Waters's band, touring the US, Europe, Japan, and Australia, and appearing on several of the legend's records.
After leaving Waters, Johnson cut a couple of tracks for Chicago's renowned Alligator Records and appeared as a member of John Lee Hooker's backup band in the monster-hit 1980 John Belushi/Dan Akroyd comedy The Blues Brothers. He eventually split the Windy City for the East Coast, where he put together the Magic Rockers, a group he would front for four albums. Since settling in New Hampshire, he's collaborated on three albums with Washington, DC, unit the Nighthawks, whose ranks at one time included a young guitar player named Warren Haynes. Johnson won a Grammy in 1985 for his contributions to that year's seminal Alligator anthology, Blues Explosion.
During his years with Waters, Johnson shared bills with Clapton, the Rolling Stones, Johnny Winter, and the Allman Brothers and performed at Carnegie Hall, the Kennedy Center, and Radio City Music Hall. A festival favorite, the guitarist and vocalist has brought his heated, bending strings and anguished wail to event stages from New Orleans to Antibes.
"If you don't like the blues, you got a hole in your soul," Johnson growls between riffs in a YouTube clip from a torrid 2011 gig. No argument here, sir.
Luther "Guitar Junior" Johnson performs at the Towne Crier in Beacon on January 16 at 8:30pm. Tickets are $25. (845) 855-1300; Townecrier.com.