Tomorrow, September 1,
Lumberyard
in Catskill will celebrate the
grand opening of its state-of-the-art performance center with a special celebration
hosted by actor and activist Alan Cumming and a performance by Tony Award-winning tap dancer Savion Glover.
The 7,000-square-foot space houses a flexible-layout theater that doubles as a soundstage for film and TV. But Lumberyard is not just for the arts—this freshly renovated, industrial-chic property will also be available for rental as a
wedding venue
, with two site options.
Tie the Knot at Lumberyard
The Creekside Studio is a 5,000-square-foot space, which can fit a party of up to 150 wedding guests. A converted barn, this large space has a minimalist, white-and-black color scheme and is right on the Catskill Creek, offering gorgeous views of the sparkling water.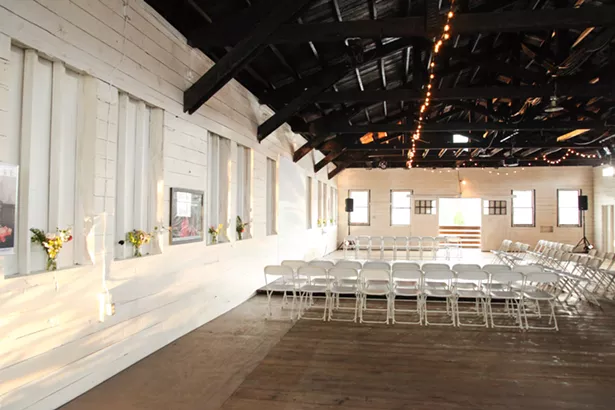 Some original details have been preserved, such as the rustic wooden beams, while others have been updated for maximum convenience and comfort, including a separate food service area for caterers. You can have both the ceremony and reception in the barn, or if you'd prefer, say your vows beneath the swaying creekside willow tree.
Sometimes Bigger is Better

Beginning this fall, you can also book the Large Reception Hall for your big day. Offering exclusive access, this 7,000-square-foot space is perfect for large weddings, accommodating up to 340 guests in a banquet-style table configuration for a memorable evening of dinner and dancing after you tie the knot.
You can book either space, according what fits your fancy (and your party size), or if you'd prefer, do a full property buyout for exclusive access to both venues (think what you could do with 12,000 square feet of event space on 1.7 acres of waterfront property!). In either space, you are welcome to book your own vendors and caterers and build out exactly the vision you want (or take support from Lumberyard staff and vendor list).
You can also reserve on-property accommodations for up to 25 guests, so your family members and bridal party don't have to travel far at the end of the night.
Both spaces are raw but inviting, with a minimal palette allowing you to create the wedding you imagine. For a pricing quote, contact:
events@lumberyard.org
.