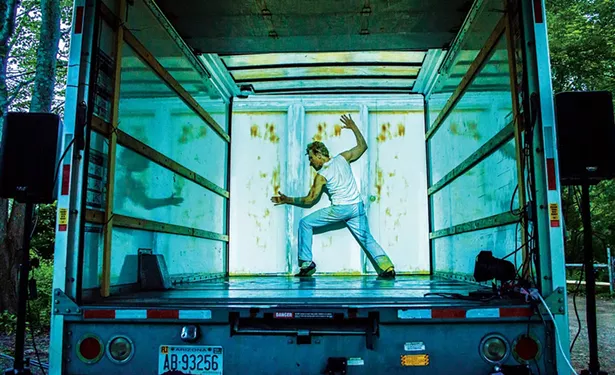 Bridgman | Packer Dance will perform "Truck" at Lumberyard Contemporary Performing Arts July 13-14.
The transformation of Dunn Builders Supply in Catksill into a premier, state-of-the-art performance facility is a plot twist that no one would have anticipated a few years ago. Nevertheless, it is a fitting reincarnation for the sprawling complex, epitomizing the town's gradual metamorphosis from an industrial hub to a destination for arts and culture.
With the support of a generous seed donation from Solange MacArthur, a $5-million-dollar loan from RSF Social Finance, and over $800,000 in funding from New York Governor Andrew Cuomo's Capital Region Economic Development Council, the American Dance Institute (ADI) purchased the complex from Steve Dunn in 2015.
ADI, since renamed Lumberyard Contemporary Performing Arts, is a women-run nonprofit that began in 2000 as a dance school. After launching, the organization rapidly evolved into the creative incubator and technical residency program it is today.
Led by visionary Artistic and Executive Director Adrienne Willis and headquartered in New York City, Lumberyard is in the midst of a multi-phase, multimillion-dollar renovation and expansion of the Catskill campus that began with the central building. The 5,500-square-foot space is being transformed into a flexible-layout theater with administrative wings, practice studios, and resident housing. The multi-purpose space may also be used as a soundstage for film and TV and made available to host events, weddings, and conferences. The organization's Under Construction Summer Festival marks the inauguration of the space. As the name indicates, renovation will continue through the summer, with programming being held both on-site and off, at venues throughout the area.
The summer season, full of innovative performing arts productions, runs from June 29 through September 2 and features eight performances­—three of them premieres—spread across four venues. Programming kicks off with Urban Bush Women's dance-driven musical "Scat!", June 28 through July 1 at Club Helsinki in Hudson. The following weekend, July 6 through 8, sees the first onsite show at the Lumberyard. The athletic and technically tight STREB Extreme Action Company will perform a gravity-defying show titled "SEA (Singular Extreme Actions)," in which they push the limits of their bodies and their medium. On July 14 and 15, head to the post-industrial waterfront for an evening of light bites, local beer, and a multimedia performance by Bridgman | Packer Dance, staged in a 17-foot U-Haul truck. The piece, aptly named "Truck," features the company's distinctive blend of video technology and live performance that toys with the audience's sense of continuity and context to explore a range of emotional tenors.
The last performance of July is acclaimed Los Angeles choreographer d. Sabela Grimes's premiere of an as-yet-unnamed new work, July 27 through 29 at Bridge Street Theatre. Grimes's style has been described as AfroFuturistic dance theater and his projects pull in the "Funkamentals" of methodical dance training and street-dance forms to carefully consider both modern existential quandaries and historical narratives of race and gender.
A Bright Future
The town of Catskill, located in Greene County, has struggled financially for years with high unemployment and shuttered storefronts. The Lumberyard hopes to be an engine for economic development, anticipating that at full capacity the venue will generate upward of $14 million in annual economic impact, providing 150 full-time jobs and over $1 million in local spending throughout the summer season. Their soundstage is the only Qualified Production Facility in the county, and Lumberyard is confident it will play a major role in the burgeoning Upstate New York film industry.
Alongside this season's summer festival, Lumberyard will run a youth employment program to teach marketable production skills to the area's college-age students. The organization is also partnering with the Hudson Correctional Facility to offer incarcerated teenagers a chance to learn personal and professional skills and experience performances by renowned artists. "The program director will go into the prison and work with the teens twice a week for six weeks, teaching them everything from self-evaluation, to the art of telling their own stories, to team building," says Sharon Lee Thony, head of marketing for Lumberyard.
These community outreach efforts are central to the Lumberyard's mission of becoming a regional hub for arts and social justice. "This social impact programming is the heartbeat of what we do," Thony says.
For more information on their artistic and philanthropic programming visit Lumberyard's website.