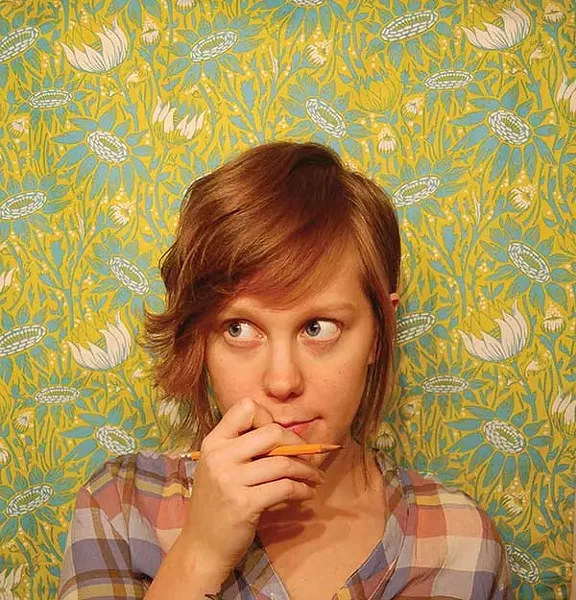 Lucy Knisley is worried about the camera crew. "How are they even going to fit?" she asks. "My apartment is shoebox-sized."
That's not the only dilemma facing the Rhinebeck-raised author, who's about to film a cooking demonstration for MTV Geek. There's also the pressing issue of what to cook. "I'm not a professional chef," Knisley says. "When I'm cooking for other people, I make elaborate meals, but for me, it's more likely sautéed carrots. That's kind of my jam right now. Maybe some toast on the side."
Why all the fuss about what a 28-year-old comic artist makes for dinner? One look at her just-released graphic novel Relish: My Life in the Kitchen (First Second, 2013) and its predecessor French Milk (Touchstone, 2008) and all becomes clear: This is a writer who knows how to eat. If you don't think a cartoon can make your mouth water, you haven't read Lucy Knisley.
"I'm one of those grassroots, got-started-on-the-Internet people," says Knisley, whose voice is so cheerful she often sounds ready to laugh. She self-published French Milk with Rhinebeck's Epigraph, and was selling books off the end of a friend's table at the Comic Arts Festival when an editor from Touchstone scooped it up.
In lively drawings, words, and occasional photos, French Milk describes a six-week stay in Paris by the author (then 22) and her mother, a professional caterer who shares her love of art and food—not necessarily in that order. "In our family photo albums, there are literally more photos of meals than of actual people," Knisley says. French Milk won rave reviews in USA Today, People, Glamour, and a slew of food blogs. Four years ago, Knisley sold the film rights (no movement yet, though the option's been renewed).
Relish is a memoir in 12 food-themed chapters, from early childhood to the molecular gastronomy kitchen of Chicago's legendary Alinea. After a brief introduction (including a recipe for a maple-infused spice tea you can savor while reading the rest of the book), its first words are, "I was a child raised by foodies."
Indeed. The opening frames show young Lucy eating poached salmon in cream in her high chair, watching her mom blowtorch creme brulee for her classmates instead of the usual birthday cupcakes, and coloring on the kitchen floor at David Bouley's restaurant (Sample dialogue: "Want a profiterole, kiddo?").
When her parents divorced, the seven-year-old was shanghaied to Dutchess County, where her mother's newfound obsession with boring garden stores led her to try hailing a taxi on a rural dirt road. Eventually, she was seduced by Greig Farm's u-pick strawberries and farmstand honey straws.
Teenage rebellion manifested in a defiant love of junk food, with Lucky Charms and blue ketchup as gateway drugs. In one panel, tween Lucy chows down on McDonald's takeout in her father's Rome hotel room. ("How can you DO that?!" he shouts in bright red, and she answers, "With relish.") But gastronomy is destiny, and she soon joins her mother as a Rhinebeck Farmers' Market worker, artisanal cheesemonger, and catering assistant at Annie Leibovitz photo shoots and the opening of Dia:Beacon. (About to head off to art school, the 18-year-old server has a mystical private encounter with Richard Serra's newly installed Torqued Ellipses in the book's only full-page frame.)
All this unfolds in a sparkling palette and clean, expressive drawings. And each chapter ends with a relevant recipe, every step drawn and described in loving, often hilarious detail ("Try to control your drool long enough to reduce the mixture for about 2 min.")
Knisley's inspirations included Toast, a memoir by British food columnist Nigel Slater, and David Lebovitz's The Sweet Life in Paris. "I liked the idea of adding a sensory element—taste, the sense memory of recipes that go with the story. And comics are visual, so that adds another layer." She also cites the food drawings made by sculptor Claes Oldenburg when his wife developed multiple food allergies, "presented in all these cool, sculptural, toppling ways, so she could visually digest it."
Relish grew out of a food-and-travel project Knisley drew during graduate school at the Center for Cartoon Studies in Vermont. The first version was in black-and-white. "I always wanted to do it in color—that's a big part of the experience of food—but in grad school I didn't have enough money for color printing," she explains. Her agent sent three early chapters and a book proposal to prestigious graphic novel publisher First Second, which promptly made an offer. Knisley spent a year juggling the demands of an MFA thesis and a looming book deadline, "then buckled down and got to work."