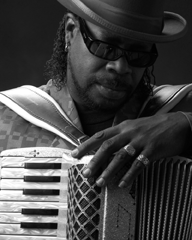 C.J. Chenier will perform on February 19 at Club Helsinki in Great Barrington. (Image provided)
Thanks to the ubiquity of modern media, there are few Americans who haven't seen the haunting images of the aftermath of the 2005 hurricanes Katrina and Rita. And now, as the mud hardens, one need only listen to ace accordionist/keyboardist/vocalist C.J. Chenier's deeply soulful 2006 release
The Desperate Kingdom of Love
(World Village) to know what the aftermath sounds like.
Literally conceived and recorded in the wake of the storms and floods that decimated his hometown of Port Arthur, Texas, and his ancestral homeland of New Orleans, the CD is a rich gumbo that mixes songs by P.J. Harvey, Van Morrison, and Hank Williams with traditional bayou stompers and Chenier's tasty originals. The resulting rave reviews have further cemented Chenier's reputation as the new king of zydeco.
Backed by Massachusetts's own Tarbox Ramblers and recorded with minimal overdubs, The Desperate Kingdom of Love takes listeners on a journey through loss, resignation, hope, lust, and the undimmed desire to dance. And Hudson Valley residents will have a golden opportunity to celebrate properly that most hallowed of New Orleans holidays—yes, Mardi Gras—when Chenier brings his legendary Red Hot Louisiana Band to Club Helsinki in Great Barrington on February 19 to perform selections from the new album as well as his storied canon of dancehall rave-ups and blues-drenched ballads.
Clayton Joseph Chenier's story has an archetypal ring to it: His father, Clifton Chenier, a New Orleans institution, the undisputed king of zydeco, and the first Creole musician to win a Grammy, was a stranger to C.J. until the gifted young musician was on the verge of manhood. Growing up in the hardscrabble tenement projects of neighboring Port Arthur, C.J. had carved out a life for himself as an accomplished saxophonist, flutist, and keyboard player, working in bands that covered Motown, funk, and R&B hits. He had won a scholarship and was studying music when, in 1978, one week before his 21st birthday, C.J. got an invitation from his legendary dad to join The Red Hot Louisiana Band. Originally hired as a sax player, C.J. soon gravitated to the keyboard accordion and the role of front man and singer, all the while discouraged by his father from emulating him and encouraged instead to develop his own style. Upon Clifton Chenier's death in 1987, C.J. assumed the mantle of band leader. Over the ensuing two decades, he and The Red Hot Louisiana Band have recorded for several independent labels and barnstormed the world, bearing the torch of classic zydeco while spicing the music with modern flourishes.
"Oh, love you were a sickly child/And how the wind knocked you down/Put on your spurs, swagger around/In the desperate kingdom of love," Chenier sings in the P.J. Harvey-penned title track to the new CD. With trials and tribulations behind us all, who could resist such an invitation?
C.J. Chenier and The Red Hot Louisiana Band play Club Helsinki in Great Barrington on February 19. (413) 528-3394; www.clubhelsinkiweb.com.