Courtesy of Veronica Fassbender
From utilitarian home goods to creative stationery and gifts, Lovewild Design specializes in low-waste living with style. Handmade entirely in New York with ethically sourced natural materials, Lovewild's line of products reminds customers of the importance of sustainability even when shopping locally.


Founder Sierra Zamarripa comes from a long line of business owners in Mexico City, and her own entrepreneurial streak stretches back into her childhood in Manhattan. From shoe shining to selling vintage jewelry and running an organic milkshake stand, Zamarripa always tried to "find little things to make a buck" as a child while also helping out at her family's antique shop in the East Village. Flash forward to today, Zamarripa now runs two brick and mortar storefronts and accompanying studios with her mother–one in Woodstock and the other in the East Village. "It had definitely been my dream to have a spot in Woodstock," Zamarripa says.

Courtesy of Veronica Fassbender
Founder Sierra Zamarripa poses with her mother and daughter outside their Woodstock location.
Zamarripa's journey with environmental awareness started long before Lovewild Design. She attended Columbia University for sustainable development but when she had to withdraw due to financial constraints, opening her own shop seemed like the next logical step. In 2013, Zamarripa started Lovewild to directly address topics revolving around environmental stewardship and make a positive impact on her local community. "I could make a difference with sustainability and put money where I want to by running my own little business," she says. "It might not make the same kind of impact [as sustainable development] but it could do more direct action."
The company originally started out with stationery and wedding invitations, expanding to home goods and pregnancy-related products as Zamarripa's own family grew alongside Lovewild. From everyday personal care products such as shampoo bars and bamboo toothbrushes to whimsical gift items like wildflower seed stationery that grow when planted, Lovewild boasts a variety of eco-friendly goods meant for gift-giving as well as home life. The skincare products are made with plant-based ingredients and free from additives like parabens, phthalate, and artificial ingredients.

Sustainable living permeates all of Lovewild's manufacturing, encouraging customers to live a low waste life. "Low waste is a gentler, more inviting way for people to decrease their footprint," Zamarripa says, "whether it's making all their cleaning products with ingredients we sell and buying in bulk, or if it's buying a cute gift but one that's completely sustainable and home-compostable."


All of Lovewild's original products are homemade at Lovewild's two studios. The Woodstock studio focuses on Lovewild's messier products such as salve and soap making and screen printing, while more condensed items like face masks and bath salts are created at the East Village location. Zamarripa even owns her own Heidelberg printing press up in Woodstock, allowing her to print stationery and other paper goods on a large scale. Lovewild's products are stocked at hundreds of retailers across the country including many in the Hudson Valley, such as the luxury resort Mohonk Mountain House in New Paltz, and also sold online.
Beyond handcrafted Lovewild items, the shop also carries goods from local businesses. The storefront sells independent products that largely originate from New York, with many of the lines coming directly from Hudson Valley makers. The collection now includes candles made in Catskill studio and shop Cave Glow, elixirs from Saugerties-based ImmuneSchein, maple syrup from Arkville's Tree Juice, salted caramel sauce from The Ardent Homesteader, and a variety of bulk soaps from Phoenicia Soap Co.

In accordance with the goal of environmental awareness, Lovewild works toward low-waste living by only selecting independent products from eco-friendly makers. Low impact materials, ethical labor conditions, and wind or solar-powered manufacturing are all a must-have for Zamarripa. "We're intentional with our specific brands both environmentally, how they treat their employees, and what their transparency is like," she says. But that, Zamarripa argues, is only the beginning: "We do that work for you to begin with, and then it's your job to shop with intention."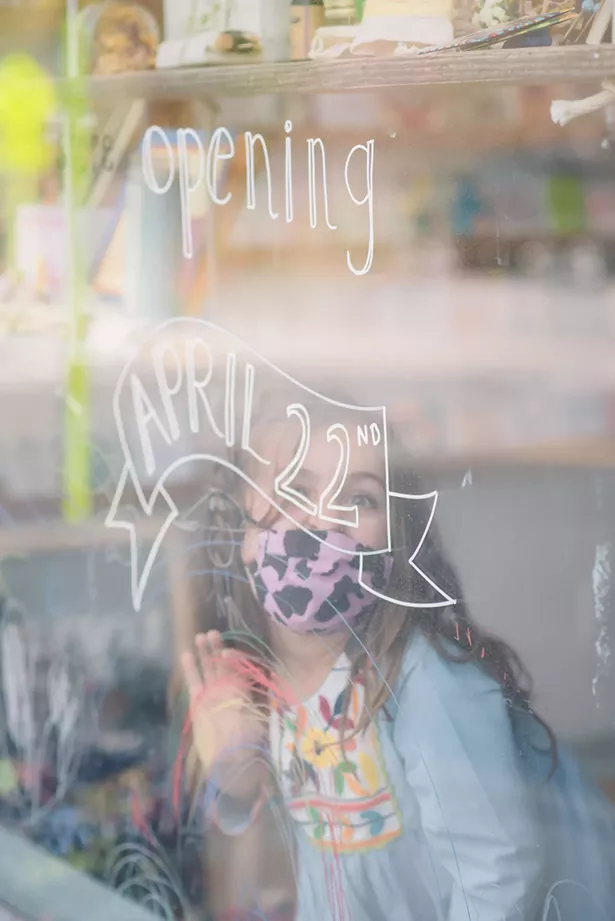 Courtesy of Veronica Fassbender
Intentionality is the hub of Lovewild's mission, along with giving back to the local community. The company currently donates a portion of their sales to local nonprofits, including the Black Farmer Fund and Family of Woodstock. "When it comes to having a platform and making a profit, I don't want it to end there," Zamarripa says. "I want it to come full circle and give back to the community."
Zamarripa is hopeful about Lovewild's future in Woodstock. "We're a small family business so at this point after COVID, we are really happy to still be in business," she reflects. "With this climate of everyone shopping online, we just hope people choose to shop local and shop small."
East Village Store & Studio
136 Avenue C New York, NY 10009
Woodstock Store & Studio
40 Mill Hill Road Woodstock, NY 12498
Open Thursday through Sunday, 12pm to 6pm