Photo by Christine Ashburn
Heather Kunkel and Cherie Davis at their backyard wedding in Dutchess County in late September.
Heather Kunkel and Cherie Davis had been deep into planning a barn wedding for September 26 of last year when the pandemic hit. "We had spent months making centerpieces and important little decisions, paying close attention to every detail." says Kunkel. "We wanted shades of slate blue and cornflower, lace, Boho-style flowers and a magical ceremony in the paddock outside, followed by dancing in the barn with a kick-ass DJ."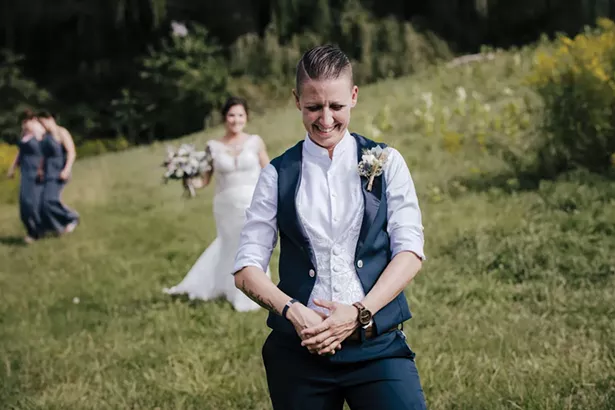 Photo by Christine Ashburn
Cherie Davis and Heather Kunkel at their wedding, held in their backyard, in late September.
Soon after the invitations went out, though, the couple found their carefully laid plans thwarted by COVID-19. "The thought of canceling just made us unbearably sad. We cried a lot. We didn't know what to do," says Kunkel. "Cherie was torn at the thought of her family not being a part of this special moment. Her brother in Arizona, there was no way he was going to make it. My sister in North Carolina—it just was not what we dreamed."
But Kunkel, a licensed clinical social worker who directs a mental health agency in Wappingers Falls, and Davis, a correctional officer and Air Force reservist, didn't want to wait. It had been a magical ride from date one, on up through buying a Hudson Valley home together and two romantic proposals ("I proposed at Gillette Castle and she proposed back on a literary walk in the city," Kunkel says). Now they wanted to get married and start a family.
The couple kept their date but trimmed the gathering at their Dutchess County home to 15, who gathered for the orchard ceremony, then bussed to Mill House Brewing Company in Poughkeepsie for feasting "and photos we could never have gotten at a bigger reception," Kunkel notes. "It wasn't in the numbers, it was in each other's eyes. Our dreams were still coming true."
The big party, with barn dance (and possibly a gender reveal), has been set for June. Kunkel says she's still psyched. "We're still working out how that will go, but after what we've been through? With the right person, you can get through anything."
Virtual Vows
Alanna Badgley and Rudy Green, two Westchester paramedics, found themselves at the epicenter of the crisis back in March. "We started isolating from friends and family early," Badgley recalls. "We missed a birthday party, a funeral—we had no idea what we might be carrying. Through April into May, we saw really trying times. I'm president of my union local, so I had to negotiate with management over things like sick time during all of it."
Time magazine reporter Charlotte Alter came and spent a shift with Badgley, leading to a cover story in April. And while most readers probably marveled at her dedication, Badgley found herself struck by something else. "Charlotte was very observant, and Rudy came into the story, how he fixed me fruit to take to work when I could barely eat, how I smiled when I heard his identifier over the radio," she says. "It really hit me how important to each other we are, how we'd had conversations lots of people never need to have. We'd planned a trip to Jamaica and cancelled for moral reasons, but it turned out we'd both secretly been planning to propose at this spot called Lover's Leap. Well, it happened on the couch."
Instead of fretting over what they couldn't do, the couple "used the pandemic as an excuse to have our absolute dream wedding," says Badgley. "His family is from Jamaica; beyond that, we've worked and volunteered and made friends all over the world, and there was no way we could have afforded to fly everyone we loved in no matter what was going on."
Photo by Joshua Brown
Alanna Badgley and Rudy Green receiving well wishes via Zoom at their frontyard wedding in Gardiner this summer.
The couple turned to Wedfuly, one of several virtual wedding providers who've sprung up during the pandemic. "They coordinated all the cameras and tech; we had a tiny ceremony with five guests from each family in my parents' front yard in Gardiner, with 200 people watching from 20 states and 13 countries," says Badgley. "People joined us from Hawaii and Australia and Guatemala—we all danced together, and we had all the kids—aged four months to 16—walk down their own 'aisles' at home, spotlighting each of them. It was just the perfect balance of intimacy with the in-person guests and larger group. Last year, I'd never even thought of such a thing as a virtual wedding. Now, having done it, I'd recommend it to anyone."
Basic Yet Special
Talking to couples who tied the knot mid-pandemic, that's the theme that emerges: With an intricate feast for dozens off the table, the emergent focus on immediate family and on the relationship itself brought a special sweetness to slimmed-down 2020 nuptials.
The pandemic occasioned weddings that might not have happened otherwise. Arts facilitator Cathy James and software engineer Derek Bronston, friends for a quarter century before a 16-year romance, moved from Flatbush to Woodstock with their 11-year-old daughter in December 2019, just before the virus turned the world upside down. "The pandemic pulled us together in new ways," says James, who'd never thought of marrying again but found herself proposing to Bronston on his birthday. "I just wanted to dig in and make that commitment. When the pandemic shifted all the boundaries, we realized how in sync we really were in terms of safety and values."
Five weeks later, after careful and honest negotiations, three pre-tested households came together to witness the vows. "We sat down two weeks before the day and figured out final details; we hung up some decorations and the rest of the family watched by Zoom," she says. "It was really basic and yet very special—at the end of the day, it turns out all you need is no rain and the people who bring the vibe that you want. I just wanted to say 'I love you' out loud, surrounded by loved ones, and it turned out that the simplification suited us."
Cathy James and Derek Bronston had an intimate wedding for just three households.
Change of Location
Heather O'Leary and Kevin Misley were planning to tie the knot at the
Ashokan Center
in late October. Their guest list was small—just under 100 people, family and close friends only—and they had booked the entire Ashokan campus for the entire weekend. But by late June, it became clear that the couple could not proceed as planned with the wedding, rescheduled for the fall of 2021. "Because we are in our 50s with no children, it didn't seem like there was any reason to fret about the postponement," says O'Leary. "It was a first marriage for both of us, so that is pretty unusual I guess, but neither of us felt any pressure to say, 'I do.'" (The couple live in Olivebridge; O'Leary is a veterinarian and Misley owns a custom-build pool company.)
But then O'Leary started thinking about her father, who has dementia. "As anyone familiar with this disease knows, it doesn't follow any rules, or obey any predictions. In another year, Dad may not be aware of what is going on."
The couple decided to proceed with a small ceremony for immediate family only. It was held on Long Beach Island in New Jersey, where O'Leary and Misley go each summer. "We both love the beach," says O'Leary. "We got married on the dune, our little terriers as ring bearers, the annual kite festival in the background. O'Leary's father walked her up the dune to give her away to Misley. "It was perfect," she says.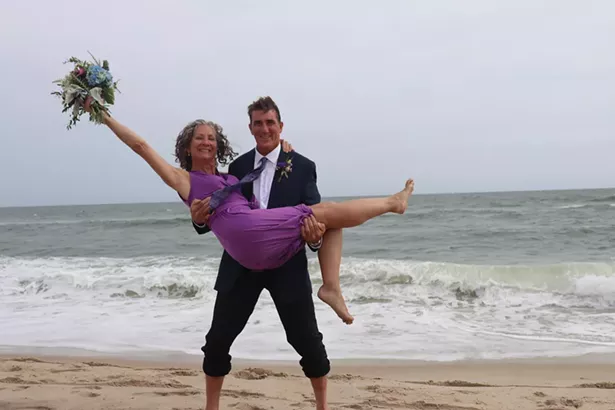 Photo by Holly Misley
Kevin Misely and Heather O'Leary on the beach in Long Beach Island, New Jersey, where they had an impromptu wedding in late October.
Fond Memories
Demitra and Brandon Romero, another couple whose love blossomed in lockdown, got engaged in July and wanted a Hudson Valley wedding. "Growing up in the city, I had fond memories of weekends upstate, and when we started talking seriously about a future, that's where we want to settle," says Brandon. "Marrying there felt right."
"We knew planning the logistics would be a challenge with the pandemic on, so we approached everything very consciously," says Demitra. "We kept the guest list small and chose our venue with safety in mind." They found an Airbnb rental near Hunter Mountain with two acres of yard, and gathered 18 pre-quarantined family members from near and far for a Catskills weekend. "Demi's family came all the way from California two weeks early to quarantine," says Brandon. "Talk about feeling loved!"
Guests pitched in to make it work. "Brandon's father is a carpenter and he built our custom arch; his brothers set up the chairs, one videotaped, and another did the sound," Demitra says. "Everyone helped decorate. The only people who weren't guests were the photographer, the caterer, and the officiant."
Had times been normal, the couple might have made fancier plans. "I had a little pang of remorse at first, but it really was the most exciting day of our lives," says Demitra. "Now I can't imagine having done it any other way, having to rush around hosting 200. Everyone in that room knew us intimately and had genuine love for us; everyone who was in our pictures is going to be in our lives forever."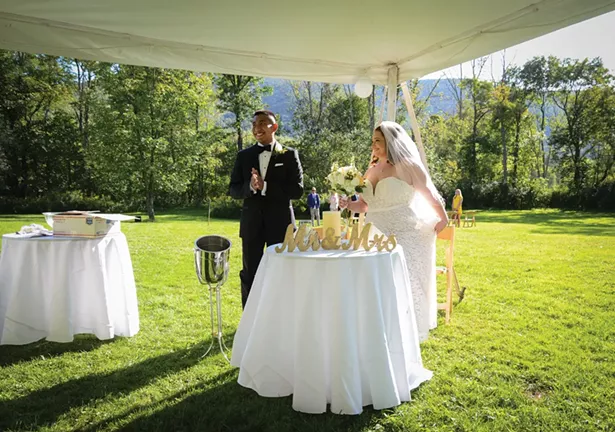 Photo by Jean Kalina
Demitra and Brandon Romero rented an Airbnb house near Hunter with two acres of lawn for their wedding this summer.