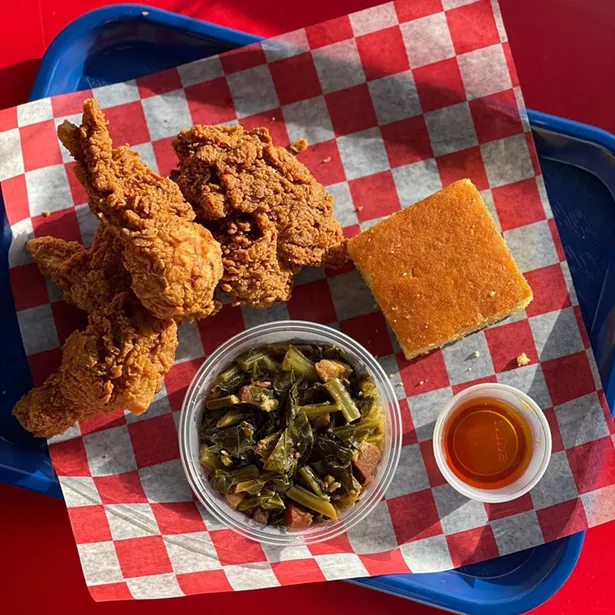 Fried chicken pop-up Love Bird returns to Accord November 9-December 17.
Love Bird was one of those rare pandemic silver linings—a small, roadside fried chicken shack on Route 209 in Accord next to a tire shop that quickly became the talk of the town.
When Brooklyn-based caterer Holly Sheppard's wedding season dried up in 2020, she relinquished her kitchen in the city and retreated to her house upstate. Eventually, she rented a building on Route 209, most recently the casual burger spot Mama Boyz, to serve as her new base of operations for her company Fig & Pig Catering. Yet, mid 2020, in-person events were largely still suspended.
"I thought, 'Well, what am I going to do up here?'" Sheppard recalls thinking. Her event planner suggested she revive Love Bird, the fried chicken pop-up Sheppard had done years earlier in Brooklyn. It was a relatively easy lift to get going. So Sheppard put together a menu, bought an ad on Instagram, and the people started coming in droves.
The chicken was crispy and the timing was right. "At that time, lots of people were moving upstate, there weren't a lot of things open, and it just sort of took off," Sheppard says. "It was just me and two other people doing it, it was kind of crazy. Eventually we thought, 'Maybe we should keep doing this?'" They slowly added to the number of picnic tables out front as the payroll got longer and so did the menu. All of a sudden, they had what Sheppard calls a "real restaurant," but without any of the reserve funds, clear plan, or even the original intention to do so. So when wedding season came roaring back in 2021 with a vengeance, something had to give.
"There were so many people waiting to get married. Basically it was too much to do both," Sheppard says simply. She shuttered Love Bird with a promise to do regular pop-ups. "The community was kind of devastated," she says. "Like, God—fried chicken, people get really emotional. It was awful closing it." The pop-ups never materialized as the 2022 wedding season proved to be even wilder than the year before.
But now, come November 9, as the chill sets in and the rhythm of weddings dies down, Sheppard will launch a monthlong revival of Love Bird. "I have an amazing team of chefs this year and I want to keep them busy," she says. "Before, I just had too many things going on. But now, I have a great team and we can really focus on all the things that make Love Bird awesome."
Fans of Love Bird will be happy to hear that the original menu will largely be back and intact. The all-star is the three-piece fried chicken box ($16) served with cornbread and hot honey. This year for the first time, Love Bird will also offer a grilled, boneless half-chicken option ($18), with grilled pita and a special sauce. ("It is just so good," Sheppard says of the new offering. "We made it last night for an event, and me and my other chef are freaking out about how good this grilled chicken is.")
Or, opt for a sandwich. Choose from the classic Southern, which comes with fried chicken, remoulade, pickles, lettuce, tomato, and 'bama white sauce ($14), or the One Night in Saigon, featuring chicken, pickled carrot and daikon, cucumber, cilantro, Vietnamese sauce, and white sauce (also $14). The Saigon Bowl offers a deconstructed take on the same sandwich over a bowl of garlic rice. Choose from crispy tofu or fried or grilled chicken ($18).
To round out your meal, pick from the a-la-carte list of classic Southern barbecue sides like mashed potatoes and gravy, coleslaw, baked beans, and smoky cheddar grits ($6-$8). If you want something green to balance that fried food, the house salad leans Greek served with feta, champagne vinaigrette, cucumber, cherry tomato, and red onion ($15). Top it with tofu or chicken to turn it into a proper meal (+$5).
If you forgot your appetite at home, the snacks section offers two affordable, unpretentious bites: deviled eggs with tin mustard, dill, and lemon ($6) and Southern pimento cheese spread served with Ritz crackers ($7).
Love Bird exclusively serves hormone- and antibiotic-free chicken from Pennsylvania-based Free Bird. The fried chicken is brined, twice-dredged in flour, and soaked in buttermilk. "I put a lot of research and experimentation in—that chicken goes through a lot of steps before it hits the fryer," Shepaprd says.
Growing up in the suburbs of Jacksonville, Florida, Sheppard ate a lot of fried chicken. Her truck driver father called himself a "fried chicken connoisseur," and claimed that the best he'd ever had was from a place in South Florida. "He brought it home one day, and I was like, "Uhhh…I can do better than that," Sheppard recalls. "Fried chicken is like putting a burger on your menu—there is no point doing it unless you do it really well. I also love chicken. So much. You can so often have mediocre chicken. And I think we make some pretty damn good fried chicken."
Love Bird will pop up in the Accord spot for take-out, outdoor dining, and limited indoor seating from November 9 through December 17, with another stint tentatively planned for late winter/early spring. Current hours of operation will be Wednesday and Thursday, 4-8pm, and Friday and Saturday, 12-8pm.
Love Bird
4728 Route 209, Accord