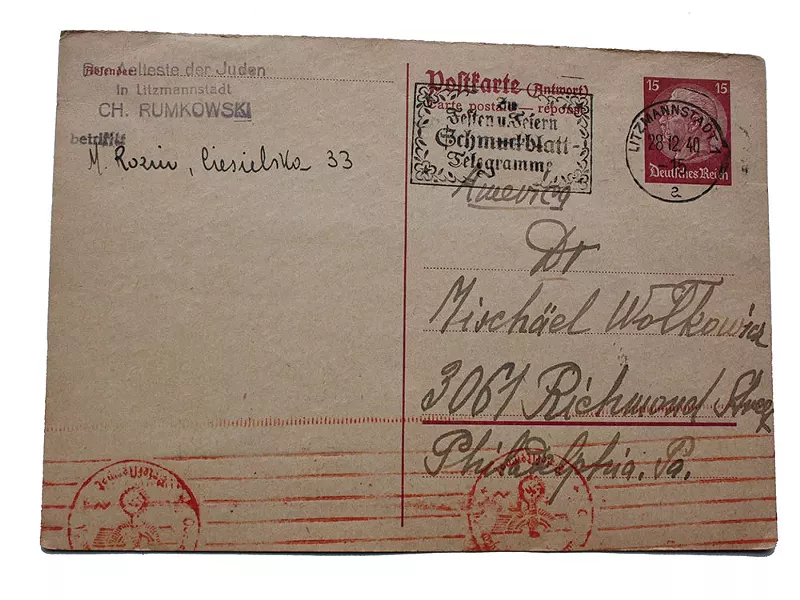 The front of a family postcard
Alexandra Weinbaum says she did a lot of thinking as she crossed the meadows of Lake Hill. When the part-time Woodstock resident shifted from education to authorship, her topic was harrowing, and the fields offered solace. After a long career focused on how to best teach, and how to spark the curiosity that makes us learn, Weinbaum tasked herself with writing a book all about the art of inquiry on the most personal level. How do you bring back lives lost when all you have is a box of their letters? Her book Careful Old Letters: A Jewish Family's Story. Lodz—Warsaw—Paris (Epigraph Books, 2015), does just that.
The book is based on Weinbaum's accidental discovery of a box of 139 old letters and postcards from World War II, most written by family members as they languished—and perished—during the Holocaust. The box was tucked away on the back of a shelf in her mother's storage locker, which Weinbaum and her son were cleaning out in that time-honored rite of dealing with the effects of the newly departed.
Can you send flour? they write in Polish and German from the Jewish ghettos in Lodz and Warsaw. It's getting cold.
Weinbaum, a trained historian, rolled up her sleeves and began reading between the lines. Aided by a team of translators, connecting the dots on trips to Europe, she enabled a collective resurrection. It's all that's left of most of these letter writers: Only a few survived beyond the war. But done with so much care, it makes this book feel far larger than it actually is. As we spoke about the book, it became clear this for Wienbaum, this really was a labor of love.
Your book mixes memoir, detective story, history lesson, elegy—we read the letters in translation, see them reproduced on the page, many with Nazi postmarks. It's such a chilling contrast between the fact of the massive genocide of the Holocaust and those sweet old family photos. But mostly we experience these lives, brought back to life. What was the genesis of this book?
My mother had just died, and my son and I were cleaning out her storage closet. I was about to throw out what looked like a very old box. Just a cardboard box, battered and dusty. My son stopped me, pointing at a handwritten label: Careful Old Letters in my father's large scrawl. My father—he was already gone—had been the preserver in the family, so I knew it must be something important.
What happened when you opened the box? Did you just dive into its contents and start writing?
When I opened the box I realized it was filled letters and postcards from Europe—many with swastika postmarks from the Lodz and Warsaw ghettos. So it didn't take me entirely by surprise: I knew my grandmother had died in the Lodz Jewish ghetto, and my other grandparents had been in Warsaw's Jewish ghetto. I knew that's where most members of my family were imprisoned and died. But we didn't talk about it very much in my family. My parents had just said that nearly everyone was lost except for two survivors. They had probably kept this box from me because it was so painful—to them, as they knew it would be for me. They had read me one postcard when I was a little girl, from my grandmother, but I had no idea there were more. Still, that postcard, with its pleas to send supplies, food, was etched in my consciousness, and I think it had a lot to do with my wanting to write this book.
But when we found the box in 1996 I was still busy working. I had someone translate a few postcards right away and came face to face with the wartime experiences of family members I'd never known. After I retired, I finally started. It was completely consuming: finding translators for French, German and Polish, setting it all in a historical context, retracing their steps. It brought up a lot of feelings.
There's so much denial that goes on with the Holocaust. What I found so interesting was that in your own family, so much was swept under the rug. Did you feel like you were, in any sense, betraying your parents' wishes as you worked on the book?
I understood why my parents didn't want to share this with me as a kid. I never resented them for that. They emigrated to the States in 1938 with the help of a relative who had seen the writing on the wall. I don't think anyone realized there would be a time when everyone else would be trapped. They didn't know how bad it would be. Then they didn't have very much money to buy supplies or send packages—they had come to America young and broke, just beginning their new lives.