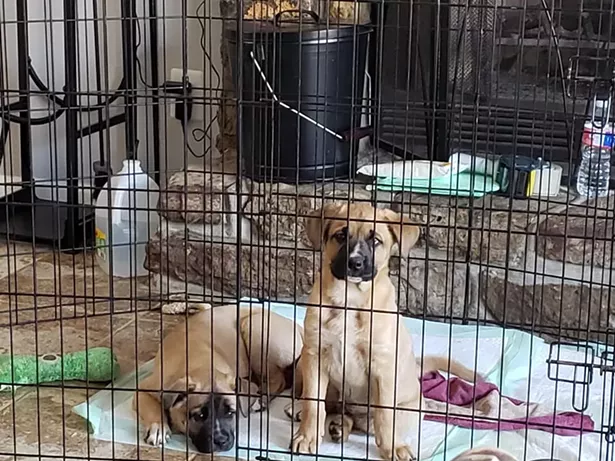 Lori Iribarren is crying as she hands rat-terrier mix Minnie's leash to her new owner. "It never gets any easier," says Iribarren, an animal-rescue director who fostered Minnie for several weeks before finding the adopter. "I wish I could keep them all."
In the animal rescue world, which seems to attract people who love animals but relate poorly to humans, Iribarren is a rare breed – a rescue director who gets along with people as well as she does with dogs.
As people spend more time at home because of the pandemic and animal shelters have banned walk-ins, Iribarren has been building her following and placing scores of dogs, most of whom have adoptive homes lined up before they arrive at her house in New Hampton. She often fosters the dogs herself so she can get a sense of their personality and match them with the right family. Her skill at matching dogs with families has resulted in only a few of the nearly 1,000 she has placed being returned and then only because of a change in the family's living situation.
Fur-Get Me Not Animal Rescue, which Iribarren launched in 2017, has amassed over 4,000 Facebook followers. Iribarren, who also promotes the rescue's dogs (and occasional cats) through her personal Facebook page, has more than 2,000 friends, many of whom help the animals find homes by sharing her posts.
Happy life to our Ginny Lou. You will be missed our sweet girl <3 You now have your very own home and mommy to give you lots of love. Forever in our hearts 💓 www.furgetmenotny.org

Posted by Lori Iribarren on Wednesday, February 3, 2021
Thanks to her people skills, Iribarren has tapped into a network of volunteers who ferry dogs in shifts from southern states like Texas and Arkansas to New Hampton, where she or a volunteer fosters them until they are adopted. Many of her adopters become repeat customers (including the author of this piece), and some volunteer for her as fosters or transporters when she gets word that a local dog needs to be re-homed. She and her volunteers also scan Craigslist for local dogs offered for sale or for free and scoop them up before they end up in an abusive situation.
Stalking the Applicants
"I always stalk the applicants' Facebook page," says Iribarren, 53, a graduate of Minisink Valley High School who works as a housecleaner. "If they don't accept my friend request, I deny their application because they are most likely hiding something, and also I want to get updates on how the dog is doing and see pics."
About 4 million shelter dogs and cats are adopted each year, according to the Humane Society of the United States. Shelters and rescue groups across the country reported heightened demand and longer waiting lists for animals in 2020. Nearly 90 percent of shelter animals left alive in 2020, compared to 84 percent in 2019, according to the nonprofit database Shelter Animals Count. But well before Covid, the mantra "adopt, don't shop" had been popularized by national ad campaigns like the Humane Society's Shelter Pet Project and celebrities like Miley Cyrus, who recently adopted a dog left homeless because of the coronavirus. President Joe Biden's two-year-old German shepherd, Major, adopted from the Delaware Humane Association, has just become the first shelter dog to live in the White House.
In the South, a combination of factors ranging from cultural differences in how dogs are treated to weaker animal-protection laws has caused the population of stray and abandoned dogs to balloon. In one case where Iribarren intervened, five dogs were left to fend for themselves in an Arkansas trailer home after their family was evicted.
Many of Iribarren's dogs come from Texas through Rhonda Wilson, director of the Van Zandt County Humane Society in Van, where, Wilson says, strays run rampant in part because the county lacks an animal-control agency. Wilson runs the humane society out of her home and houses the dogs in kennels scattered around her property. A volunteer transport coordinator arranges the trips north, which take three days, include two overnight stays, and require a volunteer driver for each of 23 legs. Iribarren helps pay for gas because many of the volunteers are elderly retirees on fixed incomes. When the transport coordinator is too busy to arrange a trip or can't get enough volunteers, Iribarren's only other option is a transport service that charges $250 per dog.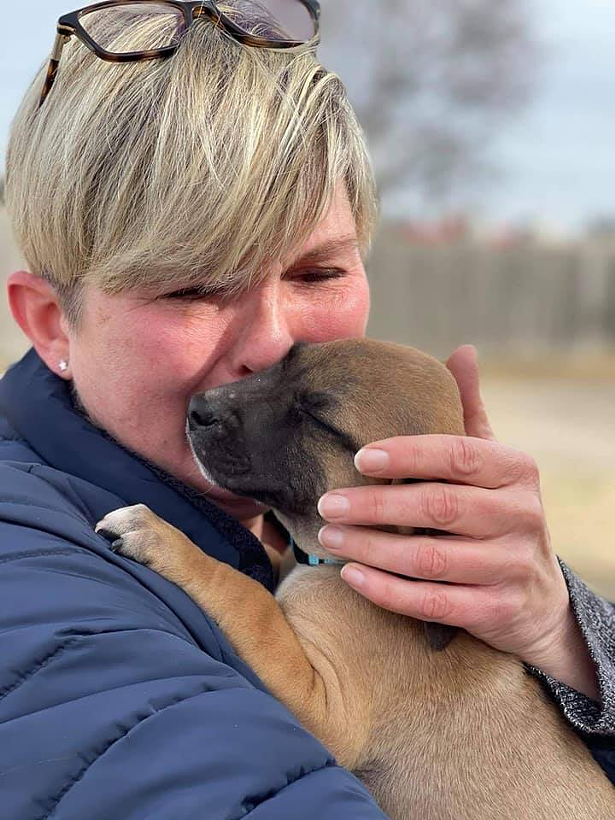 Arkansas foster mom and transporter Sandy Thornton Valentine kisses Bobby goodbye.
"I trust that Lori's going to do the right thing for the dogs," says Wilson, who has been working with Iribarren for about two years. "She's really good at matching the dogs with personalities, and she isn't trying to just move dogs. She'll go through applications and say, 'I had so-and-so application, and I rejected them.' Most of her adopters stay in touch with her, so I can ask, 'How's Izzy doing?' and she can get me a picture of Izzy."
During the pandemic, Iribarren has been placing around 15 dogs a month; previously, she placed about 30 a month because more volunteer drivers were available, but now the dogs are finding homes more quickly. Volunteers also help process applications and maintain the website, which automatically links to Petfinder.com and AdoptaPet.com. But Iribarren's most valuable marketing tool is her network of adopters on Facebook, who help spread the word when a dog or cat is available.
Grandmother, Cleaner, Rescuer
On a typical workday, Iribarren is up by 8 a.m. to let her two dogs and any fosters staying with her into her fenced yard, feed them, and clean their crates. Her son, Mark, 23, and granddaughter, Skyleigh, 11, live with her. Mark, who works nights, watches Skyleigh while Iribarren is cleaning clients' houses from 10 a.m. till anywhere between 6 p.m. and 8 p.m.
When Iribarren gets home, she makes dinner for herself and Skyleigh, feeds the dogs, and, while Skyleigh does homework on her laptop, begins to scroll through and respond to the 500-odd messages and Facebook alerts about animals in need that she receives each day. The process takes well into the wee hours, and she rarely gets to sleep before 3 a.m. Still, despite her packed schedule, she takes Skyleigh to dance class at a local studio every Thursday evening. Every year for Skyleigh's birthday, they head to a Pennsylvania water park, and they spend a week every summer at the Jersey Shore."Lori doesn't ever sit still," says Tiffany Glavan-Humbert of Otisville, who helps Iribarren with Fur-Get Me Not's website and adopted dachshund-terrier mix Kyle from the rescue after fostering him in 2019. "This is one woman, and she's got these dogs in her house. They're on her couch, they're in her bed. It's not an organization, it's not a sanctuary. She's doing this all on her own."
The one dog that Iribarren hasn't been able to place is a pit bull-pointer mix named Ava who suffers from fear aggression and has been living in her house for two years. Rather than deem Ava unadoptable and euthanize her, says Glavan-Humbert, "she's so dedicated that she will keep this dog."
Iribarren began volunteering in animal rescue more than 20 years ago, helping pull dogs from New York City kill shelters, finding foster homes for them, and fostering them herself. Many were pit bulls, including the now 15-year-old Mystic, whom Iribarren kept after watching Mystic interact with Skyleigh.
"I started with pit bulls because I was seeing so many of them on death row," Iribarren says. "I got Mystic when Skyleigh was just a toddler, and the way she interacted with her was just amazing. She was the mother hen type, yet she was a throwaway mom herself. She just fit so well in our home, and I couldn't let her go."

Lori Iribarren at an adoption event at PetSmart in Middletown in December 2019.
She still considers pit bulls her specialty but will take any dog that needs a home. One skill she had to learn to master is how to break up a dog fight: "You pick up their back legs – it makes them release their jaw." Another is how to tell prospective adopters firmly but diplomatically that they don't qualify, as in a recent case after a call to the applicant's veterinarian revealed that when her previous dog had a seizure, she refused to have tests performed and opted for euthanasia.
An 11-Year-Old Partner
Skyleigh helps care for the foster dogs and even gives pregnant dogs a hand when they go into labor. She cleans puppy crates, changes the newspaper lining, lets the dogs in and out of the house, trains them to walk on a leash, and plays and snuggles with them.
"She's so involved in the rescue she's kind of like my partner," Iribarren says. "She's been doing it since she was born. She knew the breeds of dogs before she knew the alphabet. She could look at a picture at four or five and tell me what breed it is."
Iribarren charges $400 for puppies (because they require more vaccinations), $350 for dogs age two and up, and veterinarian costs for seniors. The fees are deliberately on the low side so they won't be a barrier to placing dogs. (By contrast, the only one of the author's three rescue dogs that didn't come from Iribarren cost $600, including a transport fee from Alabama.) Many of Iribarren's adopters as well as her housecleaning clients and local businesses donate dog food. Before the pandemic, Iribarren hosted an adoption event every month at a local business like PetSmart and Middletown Honda, which helped bring in donations.
Welcome big gentle boy Cinnamon. This handsome guy is 2 1/2 years old and 60 pounds,house trained and is great with kids,cats and other dogs. Middletown NY www.furgetmenotny.org

Posted by Lori Iribarren on Monday, January 18, 2021
"I might make $100 or $200 on one dog, and the next dog I'm in the hole for $100 if I have to pay for transport," she says. "If I have $50 extra, it goes for food, other supplies, and treats. Dogs love cow hooves, and it's something to occupy them in their crate."
The hardest part of running the rescue is making sure she has enough funds on hand so she doesn't have to dip into her personal piggy bank too often, especially when she has a litter of hungry puppies that can't be adopted until they're eight weeks old. Sacrificing time she could otherwise spend with her tight-knit extended family is also hard.
"I Cry Every Time"
Iribarren requires that prospective adopters take her on a video tour of their home and come to her house for a meet-and-greet. "The whole family and their dogs need to come so I can see how they interact together and, if there are kids, to see how the kids treat and act with the dog," she says.
Even though the dogs usually stay with Iribarren just a short time, she becomes attached. "I cry every time they leave in the car when they're looking at me through the back window and pulling out the driveway," she says. "But I keep doing it because I know if it wasn't for me, they would be dead or who knows where.
"I get so many updates from most of my adopters," she adds. "That makes it so much easier."
Cindy Sotland has eight senior rescue dogs with medical issues, including three adopted through Iribarren, for whom she has fostered dogs and done local transports. Iribarren, she says, "doesn't pick the prettiest dog in the group and will help the misfits," like dogs missing an eye or a leg.
"I'd walk through fire for that woman," says Sotland, who lives in Kingston. "I respect the hell out of her. She just does this because she loves animals, and she'll work with people. You don't have to be the perfect adopter or have the perfect house. If you can provide a wonderful, loving home, that's all she cares about."