Pilot and photographer Alex MacLean has spent the last 30 years flying over much of the United States, documenting the landscape. A trained architect, MacLean's aerial photographs track the evolution of the ground from large open tracts to city grids and small suburban plots, providing visual proof of our culture's excessive use of resources and energy. These profound changes to the planet's surface are the products of human intervention, the literal footprints of climate change. How we've made our mark, so to speak. Over: The American Landscape at the Tipping Point (Abrams, 2008, foreword by Bill McKibben), is MacLean's latest cri de coeur. Divided into sections covering the topics of Atmosphere, Way of Life, Automobile Dependency, Electricity Generation, Deserts, Water Use, Sea-Level Rise, Waste and Recycling, and Urbanism, Over illustrates the patterns that humans have enforced on the landscape—tract housing, highways, parking lots—that cannot be fully grasped in their immensity from the ground. MacLean's photographs provide a wide-angle lens of our environment, a sense of the whole that exists outside ourselves.
Alex MacLean will lecture and present a slideshow of aerial photographs from Over on Friday, November 6 at 7pm at the Cary Institute Auditorium in Millbrook. Sponsored by Merritt Bookstore. (845) 677-7600x121; www.ecostudies.org.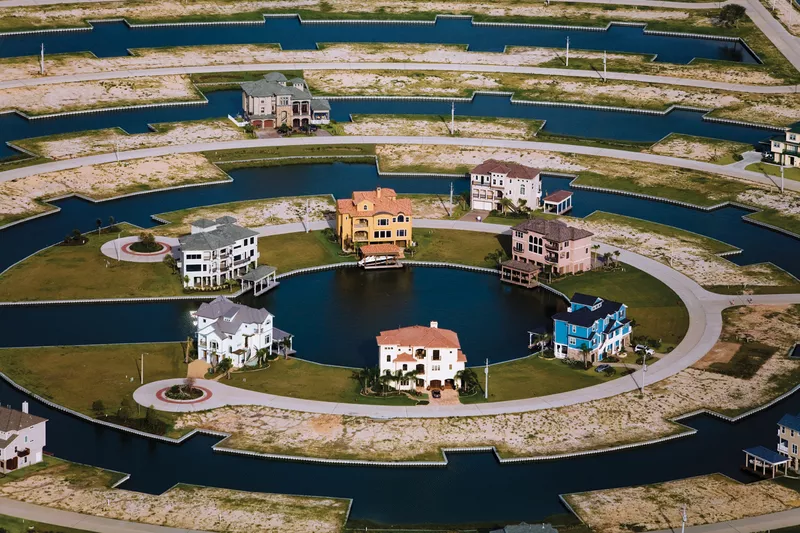 Harborwalk is a planned waterfront community built on wetlands on the western coast of Galveston Bay. In the coming century this land will be some of the most vulnerable on the Texas coast to sea-level rise, yet developers continue to construct low-lying waterfront homes.