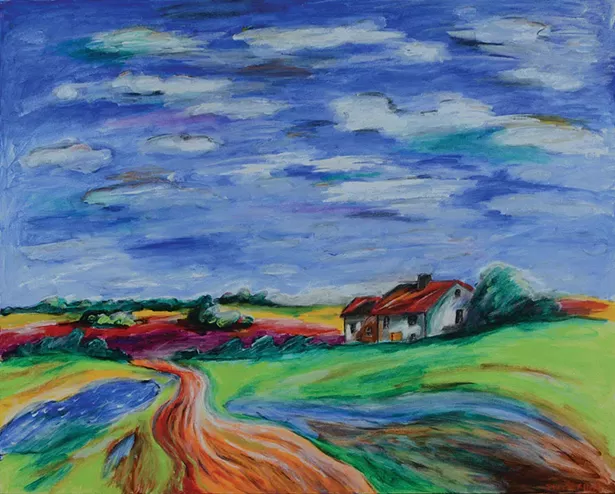 Stacie Flint's acrylic painting Country Lan
"What I hope to do in this show is to create an alternative world to counter the anger and fear many of us are feeling," remarks artist Carol Pepper-Cooper, who has coined the word "phantasmantics" to describe her secret reality. Pepper-Cooper is a member of LongReach, the oldest artists collective in the Hudson Valley, which will present the exhibition "Niches" at the Howland Cultural Center in Beacon on August 4.
In the spring of 1982, a group of artists gathered to form a cooperative art gallery. The Mid-Hudson Arts and Science Center (MASC) offered them a summer exhibition in Poughkeepsie, at the present site of the Dutchess Commissioner of Jurors. In honor of the summer time slot, the artists elected to call themselves "Summergroup." The show was such a success that MASC ceded them the gallery on a long-term basis. The collective remained in this location until 1991.

"There was some business who wanted to buy our URL, so we sold our soul to them," explained member artist José Gomez, "and we changed our name." This was in 2007, in their 25th year of existence. The new name came from a sailor's term; a "long reach" is a river—like the Hudson—which may be sailed without tacking.
Carol Pepper Cooper's ink and pastel work Phantasmantics;
LongReach now includes 19 artists working in a variety of media. The group has no headquarters, sponsoring an exhibition in a Hudson Valley gallery once or twice a year. Three of the founders are still members.
In 2009, LongReach artists collaborated on a mural that now resides in the headquarters of Scenic Hudson, the grassroots environmental group. Entitled The River, the work resembles a highly colorized microscopic enlargement of a pancreas. "Niches," however, is the opposite kind of collective project—a collaboration by separation. The Howland Center was designed by esteemed architect Richard Morris Hunt as a library in 1872, and when it was transformed into a cultural center a century later, builders discovered that the vertical columns could not be moved, creating a series of wall-spaces separated by wooden barriers. "Niches" awards each artist their own alcove: it's like 19 separate shows.

"I usually start a composition by a reference to some visual representation of a theorem, like for example the Pythagorean theorem," explains Gomez. "That provides a seed, and I add color and transform that by rotating and translating." The results are brash, rhythmic, geometric designs with strong diagonal accents. One might call them dancing ideas. Gomez prints them on paper made from plants like mango, in which fragments of leaves are visible. "Diagonalization," for example, is printed on lemongrass paper.A painter paints; a photographer waits. Photography is largely the art of sitting still until the perfect composition arises. This is especially true of Claudia Gorman, who works part-time as a cat portraitist. For "Niches," Gorman has assembled seven black-and-white photographs on the theme of water.

Claudia Gorman's photograph Black Sand Beach
In Sunset by the Sea, a boy wearing a bathing suit stands in the center of a seascape: the beach in the foreground, the sea behind him. In this photo it's unclear where the sand ends and the water begins. A big diamond-shaped flash of light—which Gorman calls a "ring of fire"—dwarfs the figure. Sunset by the Sea was taken (in Hawaii) with a Holga, a plastic toy camera made in Hong Kong and now popular with art photographers. The images, printed from real negatives, are square, with soft edges and occasional light leaks—a mute protest against the age of creeping digitalization.

"Niches," a show by the LongReach Arts Cooperative, will be at the Howland Cultural Center in Beacon August 4-26. There will be an opening and closing reception. (845) 831-4988.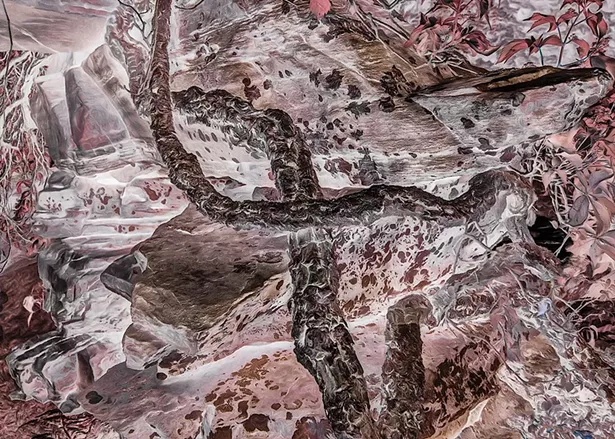 David Curtis's photograph Inversion One