Nestled in Upstate New York's stacked orchard and wine country at Buttermilk Falls Inn + Spa in Milton, Henry's at the Farm seeks to give the Platonic Ideal farm-to-table dining experience—one that serves the local community, the guests at the Inn, and anyone hungry for a locally-sourced dining experience.
Merging the rustic and the refined, elegant and relaxed, Henry's serves up casual, contemporary American cuisine and craft cocktails. They prioritize in-season, fresh ingredients delivered from the garden and orchard at Buttermilk's Millstone Farm or from other trusted farms in the neighborhood. That organic, local sourcing is a top priority, according to members of the Henry's team.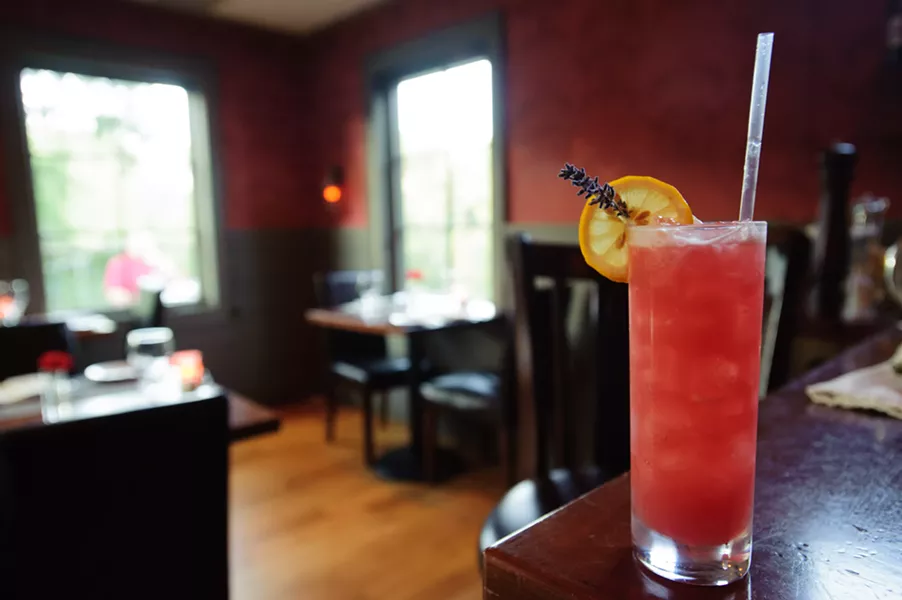 Photos Courtesy of Henry's at the Farm
"Henry's works primarily with those who practice organic farming and humane animal husbandry. Cheese, meats, and poultry come from nearby farms such as Coach Farm, Taliaferro Farms, and the seventh generation owned and operated Hepworth Farm," according to Executive Chef Peter Graziano. "The inventive, seasonal menu features a fresh selection of large and small plates from casual burgers and hand-cut fries to refined New American dishes. Dazzling starters, such as Pork Belly Tacos with avocado slaw and a Timbale of grilled eggplant, stacked and glazed with local goat cheese, begin your dining experience."
Popular at Henry's are their Pairing Dinner events, which allow their team to work together with international and local wineries, distilleries, brewers, and distributors for four-course dinner events on the propery. Kicked-off with welcome drinks, these events bring together each carefully thought-out menu item with its perfect wine, spirit or beer mate.
And especially for animal-lovers and people who really try to be mindful with their dining choices, Henry's works to make sure that humane animal husbandry practices are leveraged throughout their menu (marking meals grown from their own farm with a llama icon, so they're hard to miss).
"Henry's team is accustomed to working with ingredients of quality," Graziano says. "The careful farming and thoughtful animal husbandry of Henry's purveyors guarantees the provenance our diners expect."
Before or after your meal, you can also head out and stroll around Millstone Farm's Animal Rescue Sanctuary. Meet and greet with a family of livestock— including heritage chickens, peacocks, angora goats, llamas, alpacas, and miniature donkeys—who call the farm home.
The Angora goats, miniature donkeys, llamas, and the herd of rescued alpacas (that latter two are sheared annually— to the delight of knitters interested in fancy wool) can be found at the Livestock Barn and the family of miniature donkeys post up in the Donkey House.
Located at 220 North Road in Milton, NY, Henry's at the Farm is open seven days a week (with specified windows for dinner, lunch, and brunch).