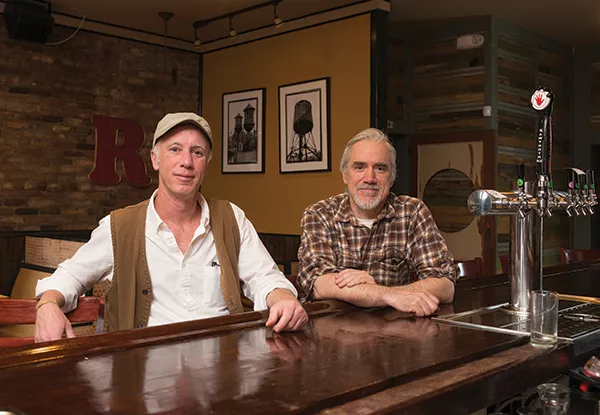 Rob Penner
George Mansfield and Tom Schmitz
"George has more friends than anyone in this town," testifies Beacon resident and local music driving force, Stephen Clair, about George Mansfield. To walk with Mansfield in the neighborhood around Dogwood, the new Beacon east-end pub and music venue that Mansfield and partner Tom Schmitz have created, one gets the sense that Clair is not exaggerating. No one, whether on foot or at the wheel, passes without extending a wave, a word, and smile.
To say that George Mansfield is just another Beacon transplant is a lot like...well, a lot like oversimplifying the unique explosion of culture taking hold in Beacon with a moniker like "Brooklyn North,"—a notion that lightly bristles Dogwood's owners. Both are former Williamsburg, Brooklyn pioneers—now charting new territory on the banks of the Fishkill Creek, and fiercely committed to furthering the unique character of their adopted community. Mansfield can be said to be somewhat "old-guard" in the Beacon landscape: he and his wife came from Brooklyn 14 years ago, after hearing that the Dia Art Foundation would be creating the seminal Dia:Beacon. "There really wasn't much happening yet, but there was a lot of possibility," Mansfield recalls. "I went to talk to these people, and they said, 'Oh, an artist from Brooklyn? That's exactly who were trying to get up here.' It's only grown exponentially from there." Mansfield's easy, accepting approach to community quickly made him an integral part of it, both among longtime residents and the influx of new arrivals. In time, Mansfield felt he could help successfully bridge that gap, and decided to shape both the physical and relational landscape of his newfound home via public office—first joining the city Planning Board, and then as a Beacon City Councilman.
Schmitz, who had discussed creating Dogwood with Mansfield for years, brings a wealth of applicable experience: artist, music aficionado, and founder of Earwax Records and Spike Hill music club in Williamsburg. "I came up here for similar reasons as I went to Brooklyn in the first place," says Schmitz, explaining the deep community connection he brings with him. "I'm not saying let's bring Brooklyn here, but let's bring the spirit of Brooklyn here." Schmitz has certainly put his dedication where his mouth is, arriving only a year ago and immediately joining Mansfield in building Dogwood with their own hands.
Music plays an essential role in the makeup of Dogwood, as does a unique approach to making a true neighborhood bar—it helps that the building the Dogwood owners chose has housed a pub since 1939, and that welcoming, "Cheers"-like energy is already very much in evidence after only six months in operation. Both men also point to the significance of a new brand of Beaconite: twenty-somethings, graduates from local schools like Vassar and SUNY New Paltz who have begun to find an alternative in Beacon—Dogwood is meant to be something of community center for them, too. "It's a scene," explains Mansfield, "and without a place like this there's no focus, no core for them to meet." Rubbing elbows with established artists and old-timers alike just seems the natural thing to do, and a new/old brand of hipness is reborn.
Both partners have spent much of their lives creating art, but now their primary focus is creating the possibility of what Dogwood can be. Mansfield invokes the sentiments of artist and social philosopher Joseph Beuys, whose provocative work is part of Dia's collection. "It's like the theory of Social Sculpture, where everyone is an artist, and everything you do is art," Mansfield explains. "There is absolutely a creative element in being actively involved in community. This is my art, now," he adds with a laugh, gesturing around the empty but soon-to-be bustling barroom. The sense is, perhaps, there is a bit of a masterpiece in the works.