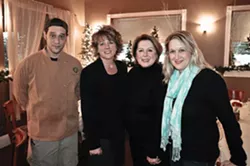 Fred Kormann, Lisa Bozudaj, Debra Dooley and Claire Winslow
It would come as no surprise if The Would restaurant in Highland was the visual inspiration for the 1996 film Big Night. It certainly looks the part. Housed in the lower level of a charming, three-story, ivy-covered brick building, the cozy establishment opened in 1926 as the Hotel di Prima, which fed and accommodated weekending Italian-American families from New York.
Its present heyday began in 1994, when the property was purchased by Claire Winslow and Debra Dooley, who rechristened the hotel portion The Inn at Applewood and renamed the restaurant The Would. Winslow, a Culinary Institute of America-trained chef, has a uniquely flavorful style that combines New American cuisine with French flair.
Known for palate-dazzling dishes prepared with local, organic produce, poultry, and other ingredients, and warm, welcoming service, The Would has truly become one of the Hudson Valley's most beloved eateries. The restaurant has won gold and silver medals from the American Culinary Federation and rave reviews from Zagat and the New York Times.
And it's not only the sumptuous signature entrees—pan-seared organic chicken filled with collard greens and tomato confit with a braised garlic sauce, just one mouth-watering example—that keep delighted diners coming back. A repeat winner of Wine Spectator magazine's Award of Excellence, The Would maintains a seasonal cellar populated with approximately 300 bottles of local and international vintages. The on-premises bakery draws raves for its fresh-baked breads, pies, and cakes, and divinely decadent desserts.
"In the high-stress world of work, work, work, it is more important now than ever for our guests to truly enjoy an evening out," explains Dooley. "I want them to leave satisfied."
And, judging by the glowing praise from thousands of contented patrons over its nearly 20 years, they always do. Only to return again.