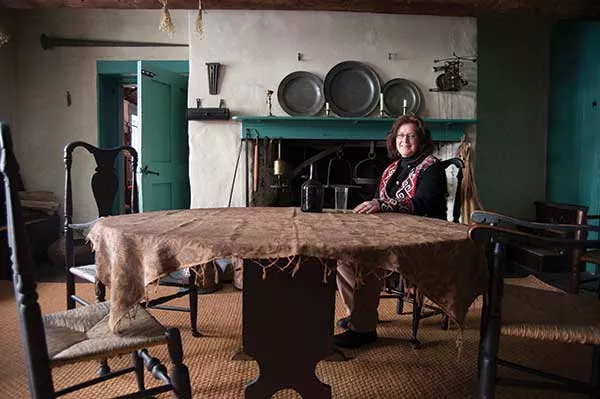 Suzanne Hauspurg, director of the Ulster County Historical Society, was not interested in history growing up. "My mom was a genealogist," Hauspurg says. "She used to drag us around to graveyards and churches, and we detested it." But when her mother passed away in 2006, Hauspurg took her spot on the UCHS board. Now, having served as director for close to two years, it's Hauspurg's job to be surrounded by history at the society's headquarters, the Bevier House Museum and Library in Marbletown.
Taking a closer look into her own family's connection to the area—her father's genealogy in Ulster County dates back to the 1680s—enlightened Hauspurg to the importance of heritage and history, especially its role in the local community. "Ulster County has a really significant amount to offer in terms of teaching people about our local area and its relationship to the formation of our nation," she says.
The Bevier House, first settled in the 1680s and donated to the UCHS by the Bevier family in 1935, opened as a museum in 1965. The main house includes rooms decorated with Victorian-period furniture from the Elting, Bevier, and Hasbrouck families. The colonial kitchen is filled with pottery, metal work, and woodcrafts all created in Ulster County. The Victorian parlor displays paintings by Julia Dillon, a lifelong Kingston-resident and trailblazer in the women's art movement, and Jervis McEntee, her cousin, a renowned Hudson River School painter. Two rooms host the largest collections of their kind in the region: The tool room in the barn boasts the Hudson Valley's most extensive collection of farm and homestead equipment, and there's a room devoted to the largest collection of Civil War artifacts on public display in Ulster County.
Convinced of the value of such historic sites herself, the question on Hauspurg's mind these days is how to reignite interest in others. "Museums are facing very hard times," she says. "If you don't move along and create new exhibits or make something interesting for people, they don't want to come back." The push is to keep things fresh, and to challenge the traditional notions of the museum's sacredness. "We need to get out of this thought that everything in a museum is not touchable or seeable," says Hauspurg. "There's a transition happening with a lot of museums to be hands-on and very accessible."
One way that Hauspurg and the UCHS are looking to initiate such a transition is by presenting the museum's already large and diverse collection in new ways. "Maybe the Bevier family isn't the most important thing we should be talking about," Hauspurg says. "We're trying to figure out—with what we have now—how to develop new storylines that are interesting for the average person."
Such stories come in the form of the society's special displays, programs, and events, all of which are geared toward Ulster County. Their annual holiday candlelight tours of the house are presented through the lenses of different themes, like Victorian or World War II, and museum displays range from native American artifacts to women's undergarments. The society also hosts lectures by local scholars, and, to fulfill one of the UCHS's main missions—education—the Bevier House hosts many school programs on site. "It's hard [for schools] to get field trips sponsored or paid for," says Hauspurg, who hopes to get the society more involved with school programming. "We can hand out a paper that would be useful for school curriculum—a primary document program, or a short lesson on a land deed." Educating young people about local history is an investment in the future that's critical to the preservation of the past. Change, Hauspurg notes, is embedded in Ulster County's traditions. "[It] is a place of allowing new thoughts and new concepts to come in."