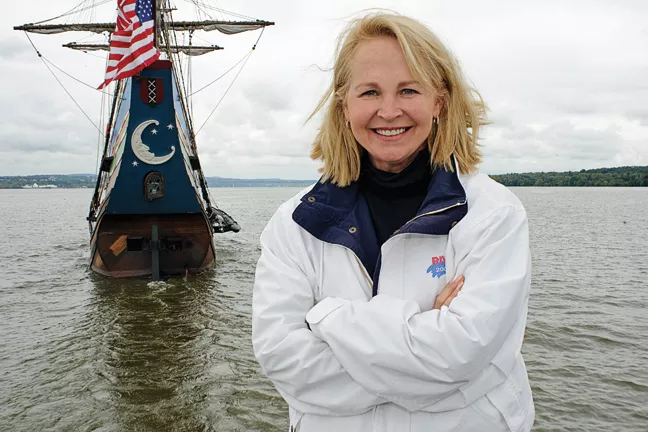 Red Hook's Tara Sullivan currently presides as executive director of the Hudson River Quadricentennial. Prior, she served as the governor's regional director for the Mid-Hudson Valley. Sullivan has spent her professional life in both appointed and elected public service, as well as in advocacy. She became known nationally for founding Asbestos Free Woodstock. In 1989, AFW accomplished the removal of 24 miles of asbestos-lead municipal water piping in her hometown, and simultaneously raised awareness regarding asbestos piping in towns all across the country. This success led to her working with several New York State Assembly legislative committees, including those concerned with toxic substances and hazardous wastes, water resource needs of New York and Long Island, and solid waste management.
She describes the creation of the Walkway Over the Hudson, which holds its grand opening October 2 through 4 and connects Ulster and Dutchess Counties, as a "true bipartisan public-private partnership." She relates that state and federal officials, along with many private regional donors, realized that devoting resources to the Walkway would make it a legacy project with a lasting impact from the Quadricentennial celebration—"a perfect marriage," Sullivan suggests.

Why was the Walkway constructed?
The concept is twofold: to create a park linking rail trails on both sides of the river, and to recycle an existing structure that would have cost more to deconstruct than to refurbish. However, first and foremost, the Walkway will be a magnet for tourism and a catalyst of economic development for the region.
I understand that you have focused on economic development and environmental sustainability during your tenure as executive director of the Quadricentennial.
Just in the past six months more than six solar businesses have announced new factories for the region. Our legacy projects, which include the Walkway, the refurbishment of the famous Crown Point Lighthouse on Lake Champlain, and the park promenade of Governor's Island off the tip of Manhattan, are economic investments for eco-friendly tourism dollars that also showcase the importance of environmental consciousness. They will build on the region's $4.5 billion tourism industry and enhance the beauty and quality of life in the Hudson Valley—which are key assets in attracting businesses and creating new jobs. Our signature event, the River Day Flotilla, has reignited the relationship among the community, the land, and the river by drawing over 125,000 people and 1,500 boats in an eight-day commemorative journey by New York heritage ships from New York to Albany.
Describe some of your most successful endeavors in community organizing.
I got my start organizing the initiative to remove asbestos from the water pipes in my hometown of Woodstock, and then won an elected position on the town board. In that role, I helped pass land protection and comprehensive zoning policy. As a county legislator, I sponsored a bilingual hiring policy. I co-managed a successful congressional campaign in Maine and helped bridge relations between Bard College and Red Hook as Bard's director of community relations and internal affairs.
What drew you into activism, and what do you think most needs to be worked on right now, both locally and in the wider community?
The asbestos health threat in my community ignited my interest in activism and made me realize I could have an impact if I joined forces with my fellow citizens. The single greatest threat we face is global climate change. Just this month, Governor Paterson set a goal to reduce greenhouse gas emissions in New York State by 80 percent below the levels emitted in 1990 by the year 2050. Achieving this goal and doing our part to address this worldwide issue will require everyone to pitch in. Never has it been more important to "Think globally, act locally!"

What background and specific skills enabled you to become a community organizer?
Management classes in college, owning a successful small business, running three successful campaigns for local office, and a lifetime working in government and public policy. But, really, I have always been deeply wed to my community, both locally and globally. It has been a part of who I am since I was little. Whether raising money for a boys home to enable them to keep pets, selling handmade crafts for a single-moms organization in Central America, organizing the groceries at a food bank, being a hospice volunteer, or working on reducing greenhouse gases, it's all equally rewarding.
The more you work at it, the more you find it satisfying and you get better at it. And when the job gets discouraging, it helps to remind yourself of Winston Churchill's admonition: "Never, never, never give up!"