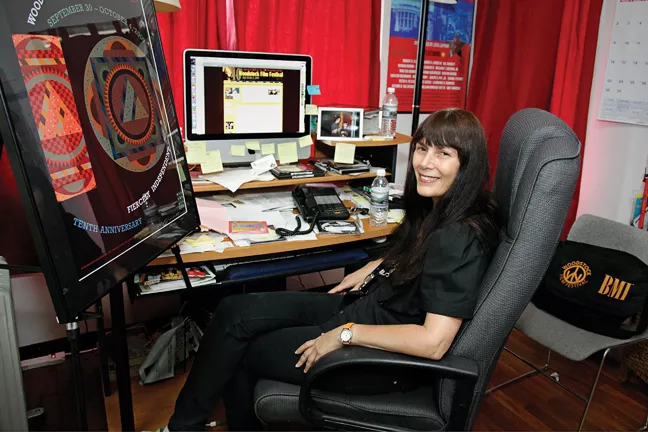 "Fiercely independent" is not a mere slogan for The Woodstock Film Festival (September 30 to October 4), which celebrates its 10th anniversary this year. A scrappy, idealistic spirit infuses every screening, reception, discussion panel and musical performance planned for the annual five-day event.
If not the industry leader that Sundance is, neither has WFF compromised its progressive values for the sake of growth. At the helm since the beginning, film festival veteran Meira Blaustein, WFF co-founder with husband Laurent Rejto, spends the year attending film festivals across the globe to build her program. (Selections are augmented by submissions of nearly 2,000 films, of which 120-140 eventually are booked.) For yet another autumn, the town of Woodstock—and the neighboring towns of Rhinebeck, Hunter and Rosendale—will play host to indie film stars and cinephiles alike in a low-budget but high-energy movie lovefest. Our festival preview coverage begins on page 30. The festival's 2009 screening schedule is online at www.woodstockfilmfestival.com.
Two months before the festival begins, Meira Blaustein took a break from the signature chaos of her work as festival director at WFF's Mill Hill Road office in Woodstock to reflect on a milestone anniversary she never expected to see.
A decade ago, if someone said you'd be celebrating 10 years of The Woodstock Film Festival, how would you have reacted?
I'm sure I would have said that the person is crazy. I remember so well in 2000, when we first came to Woodstock, and we talked to just a few locals and struck the notion of playing a film festival here. People thought it was the most wonderful thing on the face of the earth. It doesn't often happen that way. Here, because of the nature of the community, because of the nature of the event and organization, because of what we had already in place, and because of where things were at, at that particular moment in time, everything just jelled so beautifully and so quickly. It's not to say that immediately we began with all the money in the world. That was certainly very far from the truth; we had no money. But what we had was the enthusiasm and true interest and true love of everyone involved.
Was there a philosophy for the festival from the beginning?
It was really about bringing the arts and culture of the 21st century—film and new media—to a community that has supported the arts for over a hundred years. While music and theater and painting and poetry and culture have been the mainstay in this artist community for so many years, film was still a new notion—and yet it is the contemporary art form. From the very beginning, we had three specific focuses: music, political, and environmental issues.
This festival has benefited from the support and attendance of independent film people behind and in front of the cameras who attend panels. Who is your most unexpected ally?
[Award-winning cinematographer] Haskell Wexler is a good example. He lives in L.A. By geographical definition, he's very removed from the Woodstock Film Festival, but by philosophical definition, by the way he sees film and by the way he sees the world, he's very close to it. He really believes in what we're doing politically as well as artistically. He became connected to the festival right from he get-go and I had never met him before. He became such a fan and such a good friend—every year we give the Haskell Wexler Award for Best Cinematography. He's been here many times over.
What are your most vivid memories of the first year of the festival in 2000?
I would wake up every morning and not be able to breathe, and I would immediately send myself off into a mode of panic. I would be hysterical [wondering]: How the heck are we going to get through the day? How are we going to make it happen? How's the whole thing going to come together? But then somehow we would. We also had [two-time Oscar-winning documentary filmmaker] Barbara Kopple's film My Generation as the closing night film. She was just the nicest, most gracious person.
We also had a documentary called Freestyle about hip-hop artists. We were showing it at the Bearsville Theater. The filmmaker was hand-delivering the tape to us. He left the city but got stuck in traffic and we were waiting, waiting, waiting. The filmmaker brought some of the hip-hop artists and they started an impromptu performance, so the audience got a good show. It was worth it for them to stay. But it was a pretty hairy situation. Freestyle actually ended up winning Best Documentary Award.
The key sense from the first year was that it was magical, because no one knew what to expect; it had never happened here before. Most of the people working on the festival had never been to a film festival before. So everybody was flying by the seat of their pants and just doing what they were doing out of sheer love.
You say that the festival has evolved organically. What have been some of the changes?
I always hope that an angel will come and give us financial support that we so desperately have been needing all this time. This is one of my greatest hopes, because financially we have been struggling all along. And even though we have really grown so much, financially it's a very low-budget operation that really does everything like an independent filmmaker does—very, very creatively. But we all pay the price. Financially it's a struggle.
I assume everyone knows that the festival is not going to get that much bigger, because we're in a small area. All the towns are small, the [screening] venues are small. This is not going to become a huge event. Nor should it. One of the strengths of the Woodstock Film Festival is it's intimacy. It really allows people to get to know each other and to develop relationships and to really nurture and launch careers. It's very hard to do that in a large environment.