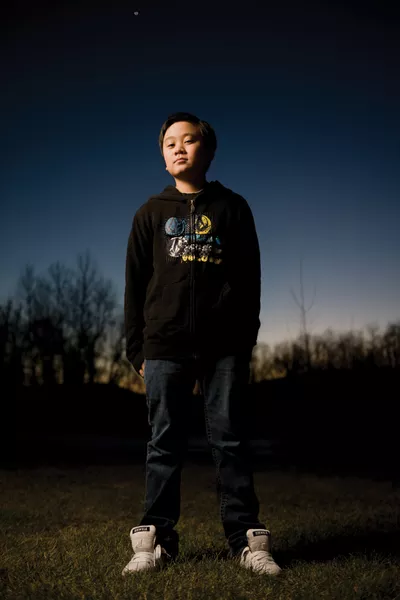 Michael Chen is like many 11-year-old boys you know. He lives with his parents in a split-level ranch in a recently built development. He attends the local public school and dislikes homework and would find an excuse to miss school if he could. He's got Rock Band set up in the den, along with his Xbox. Chen owns three skateboards and complains that his father recently promised to take him to Skate Time 209 to ride the skate park there, but now that his father has seen his daredevil antics, he refuses to take him. Where did his father see him skate? Park City, Utah, home of the Sundance Film Festival. This is where Chen's story diverges from that of other kids. Chen is one of the leads in Tze Chun's indie feature
Children of Invention
, which premiered at Sundance last month. Chen is also the son of
New York Times
best-selling author Da Chen (Colors of the Mountain, Sounds of the River) and paranormal romance novelist Sunny Chen (
Mona Lisa Blossoming
).
Chen's acting career began with small parts in commercials, and he has also appeared numerous times on "Sesame Street," as well in promotional spots for the Cartoon Network kids' show "Ben Ten," and as an extra (with his family) on "Saturday Night Live." He was cast in the blockbuster Transformers 2—Chen's small role consisted of him ordering ice cream in Chinese from a Good Humor truck and then turning into a Transformer—but the scene was cut before it was ever filmed. An accomplished dancer, Chen played the part of the prince in the 2007 production of "The Nutcracker" at the Bardavon.
Children of Invention follows Raymond (Michael Chen) and Tina (Crystal Chiu), two first-generation Chinese kids growing up in Boston with Elaine (Cindy Cheung), an overworked single parent. Arrested because of her involvement in a pyramid scheme, Elaine doesn't tell the police about her young children for fear of losing them. When their mom disappears for four days without explanation, the kids are left to fend for themselves. The film was shot over 24 days last summer, primarily in New York City, with five days of shooting in Boston.
I spoke to Chen in the kitchen of his Highland home on President's Day, a day he was pleased to have off from school. To learn more about Children of Invention, visit www.childrenofinvention.com.
What made you want to be an actor?
My older sister was in the play "Annie." When I saw the play, I was really young, and it looked so real. So I went to my sister and I asked, "Was that real?" And she said, "No, it's just acting." So I said, "I want to do that!"
When was the first time you acted?
It was in a play. I don't know what the name of it was. I was in an acting camp at Dutchess Community College. I was six or seven years old.
What was your first professional acting job?
It was a commercial for Fuji film. I was about eight. I was supposed to be having fun and blowing bubbles.
How did you get that job?
Through an agent. When I was really little, I was in a male pageant and a casting agent was there. She was one of the judges. She liked both my sister and me so she repped us both. After one gig my sister sort of faded away from it because she didn't like it that much. But I like it.
What about it do you like?
The act of fooling people. Nobody knows that you're playing someone else, not you. I think of it as sort of being something else that you're not, but you make something good out of it. You get people laughing, or even crying sometimes.

Do you get stage fright?
If it's for something big, like Transformers 2, or some other really famous movie, then yeah. But if it's about something I don't know and I research it, then I'm not scared because I've never heard of it.
You were out at Sundance to promote Children of Invention. How was it?
It was really fun. My father and I were out there for five days.

Did you see meet any famous people?
I didn't really meet anyone famous, but I saw Seth Green and Zooey Deschanel, and we shared a taxi to the airport with the writer of The Cove [Mark Monroe].
Did you see a lot of movies?
I didn't see any other movies. I couldn't, because I was either busy watching my movie, or at a party.

Did you have to sit up on the stage for panel discussions after the screenings?
I only went to one panel. And I wasn't even on the panel, it was only the director [Tze Chun]. Me and my movie sister [Crystal Chiu] were like, "We're so tired." I heard it was two hours long, but after the first 10 minutes we almost fell asleep.
What was your favorite moment at Sundance?
Seeing myself on the screen. It was a little embarrassing, but I liked it. Watching some scenes though, I thought to myself that I could have done something different, said a line in a different way.

What was it like to shoot Children of Invention? Were the days long?
Some days were from four o'clock to eight o'clock, and then some days were from 8am to 1am.
That's a long day.
Yeah. I think it wasn't legal for me to work that long because I'm a minor.

What's the hardest part of acting for you?
Not looking at the camera, and memorizing lines.

How do you memorize a whole script, like you did for Children of Invention?
I went through the script eight times. After I read it once I read it over and over again.